Estimated reading time: 6 minutes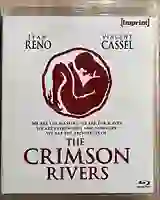 The Crimson Rivers (2000) is a French crime noir from director Mathieu Kassovitz (Gothika, La haine). The film stars Jean Reno (Leon) and Vincent Cassel (Black Swan), and somehow managed to fly under my radar all these years.
The pair star as two police detectives with very different styles, Pierre Niemans (Reno) and Max Kerkerian (Cassel). Well regarded Paris detective Niemans is assigned to investigate when a body that was dismembered and strangled turns up in an elite university town high in the French Alps. Meanwhile, in another town 150 miles away, the younger Kerkerian is investigating the desecration of a young girl's grave. Kerkerian ends up crossing paths with Niemans whose investigation has led him to the same small town. As the two reluctantly team up to investigate what is going on, they realize there is a much more nefarious conspiracy at play and their two cases may be connected.
Kassovitz, who some may know from starring in Amélie, gives us one of his best-directed films with The Crimson Rivers. In a true neo-noir fashion, the film resides in the dark underbelly of elite society, plays out in a chiaroscuro of nighttime scenes, icy caverns, and cold coroner's offices.
Reno and Cassel, who play off each other wonderfully, are the perfect flawed detectives. Reno's Niemans with his cynophobia and Cassel with his penchant for anger and violence (Kerkerian purposely gets into a brawl with a group of skinheads).
The mystery that is central to the story unfolds in a slow-burn even though it is not always easy to follow. The ultimate reveal is somewhat telegraphed, but no less satisfying and scrumptious a noirish delight.
After Dark: Neo-Noir Cinema Collection Volume Two (1990 – 2002) (Imprint)

Jean Reno and Vincent Cassel in The Crimson Rivers (2000)

Fanny Ferreira in The Crimson Rivers (2000)

Fanny Ferreira and Jean Reno in The Crimson Rivers (2000)

The Crimson Rivers (2000)

Jean Reno in The Crimson Rivers (2000)

Jean Reno and Vincent Cassel in The Crimson Rivers (2000)
The Video
The Crimson Rivers was shot on Panavision Panaflex Platinum cameras with Panavision Primo and C-Series lenses using 35mm Kodak film in the anamorphic format. While this Imprint disc is not perfect, it is still a satisfying watch. There is some very slight ringing, and some edges look a little unnatural was well. Overall, however, there is nothing egregious and it is overall satisfying. The flesh tones are natural and shadows never get too noisy or crush out.
The Audio
Imprint Films includes an absolutely fantastic lossless French 5.1 audio mix in DTS-HD Master Audio for The Crimson Rivers. A LPCM 2.0 stereo mix is also included. Having watched this disc immediately after the Black Adam 4K Ultra HD disc, which had an Atmos mix that underwhelmed me and sounded devoid of dynamics and claustrophobic, this disc was like being able to breathe again. The score for the film was expansive therefore had ample dynamic swells and dips. The range of the sound was not limited at all. It went from the quietest whisper to loudest gunshot or rumble of an avalanche with more than ample low-end. There is even opportunity for a storm to fill the surround channels, which are frequently used throughout the mix for lush atmosphere and discrete sound effects with good balance.
The Supplements
This disc appears in the Limited Edition 7-Disc Hardbox After Dark: Neo-Noir Cinema Collection Two (1990-2002) with 60-page booklet, featuring essays from film critics Peter Galvin, Blake Howard & Alexei Toliopoulos. Although nothing new is included the disc as a good array of bonus features.
On this Disc:
Audio Commentary by Matthieu Kassovitz, Jean Reno, and Vincent Cassel
Isolated Music Score with Commentary by Composer Bruno Coulais
"The Investigation" – Documentary (1080p; 00:54:27)
"The Scalpel Scene" – Featurette (1080p; 00:27:49)
"The Making of a Corpse: — Featurette with Commentary by Jean-Christophe Spadaccini and Denis Gastouet (1080p; 00:09:39)
"The Fight: Challenging Filming" – Featurette with optional commentary by Vincent Cassel and Nicky Naude (1080p; 00:07:53)
"Night Time Filming" – Featurette (1080p; 00:09:40)
"Filming in Altitude" –Featurette (1080p; 00:11:10)
"White Rivers" – Featurette (1080p; 00:16:36)
"The Avalanche" – Featurette (1080p; 00:01:39)
"The Chase" – Storyboard Comparisons with optional commentary by storyboarder Farid Kermici (1080p; 00:03:06)
The Complete Storyboards (1080p):

Unfilmed Opening Sequence (00:00:49)

Archives from Production Designer Thierry Flamand (1080p; 00:13:41)
Theatrical Trailer (1080p)
Teaser Trailers (1080p; 00:02:06)
The Final Assessment
The Crimson Rivers is an atmospheric and slow-burn thriller that perfectly fits the description of a neo-noir without ever resorting to simulation or kitsch. Imprint Print Films has made a brilliant choice including this film in their second After Dark collection.
---
The Crimson Rivers is available in After Dark: Neo-Noir Cinema Collection Two (1990-2002) out in Australia 7 December 2022, from Imprint Films. It is available for purchase from the Via Vision/Imprint Films website.
---
Rating Certificate: Australia:MA
Studios & Distributors: Légende Films | Gaumont | TF1 Films Production | Canal+ | Imprint Films
Director: Mathieu Kassovitz
Written By: Jean-Christophe Grangé (novel "Red Blood Rivers") | Mathieu Kassovitz (screenplay)
Run Time: 106 Mins.
Street Date: 7 December 2022
Aspect Ratio: 2.35:1
Video Format: AVC 1080p
Primary Audio: French DTS-HD MA 5.1
Secondary Audio: French LPCM 2.0 Stereo
Subtitles: English