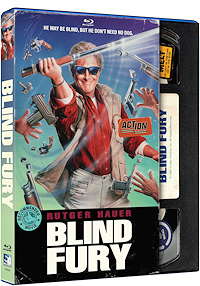 1989's Blind Fury did not actually add anything unique to the canon of action films. The idea of a blind swordsman is something that has been knocking around in Asian cinema for centuries, as evidenced by the numerous films about Zatoichi the Blind Swordsman. What this particular film does is bring the trope to the West with a recognizable actor, that being Rutger Hauer who plays Nick Parker who was blinded and left to die in Vietnam.
Thought dead for two decades and labeled as missing in action, Parker finally returns home after twenty years with the idea that he will forgive his old army buddy Frank Devereaux (Terry O'Quinn) the man responsible for his injuries and leaving him behind. But Parker stumbles into trouble when he goes to Devereaux's ex-wife and son's home in Florida. Devereaux is in Las Vegas being forced to cook up designer drugs for a violent casino crime boss due to his debts, but when he talks, he puts his son and ex-wife in danger, which is the trouble Parker comes across. Devereaux's wife is killed by the crime boss's henchmen, but Parker is able to rescue his son Billy (Brandon Call) promising his mother as she lay dying to protect him and take him back to his father. Now the two must travel across country with violent thugs on their trail and eventually they meet up with Parker's girlfriend Annie (Lisa Blount) who joins them on their dangerous journey cross-country.
Blind Fury, directed by Philip Noyce, is exactly the kind of action fare that filled up cinemas and VHS tapes in the 1980s from the likes of Rutger Hauer, Chuck Norris, and Jean-Claude Van Damme. They were put together for spectacle, with plenty of Westernized martial arts and one kind of always knew the good guys were going to prevail in the end. This particular film, given the character of Billy being a young boy, is somewhat tempered in the violence, but not by much considering there was still enough to get the film an "R" rating. This one is in the classic vein of good guys versus bad guys combined with a road movie and a coming-of-age story to boot. There's enough action and kinetic energy plus a heart of gold at the center of it all to make this an enjoyable weekend guilty pleasure.
The Video
Like one of the companion retro VHS Blu-ray releases that came out from Mill Creek with alongside this one, The Freshman, which I also reviewed, Blind Fury is not a new restoration and does not look the greatest at times. It's definitely a take it as it is transfer. There is a lot of film softness and coarseness in the grain structure and some frames do show lots of scratching and dirt in the source, that being said, when it does settle in, which is a good 2/3 of the film, it looks more than reasonable enough and does provide good enough close-up detail, natural flesh tones, and overall color reproductions, especially in the brighter scenes.
The Audio
Blind Fury comes with its original stereo mix (in theaters it was in Dolby Stereo) provided in DTS-HD Master Audio 2.0. This is an excellent sounding stereo mix with exceptionally wide stereo imaging that 'surrounds' you with just the two channels and has good dynamics as well, even if the high frequencies are a bit on the grating side.
The Supplements
Blind Fury comes with nothing beyond the cool retro VHS slipcover packaging.
The Final Assessment
Glorious 1980s action with the inimitable Rutger Hauer in one of Mill Creek's somehow perfectly selected retro VHS packaged line. If you're a fan of 1980s popcorn action, then this one's for you.
Blind Fury (Retro VHS Packaging) is out on Blu-ray January 12, 2021 from Mill Creek Entertainment