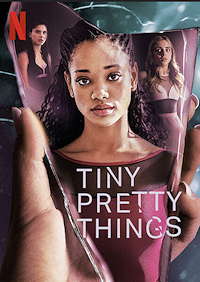 If you have seen Black Swan, then you would know that the world of professional ballet is akin to dog eat dog except that, in this case, it is dancer eat dancer. Tiny Pretty Things opens inauspiciously when a hooded figure pushes ballet student Cassie Shore (Anna Maiche) off the roof of Chicago's prestigious Archer School of Ballet. This opens the door for scholarship student and former Chicagoan Neveah Stroyer (Kylie Jefferson) to fill the vacant spot.  Neveah also becomes the narrator who occasionally attempts to unravel the intricacies of dance to her viewing audience.
As the ten episodes proceed, we become better acquainted with the main characters:
Neveah, an outsider with tremendous talent, whose grim backstory includes a mother, Makayla Stroyer (Karen Robinson), incarcerated for the past six years for killing her abusive husband.
Bette Whitlaw (Casimere Jollette), younger sister of an established prima ballerina Delia Whitlaw (Tory Trowbridge), and whose mother Katrina (Michelle Nolden) chairs the school's board of directors. Bette is in love with fellow dancer Oren Lennox (Barton Cowperthwaite) who is carrying on a torrid affair with roommate Shane McRae(Brennan Clost) but is confused about his sexual identity.
June Park (Daniela Norman) the only child of wealthy businesswoman Maricel (Alexandra Bokyun Chun) who desperately wants to become a dancer and will become an emancipated minor to pursue her dream when her mother withdraws support for her ballet instruction.
Nabil (Michael Hsu Rosen) a brilliant French dancer with a clouded Parisian past and undying passion for a comatose Cassie who lies in an intensive care unit.
Caleb (Damon J. Gillespie), a very talented dancer who is getting it on with the much older Monique Dubois (Lauren Holly), the school's self-serving director who gets her girls "jobs" with older men at the Michi Beach yacht club.
Isabel Cruz (Jess Salgueiro), a troubled Chicago police officer who seems to have taken an unusual interest in Cassie's case as she resuscitated the young woman after her four-story fall.
The yet unsolved case of Cassie's near-murder provides some measure of continuing interest over the ensuing episodes as does the development of tyrannical choreographer Ramon Costa's (Bayardo De Murguia) "Jack the Ripper" ballet intended specifically and inappropriately for the young Archer students. Each dancer must contend with his or her own daemons whether it is unrequited love (Nabil), opioid dependence (Bette), jealousy (Caleb) or unwanted male attention (June).  The real highlights of this show are the terrific dance sequences performed by young cast members whom, with the noteworthy exception of Brennan Clost, I wish could act as well as they dance. I did enjoy the numerous on-location shots of my former hometown that made me a bit nostalgic for Chicago's Magnificent Mile but the fantasy scenes with Cassie and Nabil left me completely cold.
There is enough eye-candy here to cause some viewers to have seriously elevated blood sugars. But that sugar high will not last long enough to compensate for a fairly predictable storyline in which far more time is spent in groping, making out, having sex, and doing drugs than performing exercises at the barre or on the dance floor. While there might be rules at the school prohibiting such behavior, these rules are regularly broken. If viewers are after a mind-numbing binge-worthy soap opera, Tiny Pretty Things will definitely fill that bill with just about every kind of tried-and-true dramatic device that they could possibly desire, supported by a millennial-friendly playlist. With a dangling finale that leaves the door open for a second season, should that occur, I would hope that the creative team will step up its game, and give us a better script and one that inspires better acting on the parts of its young cast members. Creator Michael MacLennan would be well advised to take in some episodes of the hit series Fame to see how this can be properly done.
Tiny Pretty Things is now available for streaming on Netflix
---
If you found this review useful please consider clicking the button below and donating to help keep TheaterByte funded and to allow us to continue posting great content.
---
Show Creator: Michael McLennan
Original Release Date: 14 December 2020
Streaming Service: Netflix
Ep. Run Time: 54-58 Mins.
No. Eps.: 10
Studios & Distributors: Peacock Alley Entertainment Inc. | Action Man Entertainment | Insurrection Media | Netflix
Rating Certificate: TV-MA