To all you Grinches out there: Don't even tell me that Blu-ray is doomed. As I survey the wide array of new releases and lavish gift sets available now, I see a premium alternative to streaming, or to watching movies on my smartphone. (Although Digital Copies, included with three of these titles, allow that, too!) With gorgeous, high-bitrate picture, superior sound and host of fantastic bonus content, Blu-ray remains my format of choice… and perhaps yours as well, since you're reading this.
Pee-Wee's Playhouse The Complete Series (Shout! Factory)
Did you know that Pee-Wee's Playhouse ran for five years, from 1986 to 1990? It was like a party in the world's funnest–and weirdest?–dude's crib, and we were invited, week after week. The show didn't look like anything else on the small screen, from the art direction through to the photography, and has thankfully received an extensive restoration for Blu-ray with the personal involvement of Paul Rubens. Once we get past the curious 1.35:1 aspect ratio and vexing 1080i resolution, we can surely appreciate that the HD output painstakingly culled from the original standard-def analog masters truly looks better than anyone has ever seen it. I love when I can say that. That's rare for a voluminous TV series, especially a "cult" title, as are the hours of new featurettes, including extensive cast and crew interviews and a total of ten featurettes of varying length. The eight discs are neatly (play)housed in two plastic boxes, within a handsome cardboard slipcase.
Spartacus The Complete Series Limited Edition (Amazon Exclusive until 12/16) (Starz/AnchorBay)
Unabashedly combining the gratuitous levels of sex and violence we would expect from a premium channel, Starz' Spartacus was a guilty pleasure for some, but perhaps something more.
Across Spartacus: Blood and Sand, Spartacus: Gods of the Arena, Spartacus: Vengeance and Spartacus: War of the Damned, production values were surprisingly strong, especially for a small-screen period drama, and the overarching rebellion storyline gave the drama an extra dimension, harkening back to the original Spartacus which lends its name. This set has every bloody, fleshy moment, a total of 13 discs packed inside a detailed, shelf-worthy diorama depicting the gladiators in combat. In addition to all previous bonus content and three brand-new Season One commentaries, there's an exclusive platter with a handful of short subjects, bringing together fan-favorite actors and behind-the-scenes talent. Also included is an UltraViolet Digital Copy of the entire series, via a printed code insert.
Looney Tunes Platinum Collection Volume Three (Warner)
The third release in Warner's ongoing high-def upgrade to their priceless library of classic animated shorts, this two-disc set makes with another 50 restored/remastered favorites, from the '30s through the '60s.
The first half is devoted to the inimitable Bugs Bunny, and his memorable supporting cast of course. Featured are the Academy Award-winning Knighty Knight Bugs along with nominated Hiawatha's Rabbit Hunt and Pigs in a Polka. Disc Two showcases Looney Tunes characters including Sylvester & Tweety, Daffy Duck, Porky Pig, Speedy Gonzalez, Foghorn Leghorn and so on. Highlights include Frank Tashlin's Swooner Crooner (culminating in a singing competition between feathered caricatures of Bing and Frankie) and Friz Freleng's skyscraper-construction musicale, Rhapsody in Rivets, both Oscar-nominated. And in the Academy Award-winning Birds Anonymous, Sylvester joins a support group in an effort to stop chasing Tweety. This release features the new "Tales from Termite Terrace" (33 minutes) and an art/fact-packed leaflet, along with extensive bonus content previously released: alternate audio, commentaries, and several terrific documentaries.
The Vincent Price Collection II (SHOUT! Factory)
I'm guessing there are others like me who didn't appreciate the genius of Vincent Price until later in life. The reason: When I was growing up, he was already riffing (some might say "cashing in") on his own well-earned reputation for creepiness with a string of goofy, quasi-comedic roles. For example, the first time I remember seeing him onscreen was as the "villain" in one of the Hawaii-set Brady Bunch episodes.
With this new-to-Blu collection from the good folks at Shout!, as well as last year's set, audiences have the chance to rediscover Vincent's particular brand of sophisticated horror. Sure, a sequel like Dr. Phibes Rises Again! brings some tongue-in-cheek humor, but The Raven and The Comedy of Terrors serve as a good bridge to the more serious fare: The House on Haunted Hill, The Return of the Fly, The Tomb of Ligeia and the unapologetically low-budget The Last Man on Earth, the first film adaptation of Richard Matheson's I Am Legend. A fine smattering of extras is distributed across these four discs, four of the movies with audio commentaries (Ligeia even has two, including a brand-new one), in addition to featurettes and Price intros and outros for select titles.
Gone with the Wind 75th Anniversary Ultimate Collector's Edition (Warner)
Well, if Warner is going to reissue Gone with the Wind yet again, at least they're making it another "Ultimate" event. This appears to be an older master (the VC-1 encode is a tipoff) that the studio has been sharing since the 70th anniversary, but it's difficult to argue with their 8K restoration of the most popular movie of all time: clean and pure and invitingly organic.
A separate Blu-ray disc carries more than eight hours of outstanding bonus content, while a third Blu-ray brings even more, namely a new study of the American South and a look back at the original premiere in Atlanta. Disc Four, a two-sided DVD, presents the full MGM: When the Lion Roars documentary. This limited, numbered box replaces old tchotchkes with some fancy new tchotchkes: a replica of Rhett Butler's monogrammed handkerchief, a small music box/paperweight that plays "Tara's Theme," and a hardback book about the luxuriant style of the film. A Digital HD UltraViolet copy of the film is now included as well.
True Blood The Complete Series (HBO)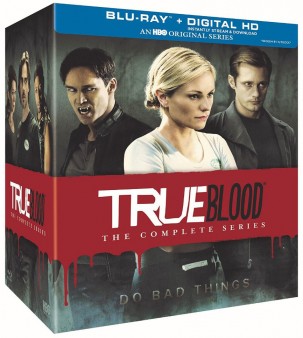 Not a fan of vampires? Not a problem: Across the seven seasons of True Blood, we were introduced to werewolves, werepanthers, witches, faeries, demons, maenads, shapeshifters, skinwalkers, ghosts… and more hybrids of the above than you can shake a Prius at. Through it all, the show managed to blend humor and sex appeal while never sacrificing the scariness, because we were always invested in the characters, from Sookie Stackhouse (Oscar winner Anna Paquin) on down. In fact, I'd say that it's her good-natured resignation about the rapid shift in the social order–humans and supernatural creatures now coexisting openly, side-by-side–that drew us in and kept us invested through those many original escapades.
The 33 discs carry over all of the special features from the individual season releases (40 audio commentaries and much more), now with fresh perspectives on the series at both the start and completion of the final season's shooting. HBO has long embraced the Blu-ray format's potential, and True Blood offers an enhanced viewing mode that provides a handy on-the-fly overview of key characters as well as revealing the greater context of many events, plus trivia and clues to the various mysteries. This hefty but trim package also includes a Digital HD copy of all 80 episodes, available via iTunes and others.
The Gifuto* of Miyazaki (Walt Disney)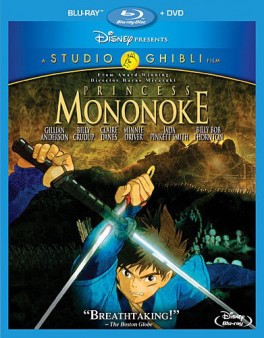 Our sincere appreciation to the folks at Disney for releasing three more Studio Ghibli treasures in time for the holidays, beautifully animated, but also displaying (some would say) more mature underlying drama than American audiences are used to, reflective of Japanese culture and ideals in service of universal stories. My kids are already in love with 1989's Kiki's Delivery Service ("Majo no takkyûbin"), a sweet, magical tale of a young girl (voiced by Kirsten Dunst) paying her dues on her way to be becoming a witch. The Wind Rises ("Kaze tachinu"), nominated earlier this year for the Best Animated Feature Film Oscar, and Princess Mononoke ("Mononoke-hime") from 1997 are both PG-13 and bit heavier. The former centers upon a great airplane designer (voiced by Joseph Gordon Levitt) who becomes an almost Forrest Gump-like witness to history, while Mononoke follows a young warrior drawn into an epic conflict between humans and animal gods. The Blu-ray transfers are all awash with director Hayao Miyazaki's rich but subdued colors, and the bonus features reveal the storyboards and the process of bridging the gap from East to West. All three releases are combo packs with a welcome DVD bundled inside.
*That's "gift" in Japanese. Thank you, Google Translate!