Show of hands: Whose BD player (or television or receiver) doesn't upconvert to… well, Blu-ray Definition? Judging by the lack of response, I'll guess that just about everyone is watching their favorite programing in some form of 1080p or another, which is good news since a lot of videophiles are still enamored of the DVD format, and plenty of titles remain available on DVD only, largely because of the content's standard-definition origins. Take for example the gift sets recommended below, none available on Blu-ray Disc but all worth a look, or maybe even a ribbon, bow and at least a little wrapping paper for someone special on your list.
–
DESPERATE HOUSEWIVES: THE COMPLETE COLLECTION (Disney, $149)
Their eight seasons came to an end not long ago, those wacky homemakers of Wisteria Lane will have to console themselves–and can surely occupy themselves for quite a while–with these 179 episodes on 45 discs, plus a 46th disc of exclusive bonus content that attempts to put the profundity of the conclusion into perspective. With a lovely, mature ensemble cast that likes of which are seldom seen in network primetime these days, the dramedic Housewives was so popular in its debut year that it even eclipsed LOST in terms of publicity. New spouses would come and go, but the core four of Susan, Lynette, Bree and Gabrielle managed to embroil themselves in seemingly endless hookups, infidelity, death and other scandals in this juicy, guilty pleasure. Physically this is one of the most appealing packages on this list, resembling the steamer trunk once belonging to Mary Alice Yong, the omniscient, prophetic, dearly-departed narrator of the series, portrayed by Brenda Strong. So many secrets await….
Purchase Desperate Housewives: The Complete Collection Deluxe Edition on Amazon.com
–
THE COMPLETE RED GREEN SHOW: HIGH (QUALITY) QUANTITY COLLECTION (Acorn Media, $299.99)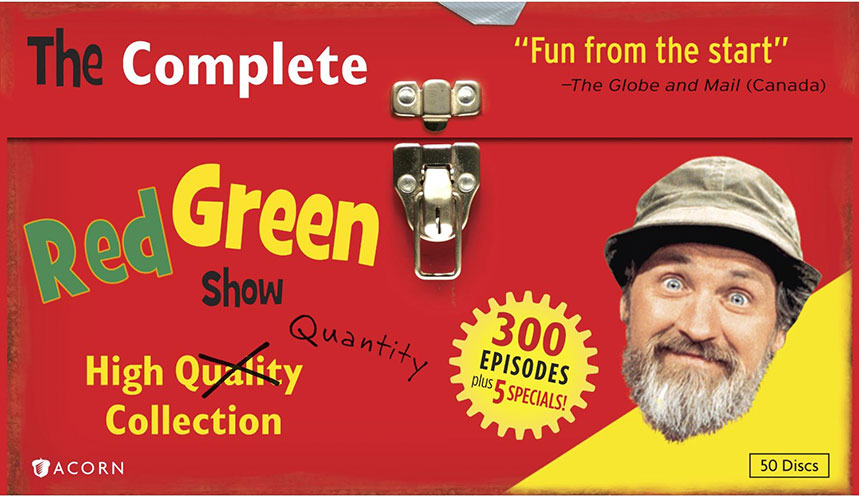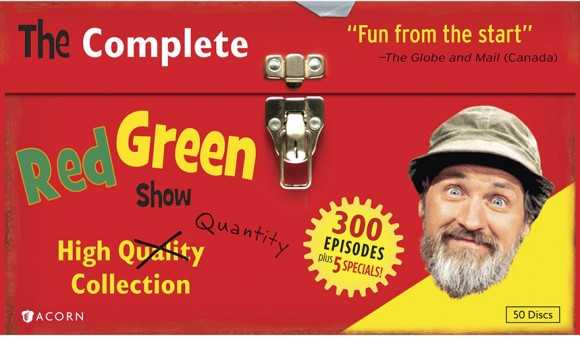 Gleefully unapologetic about the ways guys will be guys, or at least a gross exaggeration of how stupid we can sometimes be, this "High-Quantity" menagerie pulls together all 15 seasons (1991-2006) of the cult PBS comedy in a massive 300-episode/50-disc edition. Red (star Steve Smith, still adored today) and his Great White North cohorts discovered all sorts of manly misadventures up at the Possum Lodge, many of them involving power tools and/or copious amounts of duct tape. (It's strikingly similar to its American contemporary, Home Improvement, but ABC's big-budget Tim Allen vehicle only ran for a measly seven seasons.) Behind-the-scenes footage, photos, biographies and five specials are also included here, with "It's a Wonderful Red Green Christmas" and "A Merry Red Green Christmas" perfectly timed and themed for holiday gift giving.
Purchase The Complete Red Green Show on Amazon.com
–
COLUMBO: THE COMPLETE SERIES (Universal Studios, $149.98)
Who else remembers Sunday nights tuned to The NBC Mystery Movie, grooving to the Henry Mancini theme music and waiting to find out if this week's sleuth would be Lt. Columbo? Collected here are all of his intermittent adventures, spanning seven TV seasons (69 episodes, including one directed by a young up-and-comer named Steven Spielberg) and two dozen later telefilms, airing between 1971 and 2003. Peter Falk as the iconic police detective in his well-worn raincoat–an omnipresent accessory all the more peculiar considering the weather in Columbo's Southern California beat–was surely one of the most beloved characters in small-screen history. With his affable yet dogged pursuit of the facts, seldom losing his jovial demeanor but forever asking "just one more" question, he ruffled the feathers of testy criminals but always got his man… or woman. Guest murderers include Dick Van Dyke, Martin Sheen, Vincent Price, Janet Leigh, William Shatner and Leonard Nimoy (separately). There is a bit of supplementary content, a featurette about TV detectives and three episodes from Kate Mulgrew's spinoff Mrs. Columbo (a.k.a. Kate Columbo, a.k.a. Kate Loves a Mystery, a.k.a….), but the stories mostly speak for themselves, so perhaps the real bonus is the size: Despite its 34 discs, this box takes up a lot less room than the eight previously released individual sets.
Purchase Columbo: The Complete Series on Amazon.com
–
MIGHTY MORPHIN POWER RANGERS: THE COMPLETE SERIES (Shout! Factory, $119.98)
Readers of a certain age will no doubt recall the insane popularity of these five color-coded superheroes, ordinary teenagers with attitude gifted extraordinary fighting skills and more by an alien wizard. With 2013 marking their 20th anniversary, now is a great chance to look back at those weird and wonderful, high-kicking adolescents thanks to Shout!'s all-inclusive box. Incorporating (read: recycling) copious footage from the Japanese Super Sentai show, Morphin often plays like anime come to life, with its inherent stylistic and logical quirks. The over-the-top villains didn't put me off so much as the nonsensical "RAD-Bug" flying Volkswagen, but then again I was never really the target audience of these weekday afternoon action-adventures. All 145 episodes are here from the three syndicated seasons, plus the ten Alien Rangers episodes, these in addition to two discs of exclusive extras focusing largely on the stars and those loyal, enthusiastic fans (19 discs in all). A lovely 40-page companion booklet rounds out the neo-nostalgic package.
Purchase Mighty Morphin Power Rangers: The Complete Series on Amazon.com
–

HOUSE: THE COMPLETE SERIES (Universal Studios, $199.98)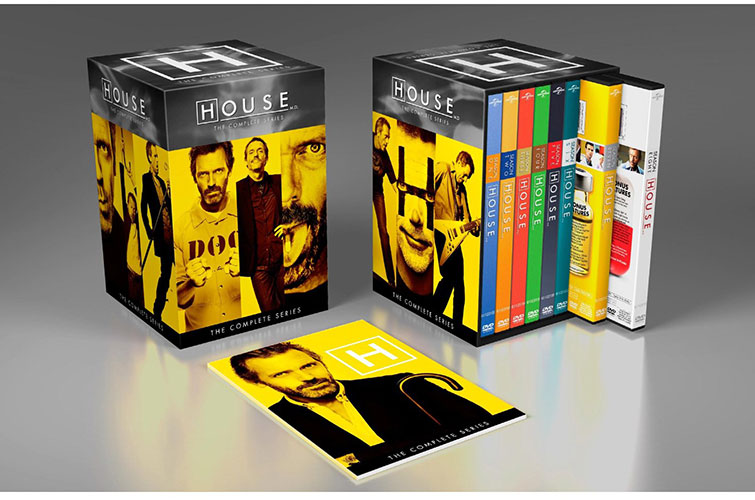 Viewers had never met anyone like Dr. Greg House (the justly award-winning Hugh Laurie), a man at once incredibly repellent in his vocal, so-offensive-it's-funny disdain for everyone around him, and yet hypnotic in his medical brilliance His knack for diagnosing illnesses that elude all other M.D.s was reason enough to keep him employed, and surrounded by eager, thick-skinned interns, any of whom might be given the boot (or the cane) at a moment's notice. Across eight years they managed to break out of the disease-of-the-week formula with cliffhangers and some pretty major twists, in addition to a steady stream of compelling supporting players: Jeremy Renner, James Earl Jones, Franka Potente, Mira Sorvino, and even Dave Matthews. Since this was a fairly recent and much-buzzed-about show, the 41-disc set is festooned with a vast array of bonus features on every season. A well-produced booklet is the finishing touch in this shelf-friendly mega-set.
Purchase House: The Complete Series on Amazon.com
–
THE INCREDIBLE MEL BROOKS: AN IRRESISTIBLE COLLECTION OF UNHINGED COMEDY (Shout! Factory, $89.93)
Surprisingly far-reaching and generous, this six-disc set (five DVDs plus a CD, yes, a CD) traverses the 65-year career of that EGOT-winning hyphenate, Mel Brooks (born Melvin James Kaminsky). Celebrating one of the most colorful paths in entertainment, from radio to the Golden Age of television to film and back again, these platters are brimming with seldom-seen episodes of Mel TV shows (When Things Were Rotten!), incredibly rare vintage appearances on Carson, Cavett and other long-defunct talk shows, plus Mel and Dick's Emmy-nominated HBO reunion special. Everyone's favorite 2,000-year-old man makes an appearance, too. This handsomely bound set also features 60 pages of photos and written contributions from noted show biz insiders, while the aforementioned compact disc serves up even more obscure comedic gems as well as Mel's memorable movie melodies.
Purchase The Incredible Mel Brooks: An Irresistible Collection Of Unhinged Comedy on Amazon.com
–
Mission Impossible: The Complete Television Collection (Paramount, $359)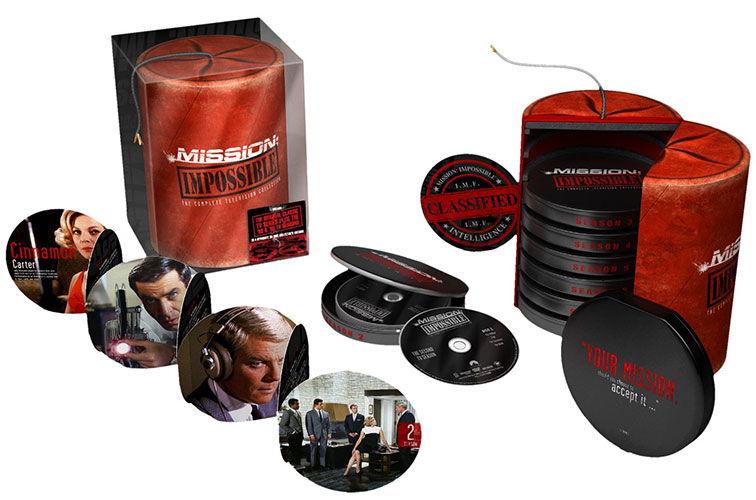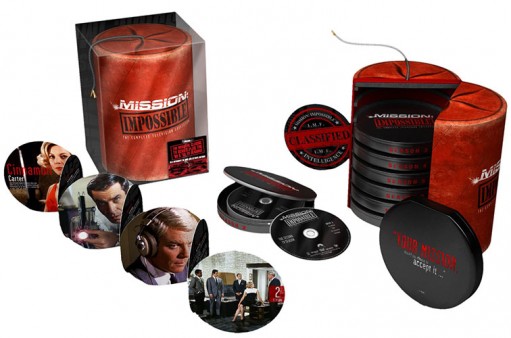 One of the most badass-wicked shows in TV history deserves one of the wickedest DVD packages ever, and this one certainly qualifies. Arriving in old-school film canisters (or perhaps for reel-to-reel audiotape?), which in turn are all tucked inside a stick of TNT, Paramount's hefty 56-disc set contains all seven seasons of the classic Mission Impossible–which ran from 1966 to 1973–alongside both seasons of the 1988-1990 revival. With a strong undercurrent of Sixties/Seventies cool, back when weekly action/adventure ruled the airwaves, the IMF tackled everything from the Cold War to current events, employing unreal gadgets and inspired schemes that never went off quite as planned. The gang is all here, with the transition from Steven Hill to Peter Graves as team leader, the introduction of Leonard Nimoy as a series regular (and William Shatner's two guest appearances!), plus the versatile future Oscar winner Martin Landau and the wonderful Greg Morris, who helped shatter the race ceiling when he became one of the first African American stars of a hit TV show. We meet him anew in a vintage interview that predates the premiere, among the surprising complement of bonus material, some new to disc for this well-rounded set. The original series has even been remixed and remastered for Dolby Digital 5.1!
Purchase Mission: Impossible – The Complete Television Collection at Amazon.com