Estimated reading time: 5 minutes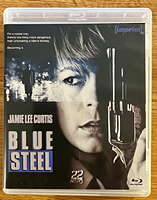 Blue Steel is the 1990 police neo-noir from director Kathryn Bigelow (Zero Dark Thirty, The Hurt Locker). It stars Jamie Lee Curtis (Halloween), Ron Silver, and Clancy Brown (The Shawshank Redemption, Starship Troopers).
Curtis plays rookie cop Megan Turner who witnesses a convenience store robbery on her first night on the beat. When she shoots and kills the suspect, one of the bystanders, Eugene Hunt (Ron Silver), sneakily picks up the robber's gun and takes it home with him. Hunt, a trader on Wall St. is the kind of rich, white male who easily goes under the radar. It is easy for Hunt to go unnoticed, therefore, when he becomes obsessed with and terrorizes Megan.
Megan, who is now under investigation by internal affairs because there was no gun found at the scene, ends up in a cat and mouse game with Hunt who starts using the stolen gun to kill innocent people using bullets that have her name carved on them. Meanwhile, homicide detective, Nick Mann (Brown) gets Megan promoted to detective.He gets her back her gun and badge so he can use her to track down the psychopath killing everyone.
No one believes Megan when she tells them the killer is Hunt. Moreover, Megan does things to ruin her credibility on the force, like being romantically involved with Hunt. As the stakes become higher, Megan becomes just as obsessed with catching Hunt as he is at playing his deranged games with her. She, however, is up against Hunt and his well of money and influence which he dips into to help him elude the law.
Bigelow, who co-wrote the screenplay with Eric Red, keeps the film's increasingly absurd twists from spinning completely off the rails. With that said, as Blue Steel gets closer to its conclusion some characters' decisions make it more difficult to suspend disbelief. On the other hand the visuals and camera angles make the film gorgeous to look at and the performances of both Curtis and Hunt help carry even the most over-the-top elements.
The Video
Blue Steel arrives on this Blu-ray Disc in a 1.78:1 AVC 1080p encodement. This does not appear to be a new restoration or remaster; however, it does suffer from some issues with edge enhancement. From the opening credits one can see jaggies on the text. Throughout the film ringing can be seen on objects and faces in some scenes. Apart from that the granularity looks natural as do the flesh tones.
The Audio
On Blu-ray, Blue Steel comes with a LPCM 2.0 mix of the original stereo soundtrack. The sound is good with wide stereo imaging, clear dialogue and good dynamics.
The Supplements
Imprint Films provides new interviews and a video essay on the disc as well as a superb 60-page booklet with the box set.
From the Limited Edition 7-Disc Hardbox After Dark: Neo-Noir Cinema Collection Two (1990-2002) with 60-page booklet, featuring essays from film critics Peter Galvin, Blake Howard & Alexei Toliopoulos.
On this Disc:
"A Hired Gun: Lee Percy on Blue Steel" (1080p; 00:10:33) NEW
"The Phallic Woman: Deconstructing Blue Steel" – With Film Historian Professor Jennifer Moorman (1080p; 00:19:31) NEW
"Staring Down the Barrel" – Production Designer Toby Corbett on Blue Steel (1080p; 00:08:57) NEW
"A Profound Emotional Response" – Video Essay by Film Historian Chris O'Neill (1080p; 00:12:31) NEW
Trailer (1080p)
The Final Assessment
This film has a lot for fans of this subgenre to sink their teeth into and feast their eyes upon. Some of the plot may seem hackish but it is still an enjoyable popcorn flick.
Blue Steel is available in the After Dark: Neo-Noir Cinema Collection Two (1990 – 2002) from Imprint Films, out 7 December 2022 in Australia. Available for purchase through the Imprint Films/ViaVision website.
---
Rating Certificate: Australia:M
Studios & Distributors: Lightning Pictures | Precision Films | Mack-Taylor Productions | Vestron Pictures | Lionsgate Home Entertainment | Imprint Films
Director: Kathryn Bigelow
Written By: Kathryn Bigelow | Eric Red
Run Time: 102 Mins.
Street Date: 7 December 2022 (After Dark: Neo-Noir Cinema Collection Two)
Aspect Ratio: 1.78:1
Video Format: AVC 1080p
Primary Audio: English LPCM 2.0
Subtitles: English HOH