Estimated reading time: 5 minutes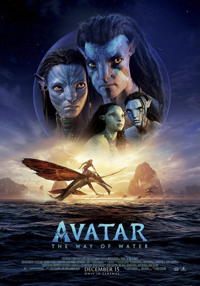 Those who have seen James Cameron's earlier epic films like Titanic and Avatar will understand how this writer-director's approach to the big screen has often focused more on cinematography and special effects than on on narrative or dialogue. The original Avatar (2009) became a billion dollar box office success, and won three Oscars for Art Direction, Cinematography, and Visual Effects. On the strength of Avatar's breakthrough performance, Cameron signed a 20th Century Fox contract to make four sequels, the first of these being Avatar: The Way of Water.
In Avatar, former Marine and paraplegic Jake Sully (Sam Worthington) participated in a daring experiment that resulted in his consciousness being transferred to the avatar of a 10-foot tall blue Na'vi warrior on the planet of Pandora. A decade later, Sully has become chief of the Omaticaya forest people and has a family: wife Neytiri (Zoe Saldana), sons Neteyam (Jamie Flatters) and Lo'ak (Britain Dalton), a daughter Tuk (Trinity Jo-Li Bliss), adopted daughter Kiri (Sigourney Weaver) and a human boy Spider (Jack Champion). Spider was actually the son of Colonel Miles Quaritch (Stephen Lang) killed by Neytiri in the first film but resurrected as a Recombinant Na'vi avatar leading a force of Recombinant Marine Na'vi avatars to take over Pandora as a replacement for the dying Earth and to kill Sully.
Shortly after the Recombinants arrive on the Bridgehead City outpost on Pandora, they defeat Jake's troops and Spider is captured by Quartich who recognizes him as his son. Seeking a safe haven, Jake and his family travel to the distant village of the Metkayina reef people where Kiri bonds with the sea creatures and Lo'ak gets friendly with Tsireya (Bailey Bass), the daughter of the chief Tonowari (Cliff Curtis) and his pregnant wife Ronal (Kate Winslett).
Later, Lo'ak gets abandoned in the domain of the tulkun Payakan, a huge whale-like creature who enables his safe return to the village. Quaritch and a crew of Recombinants and whale hunters find the Metkayina village and, after failing to learn of Jake's whereabouts, he orders the crew to burn the villagers' homes and destroy the other tulkuns who have migrated to the reefs. Payakan has escaped, but Lo'ak, Tsireya and Tonowari's son Aonung (Filip Gelijo) are captured by Quaritch leading up to a battle royale against the Recombinant forces and crew aboard the whaling vessel as Jake and Neyriti try to rescue their children.
If you liked Avatar, then you will gladly buckle up for the 3 hours and 15 minutes of another Cameron extravaganza created in the same spirit but with absolutely amazing underwater swimming sequences and huge flying and diving sea creatures that are more impressive than what was in the forest scenes of its predecessor. That said, the film is overly long with repetitive battle sequences at the expense of getting to know the characters.
If CGI figuratively and literally floats your boats (pun intended), Avatar: The Way of Water will be a feast for your eyes. Viewers expecting a coherent storyline will need to look elsewhere since there are so many danglers and detours in this script, like the fountain of youth serum for which tulkuns are hunted and killed. I wished I had had a rewind device in the movie theater to sort them all out. As this one concludes, plenty of room is left for the sequels—for better or for worse. Recommended with reservations.
Avatar: The Way of Water is in theaters in the US now.
---
Rating Certificate: PG-13 (for sequences of strong violence and intense action, partial nudity and some strong language)
Studios & Distributors: Lightstorm Entertainment | TSG Entertainment | 20th Century Studios | Walt Disney Studios Motion Pictures
Country: USA
Language: English
Run Time: 192 Mins.
Aspect Ratio: 2.39:1
Director: James Cameron
Written By: James Cameron | Rick Jaffa | Amanda Silver
Release Date: 16 December 2022