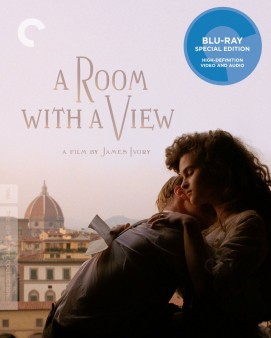 –
The Film
[Rating:5/5]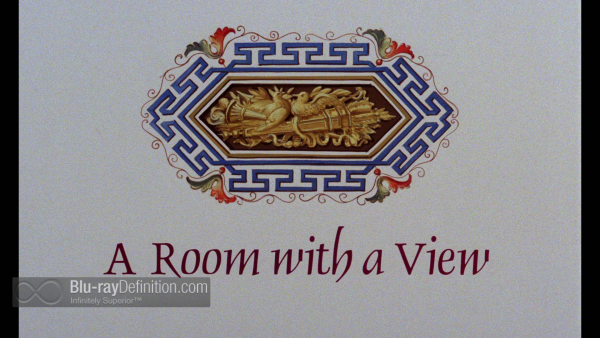 The first in the first of four films from Merchant-Ivory's most successful "English Period" that also included Maurice (1987), Howard's End (1992), and The Remains of the Day (1993), A Room with a View (1985), from the E.M. Forster novel, is a pleasant comedy of manners, a romance, and a magnificent picture to look at thanks to the location settings and the cinematography of Tony Pierce-Roberts.
A young Helena Bonham Carter (Cinderella), appearing in only her second feature film, plays the young Lucy Honeychurch who takes a vacation in Tuscany with her cousin and chaperon Charlotte Bartlett (Maggie Smith; TV's Downton Abbey). The pair end up with a room without a view, which is the cause of them meeting the dashing young George Emerson (Julian Sands) and his father Mr. Emerson (Denholm Elliott), the latter offering to switch rooms because theirs has lovely view, and, after all, women need views, not men. Lucy becomes far too familiar with the free-spirited young George for her cousin's tastes, and when Charlotte catches her in a steamy kiss in a sun-soaked field, she demands that they return home to England. When in England, Lucy is forced to settle for the terribly tiresome, snobbish Cecil Vyse (Daniel Day-Lewis) as her fiancé, but the shaky relationship is tested when George and his father move into an empty house one town over. Now Lucy is caught between the two, the safe and terribly annoying Cecil, and the wildly passionate George.
A Room with a View unfolds just like the leisurely afternoons that are often being portrayed on screen. It is not a film that will capture you with quick pacing and special effects, but the colorful characters, thoughtfully portrayed by a cast of veterans and newcomers alike combined with the stunning picturesque settings and luxuriant sets make it a pleasure to watch.
The film won four Academy Awards, including Best Picture and Best Writing, Screenplay Based on Material from Another Medium (Ruth Prawer Jhabvala).

Video Quality
[Rating:5/5]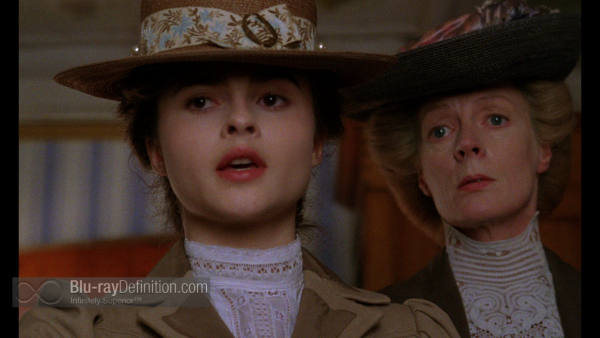 A Room with a View was shot on the Arriflex 35 BL3 camera with Zeiss lenses on Fuji A 125T 8511 and AX 500T 8514 35mm film stock. This new digital transfer, supervised by director James Ivory and cinematographer Tony Pierce-Roberts, was created in 4K resolution on an ARRISCAN film scanner from the original 35mm camera negative. According to notes from Criterion, the original camera negative was believed to have been removed the final "fixation" bath too soon, which resulted in chroma hue shifting across the entire feature, even within the same shots, frames were slightly different. This chroma shifting was addressed during the restoration process on Digital Vision's Phoenix, as well as grain reduction, noise management, and some dirt removal. Additionally, dirt, debris, scratches, warps, and splices were removed on MTT's DRS.
The film is brought to Blu-ray in the director's preferred 1.66:1 aspect ratio in 1n AVC/MPEG-4 1080p/24 encodement and it honestly has never looked better. I have had an early Blu-ray release of this film for years, and it just does not reach the level of crispness, filmic quality, and vibrancy that this Criterion restoration does. This is an excellent transfer that takes your breath away.

Audio Quality
[Rating:4.5/5]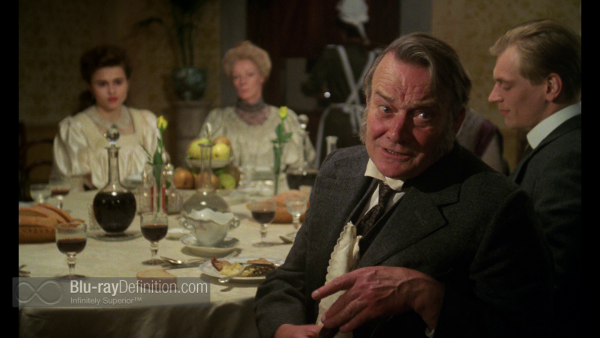 The stereo soundtrack in DTS-HD Master Audio 2.0 (48kHz/24-bit) is equally strong. Taken from the 35mm magnetic tracks, the stereo imaging is magnificent, and so is the dynamic range. The orchestral and operatic classical score has a wide dynamic breath with a lot of natural air, the dialogue is clear and full, and the natural ambience of Italy and the English countryside comes through wonderfully, even without any surround channels.

Supplemental Materials
[Rating:3.5/5]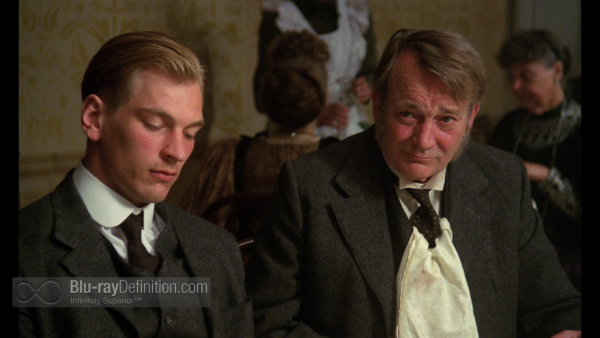 We get a thin booklet for this Criterion release, but the essay is still up to the usual standards. Additionally, the new on disc features are all worth watching and offer a lot of information with interviews from cast members and Merchant and Ivory.
Thought and Passion (1.78:1; 1080p/24; 00:21:22) – This documentary, produced by the Criterion Collection in 2015, features director James Ivory, cinematographer Tony Pierce-Roberts, and costume Designer John Bright discussing the production of A Room with a View.
The Eternal Yes (1.78:1; 1080p/24; 00:36:22) – This documentary, produced by the Criterion Collection in 2015, features actors Helena Bonham Carter, Simon Callow, and Julian Sands.
NBC Nightly News (1.33:1; up-scaled 1080i/60; 00:04:06) – This excerpt from the March 29, 1987, episode of NBC Nightly News profiles director James Ivory and producer Ismail Merchant.
Trailer (1.85:1; 1080p/24; 00:02:23)
Essay on the film by John Pym

The Definitive Word
Overall:
[Rating:4.5/5]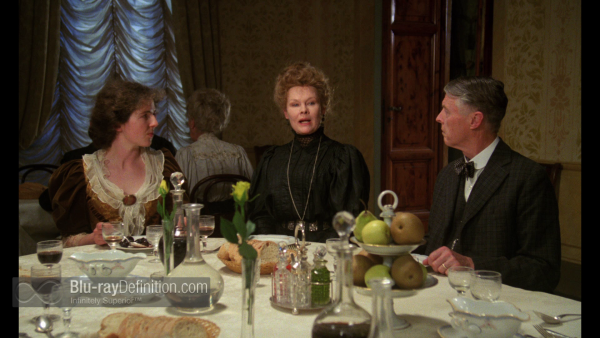 One of the definitive Merchant-Ivory films, A Room with a View, with this new 4K restoration from Criterion Collection, gets new life.

Additional Screen Captures