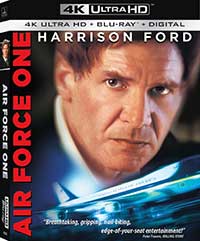 In the 1997 political thriller Air Force One Harrison Ford portrays the President of the United States, President James Marshall. After a conference in Kazakhstan in which he announces to the world he will not negotiate with terrorists, President Marshall's plane, the titular Air Force One, is hijacked on its flight back to the United States by radical Russian communists who want to take Russia back to their idea of its perceived glory days under the communist regime. When they take over the plane, Marshall, rather than escaping on the escape pod hides out in the cargo bay and the military veteran risks his life to save the plane, his colleagues, and his wife and daughter – as well as the world – from the terrorists.
Directed by Wolfgang Petersen (Das Boot, Outbreak), Air Force One is not a stretch for Harrison Ford. The role is in line with much of what he was doing in that era, from the Jack Ryan films, to films such as the The Fugitive. Ford slides right in to the role like an old pair of slippers and Petersen easily crafts a sense of tension and suspense even with a very thin plot device. Gary Oldman steals the show at every turn, however, as the terrorist and lead hijacker. There's never any doubt that Oldam's radical character is dangerous.
This story is not the strongest and most believable and it does take a lot of suspension of disbelief. The idea of an American president fighting off terrorists on Air Force One and behaving with the honor and dignity that Ford's Marshall does in this film seems quite quaint today – so quaint it borders on camp. That said, at the time, Petersen's film was more than a satisfying popcorn distraction and it remains an enjoyable if flawed thriller.
The Video
The film dates from 1997 and was originally shot on Arriflex 435 and Arriflex 535 cameras with 35mm Kodak Vision 320T 5277 film stock in the Super 35 format. It has been remastered in 4K for this new 4K Ultra HD release with HDR in an HEVC 2160p (4K) encodement framed at 2.40:1. While there are a few moments where it looks a little soft and grainy, generally this film transfers well to 4K and the HDR10's wider dynamic range gives a lot of 'pop' in the highlights like sheen on buttons, the soft glow of cabin lights in the airplane and the safety lights on the outside of the plane at night. Colors also look quite natural and crush is very minimal. This is in contrast to the other Harrison Ford films recently released on 4K, his Jack Ryan films Patriot Games and Clear and Present Danger (both from Paramount), which both suffered from some pretty bad black crush.
The Audio
Air Force One has been remixed to Dolby Atmos for this 4K Ultra HD release. It's a solid mix for this 1997 film, with the Atmos overhead channels offering a good sense of dimension and the surround and back channels a nice amount of ambience when needed. All the extra channels relay come into play with the sounds of the airplane and gunshot foley effects.
The Supplements
This is a barebones reissue that comes with only a director's commentary as a special feature.  The set also gets the previously issued Blu-ray and a Movies Anywhere code for watching at your provider of choice (Amazon Prime Video, iTunes, Vudu, Fandango Now, Google Play).
The Final Assessment
One of the lesser thrillers in the Harrison Ford cannon, but a reasonably enjoyable one nevertheless, Air Force One gets a strong new 4K transfer with HDR and an Atmos mix from Sony.
Air Force One is out on 4K Ultra HD Combo Pack on November 6, 2018 from Sony
Products from Amazon.com
‹
›
Columbia Pictures Corporation | Beacon Communications | Radiant Productions | Beacon Pictures | Sony Pictures Home Entertainment
Studios & Distributors
Wolfgang Petersen
Director
HEVC (H.265) 2160p (4K) | AVC 1080p (Blu-ray)
Video
4000 Nits
Maximum Luminance
0.005 Nits
Minimum Luminance
English Dolby Atmos (Compatible w/ Dolby TrueHD 7.1)
Primary Audio
English, French, DTS-HD MA 5.1 | Spanish DD 2.0 Stereo
Secondary Audio
English | English SDH | French | Spanish
Subtitles
HDR Effect (If Applicable)
Summary
Communist Russian terrorists hijack Air Force One demanding the release of one of their leaders and the President of the United Sates (Harrison Ford) must fight them off to save his family, his country's dignity, and his own life in this unlikely yet still enjoyable thriller from director Wolfgang Petersen. The new 4K restoration with HDR and Atmos mix breathes new life into this 1997 film.
What people say... Login to rate
Be the first to leave a review.
Show more