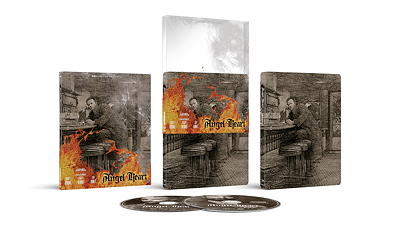 Set in the 1950s, in this controversial 1987 neo-noir, Angel Heart, from British director Alan Parker, who, despite being from across the pond, is known for making big, American movies, Mickey Rourke plays a smalltime Brooklyn detective named Harry Angel who is hired by a mysterious man named Louis Cyphre (Robert De Niro) to track down a missing singer named Johnny Favorite.
The search for Favorite will take Angel to New Orleans, into the arms of a beautiful young single mother named Epiphany Proudfoot (Lisa Bonet, fresh from The Cosby Show) and daughter of a woman connected to blues legend who may know where his target may be. As the bodies begin piling up every time he comes into contact with someone who may know who or where Favorite is, Angel finds himself the target of the law. His journey also takes him into the supernatural belly of New Orleans voodoo. Eventually Angel begins to realize something about the case, which is a shocking twist for him and anyone watching.
Parker loads Angel Heart up with all the usual neo-noir cues: the high contrast visuals, the angular camera shots, the femme fatale, and of course the gritty detective. The film is more than what meets the eye, however, dropping multiple clues to its conclusion from the very beginning, it is more supernatural noir than a straight neo-noir. De Niro as Cyphre holds the key to it all and though is role is a small one, he plays it well. Check out egg scene, it is powerful, foreboding, and Parker brilliantly sets us up for the ending.
The film was famously known for skirting an 'X' rating before its official release and requiring a re-editing to excise a few seconds from the sex scene between Rourke and Bonet. For that define it for all these years is a travesty, however. This is one that needs reassessing.
The Video
Lionsgate brings Angel Heart to 4K Ultra HD Blu-ray in the U.S. using the StudioCanal 4K restoration of the film which itself was previously issued in the UK on 4K. Not only is this release from the same 4K master but it is the identical disc authoring only with different art, as one can see from the identical disc menu and even British spellings of words and British copyright warning. With that said, the 1.78:1 HEVC 2160p (4K UHD) Dolby Vision (HDR10 compatible) encodement of the film looks spectacular. It's still the best the film has ever looked, providing much more natural grain resolution than the previous Blu-ray issues, even if some scenes look a little on the softer side. The colors and contrast benefit from the application of the Dolby Vision, making for beautiful neo-noir visuals, like a shot of a fan spinning in a window casting its shadows or light reflecting on faces against pitch black backgrounds. We can also see good specular highlights on lampshades and so forth, but it is never a gimmicky, overly pushed look.
The Audio
Lossless English DTS-HD Master Audio mixes are provided in 5.1 and 2.0 stereo. The 5.1 mix is a solid one that amps up the ambient nature of the film placing many subtle foley effects through the surrounds as well as balancing in the score. There is wide imagery and a good sense of dynamics. The low end isn't staggering, but enough for this sort of film. The 2.0 mix is also engaging with a strong sense of stereo imaging and good clarity.
The Supplements
All the bonus features that appeared on the previously released StudioCanal UK  4K steelbook are here, as to be expected, since, as mentioned, this is not only the identical transfer but also the same authoring of the disc with different disc art. They are all archival bonuses that were also previously issued.
Best Buy Exclusive 4K Ultra HD SteelBook with new artwork
Digital Copy Code
Audio Commentary with Alan Parker
Introduction to Angel Heart by Alan Parker (1080p; DV; 00:01:12)
Alan Parker Interview Excerpt from Cinéastes des Années 80 (1080p; DV; 00:26:39)
News Features (1080p; DV; 00:06:48)
Personality Profiles:

Mickey Rourke (1080p; DV; 00:03:37)
Lisa Bonet (1080p; DV; 00:03:39)
Alan Parker (1080p; DV; 00:03:12)

Additional Interviews:

Alan Parker (1080p; DV; 00:08:07)
Lisa Bonet (1080p; DV; 00:01:34)

Behind the Scenes Footage (1080p; DV; 00:01:32)
Teaser Trailer (1080p)
A Background in Voodoo:

Voodoo…The Truth (1080p; DV; 00:11:59)
New Orleans Voodoo Connection – History of Voodoo (1080p; DV; 00:20:06)
Dance as Worship: Meaning of Dance & Music (1080p; DV; 00:06:24)
Ashe (1080p; DV; 00:10:03)
Voodoo Macumba Dance Ensemble (1080p; DV; 00:08:55)

Behind the Scenes Gallery (1080p; DV)
The Final Assessment
A cult favorite that is much better than it was initially given credit for, Angel Heart may well be one of the most tragically underrated neo-noirs to come out. This 4K release is a gorgeous reference quality release fans should grab up.
Angel Heart (Best Buy Exclusive) (4K Ultra HD SteelBook) is out July 12, 2022 from Lionsgate
---
Rating Certificate: R
Studios & Distributors: Carolco International N.V. | Winkast Film Productions | Union | StudioCanal | Lionsgate
Director: Alan Parker
Written By:
William Hjortsberg
Alan Parker
Run Time: 113 Mins.
Street Date: 12 July 2022
Aspect Ratio: 1.78:1
Video Format: HEVC 2160p (4K UHD)
HDR Format: Dolby Vision (HDR10 Compatible)
Primary Audio: English DTS-HD Master Audio 5.1
Secondary Audio: English DTS-HD Master Audio 2.0 Stereo
Subtitles: English SDH