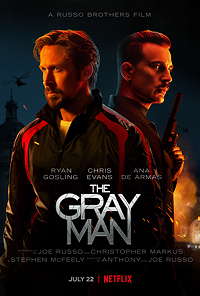 A very buff Ryan Gosling assumes the role of Courtland "Court" Gentry, serving time for murdering his abusive father. Senior CIA Official Donald Fitzroy (Billy Bob Thornton) offers Court a get out of jail card when he agrees to become a CIA black ops assassin—Code Name "Sierra Six." Moving ahead 18 years, Six is in Bangkok to take out someone suspected of a national security breach. Teamed with agent Dani Miranda (Ana de Armas), Six tracks down the wanted man who turns out to be Sierra Four, kills him, and takes an encrypted thumb drive incriminating CIA official Denny Carmichael (Rege-Jean Page). Rather than leave with Carmichael's men, Six sends the drive to Margaret Cahill (Alfre Woodard) in Prague who was once the Sierra Program manager. Carmichael hires former CIA agent Lloyd Hansen to take out Six and recover the drive. Hansen kidnaps Fitzroy's niece Claire to force the long-retired CIA agent to authorize the assassination of Six who foils the attempt on his life by killing the entire hit squad.
What follows is essentially a cat-and-mouse game between Hansen and Six as the former has imprisoned Fitzroy and Claire in an abandoned estate in Croatia and put a bounty on Six's head that attracts a team of assassins. Six goes to Vienna where he eludes Hansen and his mercenaries and takes the drive to Cahill where it is decrypted, thereby exposing Carmichael's corruption. After an over-the-top chase scene through the streets of Vienna involving a commuter train, several cars and a truck, Six and Miranda escape only to encounter the mercenary "Lone Wolf" (Danush) in a hospital. After another battle royale, Lone Wolf steals the drive for Hansen but later has a change of heart and gives it to Miranda. Using Claire's pacemaker signal, Miranda and Six  track her and Fitzroy to the Croatian mansion where they will attempt a rescue mission. The action culminates in what will become a brutal fight to the finish between Six and Hansen.
Writer-director brothers Anthony and Joe Russo have created a significantly revised version of the first entry in Mark Greaney's Gray Man series of novels that had spent the last decade in limbo. Perhaps The Gray Man would have been better off  had it stayed there rather than being turned into the film that we have been given. Gosling is his usual laconic self and does little more than go through a seemingly endless series of hand-to-hand combat sequences with a myriad of adversaries. Ana de Armas tries her best to out-macho Six but comes up short until she launches the rocket attack on the Croatian mansion. The most puzzling assignment was the one handed out to Chris Evans who sheds his iconic Captain America persona for that of an unhinged assassin, a villainous role that never quite convinced me. Two of the marquee names in this cast, Alfre Woodard and Billy Bob Thornton are given the brief and thankless roles in this two-hour long kill-fest with a tortuous and complex storyline providing enough gratuitous violence to qualify for its PG-13 rating. The Gray Man is a cringe-worthy action film that is quite skippable.
The Gray Man is streaming now on Netflix
---
Rating Certificate: PG-13 (for strong violence and strong language)
Studios & Distributors: AGBO | Netflix | Roth Films | Roth/Kirschenbaum Films | Stillking Films | Netflix
Country: USA | Czech Republic
Language: English
Run Time: 122 Mins.
Aspect Ratio: 2.39:1
Directors: 2.39:1
Written By: Joe Russo | Christopher Markus | Stephen McFeely
Release Date: 22 July 2022