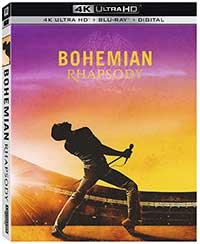 Bohemian Rhapsody is the 2018 biopic from director Bryan Singer (X-Men: Apocalypse) that tells the story of iconic rock band Queen and their charismatic lead singer Freddie Mercury, played with an almost uncanny likeness of Mercury's mannerisms by Rami Malek.
The film begins with Mercury (born in Zanzibar as Farrokh Bulsara), a baggage handler at the airport and butting heads with his conservative father. Freddie eventually meets Brian May (played by Gwilym Lee) and Roger Taylor (played by Ben Hardy) just as their bassist leaves them after a gig. He's welcomed into the band when they hear is voice and things begin to turn around for the ensemble who are all still college students at this point. Meanwhile, Freddie, who is struggling with is sexuality, meets and eventually marries Mary Austin (played by Lucy Boynton) who will become, as he calls her the "love of his life" and his lifelong friend. The story then follows their rise to fame and eventual performance in 1985 at Bob Geldof's Live Aid concert to fight famine in Ethiopia, which took place in London and Philadelphia and was broadcast around the world.
There is so much to love about Bohemian Rhapsody, not the least of which is Rami Malek who obviously put his all into becoming on screen who was one of the greatest frontmen rock and roll has ever seen. Director Singer infuses the film with rock and roll energy, the pacing never really slumping, even during some of the most tender moments.
That said, there are so many issues that keep Bohemian Rhapsody from being a great biopic. It is less a docudrama and more a monument to the greatness to Freddie Mercury. Even though that is the case, and even though Brian May and Roger Taylor consulted on the film, the timeline of events, including when certain songs appeared, the band splitting up (never happened), Freddie Mercury being the first to release a solo album (Taylor was), and even when Mercury was diagnosed with HIV is all wrong. These rejiggered historical facts just can't be overlooked and require a number of marks be taken off an otherwise enjoyable film.
The Video
Bohemian Rhapsody was shot on the Arri Alexa 65 with Hasselblad Prime DNA and Prime 65-S lenses, the Arri Alexa SXT with Cooke Speed Panchro Lenses (first act), and the Arriflex 35 BL (I Want To Break Free) in ARRIRAW 6.5K & 3.4K resolution in Dolby Vision except "I Want to Break Free" which was shot on 35mm. The film arrives on 4K Ultra HD in an HEVC 2160p (4K) encodement framed at 2.39:1 and with HDR10+ HDR.  As my OLED display only supports Dolby Vision and HDR10, I watched this in standard HDR10 HDR and it looks good. One can imagine that HDR10 would be similar to Dolby Vision on the current batch of displays, especially since there are no 12-bit displays, so the frame-by-frame metadata provides a little more nuance in the highlights, shadows, color and overall dynamic range. That said, in standard HDR10 (this one mastered at maximum nits of 1000 and minimum of 0.005) looks excellent. The detail is certainly crisper than in the Blu-ray, which itself is very clean and detailed, but not quite as filmic looking as the UHD disc. Compare the Live Aid concert and see how there's a sharper look on the UHD compared to the BD and the stage lights 'pop' more with a slightly more varied array of color, but both discs present the scene brilliantly.
The Audio
Bohemian Rhapsody arrives with a fantastic Dolby Atmos mix. It superbly captures Queen's hard rock anthems and puts us in the center of their performances spaces as well as giving some hard pans both across the front and the surrounds of the music. I haven't had the opportunity to compare, but some of the audio mixes sound similar to the 5.1 mixes of their music that have appeared on DVD-A discs. There's also a very hefty low end to support the music. Going back to the Live Aid segment, the Atmos height/overhead channels really help to reproduce the Wembley space. In comparison, the DTS-HD Master Audio 7.1 mix comes very close and is awesome as well, but once you've heard the Atmos mix, you definitely miss it, if you haven't, won't be missing a thing.
The Supplements
The extras are very informative and include lots of interviews with the cast, director, and crew.
Movies Anywhere Digital Code
Blu-ray with feature film and special features
The Complete Live Aid Movie Performance (UHD/HDR & HD)
Rami Malek: Becoming Freddie (1.78:1; 1080p; 00:16:13)
The Look and Sound of Queen (1.78:1; 1080p; 00:21:44)
Recreating Live Aid (1.78:1; 1080p; 00:19:55)
Theatrical Trailers
The Final Assessment
An entertaining film that is a monument to one of the greatest rock and roll frontmen. The 4K Ultra HD disc is reference all around and if one can overlook the film's inaccuracies, then it's a great watch.
Bohemian Rhapsody is out on 4K Ultra HD Combo Pack February 12, 2019 from Fox Home Entertainment
[amazon_link asins='B07HSK3DWD,B07HSK1LXF,B07HSK3DWC' template='ProductCarousel' store='theaterbyte-20′ marketplace='US' link_id='0d5667ad-0a5d-494e-a622-935385ee6930′]
---
PG-13 (for thematic elements, suggestive material, drug content and language)
Rating Certificate
20th Century Fox | New Regency | GK Films | Queen Films
Studios & Distributors
$39.99
MSRP
HEVC (H.265) 2160p (4K) | AVC 1080p (Blu-ray)
Video
English Dolby Atmos (Compatible w/ Dolby TrueHD 7.1)
Primary Audio
English DTS-HD MA 7.1 (Blu-ray) | English DD 2.0 | English Descriptive Audio 5.1 | Spanish DD 5.1 | French DD 5.1
Secondary Audio
English SDH | Spanish | French
Subtitles
HDR Effect (If Applicable)
Summary
Bohemian Rhapsody is the 2018 biopic from director Bryan Singer (X-Men: Apocalypse) that tells the story of iconic rock band Queen and their charismatic lead singer Freddie Mercury. Fox Home Entertainment provides a dazzling 4K Ultra HD presentation with HDR and Atmos.
What people say... Login to rate
Be the first to leave a review.
Show more