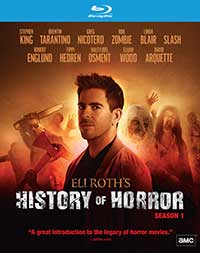 Eli Roth, director of such horror fare as Hostel (2005) and The Green Inferno (2013) presents this AMC documentary series, Eli Roth's History of Horror, a topic certainly near and dear to his heart.
This first season is spread across seven episodes, each one covering a different topic, with two episodes covering "Slashers". The rest are "Zombies," "The Demons Inside," "Killer Creatures," "Vampires," and "Ghost Stories".
The series offers lengthy interviews interspersed with film clips from classic movies and TV series, conducted by Eli Roth himself, of people such as Rob Zombie, Stephen King, Quentin Tarantino, Greg Nicotero, Joe Hill, Diablo Cody, John Landis, and other celebrities, horror directors, and experts. For fans of the genre this is a fantastic series that breaks down the history of horror in shorthand. Some may not agree with all of the conclusions or even starting points from whence they begin for each subgenre, but it is an entry point. For instance, this being an AMC series, there is far too much attention paid to The Walking Dead as the catalyst for the resurgence of the popularity of zombies in pop culture and films such as Resident Evil were mentioned only in passing.
Overall, this is a good series that will hold your attention and the guests who are interviewed all come across as very enthusiastic about the genre.
The Video
Eli Roth's History of Horror: Season 1 arrives on Blu-ray in a strong AVC 1080p encodement from RLJE. The HD interview segments look great with very little noise or artifacts and flesh tones are natural. Of course, this series also includes multiple clips of various films taken from different sources and the quality of those clips varies.
The Audio
AMC and RLJE provide a straightforward lossless English DTS-HD Master Audio 2.0 stereo mix for this Blu-ray which is more than good enough to convey what amounts to mostly a series of interview segments and film clips. Everything is intelligible and there is good stereo imaging where there are stereo clips provided.
The Supplements
The third Blu-ray Disc in the set is over two hours of bonus, extended interview segments from the series. While there are some repeated segments, mostly there are unseen interview segments from the people who appeared speaking on multiple topics. The best segments to watch are the ones with Tarantino and Stephen King.
The Final Assessment
RLJE and AMC present Eli Roth's History of Horror in a fine Blu-ray presentation that is superb for horror fans to binge, especially those just gaining interest in the genre.
Eli Roth's History of Horror is out on Blu-ray October 6, 2020 from RLJE
---
The Creative Content: 4.5/5
The Video: 4.0/5
The Audio: 3.5/5
The Supplements: 2.5/5
Studios & Distributors: Asylum Entertainment | Marwar Junction Productions | AMC
Run Time: 294 Mins.
Street Date: 6 October 2020
Aspect Ratio: Various Aspect Ratios/1.78:1
Video Format: AVC 1080p
Primary Audio: English DTS-HD MA 2.0 Stereo
Subtitles: English SDH