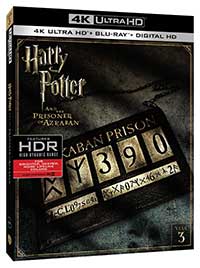 The third time's a charm and for the third Harry Potter film, Harry Potter and the Prisoner of Azkaban, with a new director in tow, Alfonso Cuarón, the franchise was hitting on all cylinders. It's titular character (Daniel Radcliffe), now not quite as naïve or as young anymore, finds himself the target of Sirius Black (Gary Oldman), a prisoner escaped from Azkaban prison. Furthermore, Harry is strangely affected by the wraith-like, soul-sucking beings that guard Azkaban, the Dementors, that are now on guard at Hogwarts and on the hunt for Sirius Black.
This third film in the Potter franchise gets much darker than the previous two films combined, but it also balances things out with some lighthearted comedy, such as Ron's (Rupert Grint) constant confusion at Hermione's (Emma Watson) seeming ability to be in two places at once.
At this stage in the three young actors' careers, it might have been difficult to transition the franchise from the earlier, more childlike wonder of Chamber of Secrets, to this adolescent stage, but Cuarón handles it wonderfully without getting too bogged down in pubescent angst and letting the adventure and dread of Rowling's source take precedent. The awkward moments happen naturally, like a handheld in fear or when Hermione stresses about how her hair looks from the back.
The Prisoner of Azkaban is the perfect coming of age film for the Potter franchise – it tips over just a bit into the world of dark fantasy and psychological drama, it satisfies more of what fans of the books wanted from the previous films, and it feels like a wholly satisfying entry in this mega-smash series.
The Video
Harry Potter and the Prisoner of Azkaban is an anamorphic Super 35, 35mm production shot on Kodak Vision2 500T 5218 and Vision 200T 5274 film stock with Arricam LT and Arriflex 435 cameras and Cooke S4 lenses. This 4K Ultra HD Blu-ray release arrives in a HEVC 2160p (4K) encodement with HDR10 high dynamic range (HDR) framed at 2.40:1. The film structure is well-preserved, looking quite normal for a Super 35 source, which is to say it can at times look a bit coarsely grainy, but not terribly so. As with the previous Harry Potter 4K Ultra HD releases, the colors look gorgeous and the highlights 'pop' really nicely. Flames have beautiful amber glows, darkened rooms have far more nuance now and so forth. This films really come alive again in comparison to the also good, but not quite as strong Blu-ray discs that don't bring the color and VFX alive in the same way and have a bit more crush.
The Audio
Another spectacular English DTS:X mix accompanies this Harry Potter and the Prisoner of Azkaban reissue on 4K Ultra HD. From its deep, extended low end to the balance of solid sound effects that move around the room and overhead to the lush atmospherics of the John Williams score, this one is top-notch.
The Supplements
Just as with the previous two Harry Potter's I have already reviewed that are being released along with this one, the special features are ported over from the prior Blu-ray and DVD releases and reside on the included special feature Blu-ray disc. This release also drops the in-movie, interactive picture-in-picture special feature on the main feature Blu-ray Disc.
Blu-ray
Digital HD UltraViolet
Creating the World of Harry Potter, Part 3: Creatures (1.78:1; 1080i/60; 01:03:22) – Part 3 of the 8-hour documentary Creating the World of Harry Potter. Rare interviews and never-before-seen footage explores the creatures and the meanings behind them.
Inside the Creature Shop (1.78:1; 1080i/60; 00:08:27) – An exclusive tour inside the Harry Potter creature shop with creature designer Nick Dudman.
The Magic Touch of Harry Potter (1.33:1; SD; 00:42:28) – A documentary on bringing the Harry Potter films to the screen, featuring rare behind-the-scenes footage and stories from the first three films.
Harry Potter and the Prisoner of Azkaban: Something Wicked this Way Comes (1.33:1; SD; 00:13:02) – An exciting preview of the film featuring interviews with the cast and crew.
The Making of Prisoner of Azkaban (1.33:1; SD; 00:10:02) – An exclusive sneak preview of the film, featuring a special introduction with Daniel Radcliffe, Rupert Grint and Emma Watson.
An Interview in Spanish with Alfonso Cuarón (1.33:1; SD; 00:08:15) – Raw interview footage with Prisoner of Azkaban director Alfonso Cuarón, who discusses his interest in the Harry Potter franchise, he challenges of directing the third film of a series, and working with the young actors and author J.K. Rowling to bring the film to life.
Trelawney's Crystal Ball Deleted Scenes (2.40:1; 1080p/24; 00:04:53)
Trailers (1080p/24; 00:05:16)
The Final Assessment
Harry Potter and the Prisoner of Azkaban was at that point the best film in the Harry Potter franchise. It had an excellent performance from Gary Oldman and David Thewlis, plus a slightly more grownup, and darker overtone. This new 4K Ultra HD transfer with HDR and DTS:X audio mix is a brilliant home theater experience not to be missed by any fan.
Harry Potter and the Prisoner of Azkaban is out now on 4K Ultra HD Combo Pack from Warner Bros.
[amazon_auto_links id="106747"]
PG (for frightening moments, creature violence and mild language)
Rating Certificate
J.K. Rowling (novel) | Steve Kloves (screenplay)
Writer
$41.99
MSRP
HEVC 2160p (4K) | AVC 1080p (Blu-ray)
Video
4000 Nits
Maximum Luminance
0.005 Nits
Minimum Luminance
English DTS:X
Primary Audio
English Descriptive Audio | French | German | Italian | Portuguese | Spanish (Castilian & Latino) | Catalan
Secondary Audio
English SDH | French | German SDH | Italian SDH | Portuguese | Spanish (Castilian & Latino)
Subtitles
HDR Effect (If Applicable)
Summary
It's Harry Potter's (Daniel Radcliffe) third year at Hogwarts and he has left his ill-treating aunt and uncle's home only to find he is being pursued by Sirius Black (Gary Oldman), an escaped prisoner from the infamous Azakaban Prison, in this more mature, and darker entry in the franchise. Alfonso Cuarón takes over the directing reins and David Thewlis also stars. Warner Bros.' new 4K Ultra HD reissue with HDR and DTS:X audio mix is not to be missed.
What people say... Login to rate
Be the first to leave a review.
Show more