Another year has passed and it's time again to cast a seasonal spotlight upon our picks for some of the most giftable discs out there: 4K, Blu-ray and DVD. This year's list is long on animation, fantasy and small-screen drama, so grab a credit card, some wrapping paper and the scotch tape and gift away!
Batman: Mask of the Phantasm
Superman: The Movie Extended Cut & Special Edition (Warner Archive Collection)
Dug from the recesses of The Batcave and The Fortress of Solitude come (arguably, there are comic books involved after all) the two best big-screen outings of the two greatest (male!) superheroes of all time. Animated Batman was a pure, intense, authentic interpretation of The Dark Knight, and despite his the frequency of weekday afternoon exploits, there were sufficient unexplored corners of his psyche to give audiences this 1993 feature film, a tale of tortured souls and shattered dreams. Voice stars Kevin Conroy, Mark Hamill and Dana Delany positively slay it, while the PG-rated violence (and nooky!) strike the ideal tone. It's my understanding that the movie was created to the usual 1.37:1 standards of The Animated Series and later matted for theatrical exhibition. Both are included here and both work remarkably well, with clarity, color and nuanced blacks that–in the holiday spirit of giving–will fairly beg you to hand down your old DVD to the uninitiated. Although Dolby Digital surround debuted with Batman Returns one year earlier, this disc is content with DTS-HD Master Audio stereo, and so am I.
Now, I am dating myself, but there was a time when a blockbuster debuting on commercial television was a big deal. I remember the two-night ABC Superman event in 1982, with more than a half-hour of scenes reincorporated (apparently everything except the kitchen sink and the Brando trims), which led to the creation of a "cliffhanger" break during the Double Jeopardy scene. It was a little rough around the edges, limited to NTSC quality and pan-and-scan naturally, but it was still quite sought after, especially at a time when many folks still didn't own VCRs. Filling that void in masterful fashion, Warner Archive has released this two-disc set. Incredibly, the entire affair has been reassembled at the proper aspect ratio for the first time and restored at quality far beyond its original incarnation. The audio is based upon the mono of the era (but for the opening and closing credits), but nicely equalized and enjoyable as such. If you crave fuller sound and some swell extras, the studio has bundled in Richard Donner's 2000 "special edition," tighter than the extended cut and minus the "Did you feed the babies?" gag. The commentary and featurettes in particular are a total joy for us devotees.
These two are only recently arrived, but already among my desert island Blu-rays.
---
[amazon_auto_links id="106764″]
[amazon_auto_links id="106765″]
---
Speed Racer The Ultimate Collection (Funimation)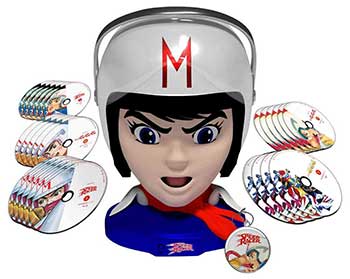 I can't help but express some disappointment in May's bare-bones Speed Racer Complete Series Blu-ray, amid whispers that it was going to be everything the fans have been dreaming of for years. Well, we now have the set we deserve. Brought to life from the manga Mach GoGoGo, Speed Racer is likely the first anime that most Americans were exposed to, and it was a huge hit, owing to its irresistible formula of fast cars, loving family and goofy humor. For the 50th anniversary of the series' premiere on Japanese television in 1967, the Funimation team has outdone itself with this awesome Blu-ray/DVD combo collector's edition. It brings together all 52 remastered episodes of the U.S. Speed Racer–with its Americanized voices, dialogue and music–as well as the original Mach Go Go Go episodes, plus the entire run of the 1997 reboot Mach Go Go Go: Restart in its native Japanese (DVD only). And in case you didn't notice, they put it all inside a more-or-less-life-sized version of Speed's noggin, with a liftable visor, authentic audio samples, plus a secret compartment housing a nifty keychain, since the Mach 5 predates push-button ignition. There's even a brand-new interview with Trixie voice actor Connie Orr, in full HD.
Start clearing ample shelf space for this absolutely spectacular set.
---
[amazon_auto_links id="106955″]
---
4 Transformers in 4K (Paramount)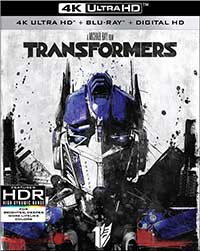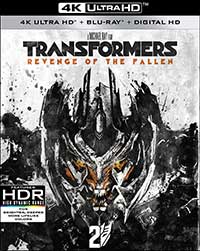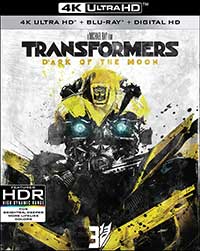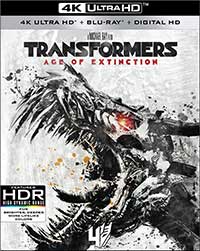 Following the 4K day-and-date release of The Last Knight (let's hope that "Last" has more than one meaning here), the remainder of what will likely be director Michael Bay's cinematic legacy has been transformed to Ultra HD resolution. I still contend that Transformers (2007) was better than it needed to be and certainly better than I was expecting, frankly, turning an '80s toy line/cartoon into a major Hollywood movie. Transformers: Revenge of the Fallen (2009) hit a few bumps, Transformers: Dark of the Moon (2011) recovered somewhat, while the switch from star Shia LaBeouf to Mark Wahlberg for Transformers: Age of Extinction (2014) inadvertently raised the question, "Does the world want or need a two-hour-and-45-minute Transformers sequel?"
In defense of the franchise, the production values have always been top-notch (the saga also transitioned to native 3D during the production of Dark of the Moon, although these are strictly 2D), and 4K is a welcome canvas for Bay's stylized camera work and ILM's eye-popping CGI. Age of Extinction was the very first Blu-ray to include a Dolby Atmos soundtrack, courtesy of 17-time Oscar nominee Greg P. Russell, and the new 4K discs are all rocking Atmos. There was a time when choosing a killer home theater demo scene was tricky because of disturbing dramatic content (think Saving Private Ryan), but these movies are… um, dramatically unencumbered. Each pack includes a movie-only Blu-ray (the first movie has an optional heads-up display viewing mode) plus a bonus Blu-ray of supplements (these movies clearly cost a fortune to make, but it all winds up on the screen) and Digital HD.
---
[amazon_auto_links id="106915″]
[amazon_auto_links id="106916″]
[amazon_auto_links id="106917″]
[amazon_auto_links id="106919″]
---
Harry Potter Years 1-4 in 4K (Warner)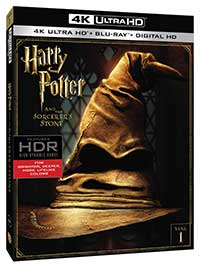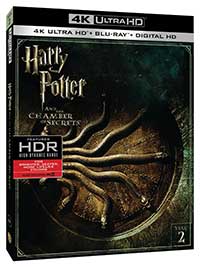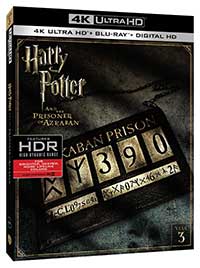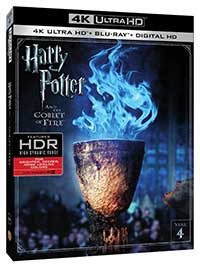 The rumblings from this spring turned out to be true, and the front half of the Harry Potter chronicle has indeed arrived, in glorious Ultra HD. Make no mistake, as with March's Years 5-8 discs, these represent new 4K scans of the original camera negatives with extensive post-production and high dynamic range enhancement. Chris Columbus met high expectations and ably established the heroic, magical J.K. Rowling cinematic universe with Harry Potter and the Sorcerer's Stone (un-Britified from "Philosopher's Stone") and Harry Potter and the Chamber of Secrets. Alfonso Cuarón grabbed the baton for Harry Potter and the Prisoner of Azkaban, with Mike Newell stepping in to helm Harry Potter and the Goblet of Fire, before David Yates assumed directing duties for the remainder of the series. Audio for all has also been upgraded from DTS-HD Master Audio 6.1/5.1 to immersive DTS:X.
Each is a single-movie bundle with a Blu-ray as well (where all of the bonus content can also be found) plus a Digital Copy. And for those who waited, a complete eight-film 4K collection is now available, too.
---
[amazon_auto_links id="106773″]
---
Spirited Away by Studio Ghibli! (GKIDS)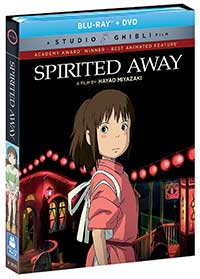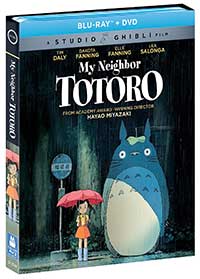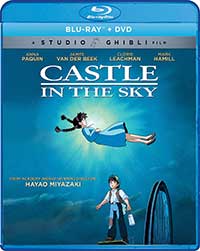 Studio Ghibli's animated canon is renowned for its unique brand of fantasy: some in relatable contemporary suburban settings, some steeped in Japanese history, others forged from pure imagination… and one about a flying pig. Sort of. Maintaining their notorious attention to detail, GKIDS is re-releasing these beloved feature films, ten Blu-ray/DVD combo packs in-hand so far with more to come in 2018. Some of these stories are tough to summarize on their own, let alone the entire wave in the space I have allotted, so instead I will share that sometimes these movies are simply so original and so beautiful to look at, it hurts my brain.
Nine are from the master himself, Hayao Miyazaki, ranging from G to PG-13: the Oscar-winning Spirited Away (created as Sen to Chihiro no kamikakushi), My Neighbor Totoro (Tonari no Totoro), Howl's Moving Castle (Hauru no ugoku shiro), Ponyo (Gake no ue no Ponyo), Kiki's Delivery Service (Majo no takkyûbin), Princess Mononoke (Mononoke-hime), Castle in the Sky (Tenkû no shiro Rapyuta), Nausicaä of the Valley of the Wind (Kaze no tani no Naushika), Porco Rosso (Kurenai no buta) and Castle in the Sky (Tenkû no shiro Rapyuta), plus Hiromasa Yonebayashi's The Secret World of Arrietty (Kari-gurashi no Arietti).
While the audio and video quality might not be drastic revelation compared to the previous Disney releases, the subtitles are now superior, based upon a thoughtful English translation of the Japanese script, the menus have been simplified, and some genuinely interesting bonus content has been added to legacy extras, as well as exclusive new old-school booklets for all.
---
[amazon_auto_links id="106774″]
[amazon_auto_links id="106775″]
[amazon_auto_links id="106776″]
[amazon_auto_links id="106777″]
---
South Park The Complete First thru Fifth Seasons… on Blu-ray! (Paramount)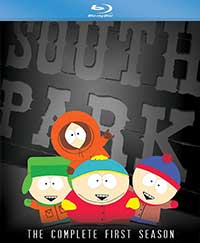 Yes, South Park is currently in its 21st season, which means the raunchy weekly sitcom about the frequently foul-mouthed tykes from Colorado has survived the transition from standard to high definition as well as 4:3 to 16:9. Mid-run, with Season 12, Paramount (which took control of the home entertainment rights to the Comedy Central mainstay from Warner) began releasing the seasons on Blu-ray, despite the unapologetically rudimentary animation.
Now, for those who don't recall, at the time of the initial DVD release in 2002, rumor had it that Warner was worried what Jodie Foster might think of creators Matt Stone and Trey Parker's snarky comments about Contact on one of their commentaries, and ultimately the tracks were pulled off the DVD altogether as a consequence. They were made available separately on CD, and people would actually cue up their CD and DVD players at the same time and synch them up as best they could to achieve the desired experience! I'm thrilled to report that all of these full-length commentaries have at long last been restored for Blu-ray, at the expense of just a few lesser extras from the DVD, absent here. As we progress to the following year, however, this becomes more of a good-news/bad-news situation than I'd like: The Season Two DVD's excellent hour-long documentary Goin' Down to South Park has been dropped, so completists should think twice before jettisoning their old DVD. No commentaries were recorded for Season Two (bad blood?), but Three thru Five had them, all ported to the Blu-rays.
These slim two-disc sets officially drop on 12/5, with Sixth thru Eleventh Seasons two weeks later, so don't drag your feet if you want these to make it into the stocking of that special man-child on your list.
---
[amazon_auto_links id="106778″]
---
The Vampire Diaries The Complete Series Blu-ray
Pretty Little Liars The Complete Series DVD (Warner)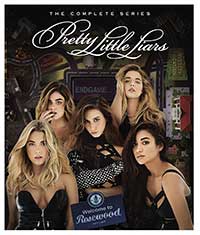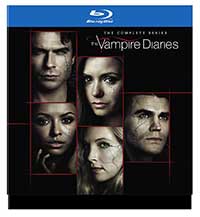 No stranger to primetime melodrama, Dawson's Creek creator Kevin Williamson shared with Julie Plec the duty of adapting the series of YA paranormal romance novels (it's totally a thing!) for The CW. Premiering one year after the first Twilight movie–although L.J. Smith's Vampire books actually precede Stephenie Meyer's Twilight tomes by more than two decades–the show gave it's largely young, largely female target demographic precisely the thrills and chills they craved. Soon enough a love triangle between diarist Elena Gilbert (Nina Dobrev) and her bloodsucking beaus (Paul Wesley and Ian Somerhalder) took shape against the rich backstory of the long-lived vamps and the dark, secret history of their Southern town. Remarkably the show never felt like it was beating a dead horse, even across eight seasons and 171episodes.
The extras from the various single-season sets carry over: audio commentary, featurettes, deleted scenes and quite a bit more.
Set squarely in the real world–Pennsylvania, to be more precise–Sara Shephard's Pretty Little Liars book series gave rise to what was once referred to as "Desperate Housewives for teens," a dark, secret-filled TV-14 drama that ran for seven season and 160 episodes on ABC Family. The core characters are five decidedly imperfect high school students who drift apart when their queen bee mysteriously disappears, only to be drawn back together when all receive strange, disturbing, increasingly dangerous messages… from beyond the grave? I won't spoil it, but the story arcs have real weight, and you probably won't see the finale coming. Again, all individual-season extras are here, including deleted scenes from each year and extensive featurettes.
---
[amazon_auto_links id="106779″]
[amazon_auto_links id="106780″]
---
Alfred Hitchcock: The Ultimate Collection (Universal Studios)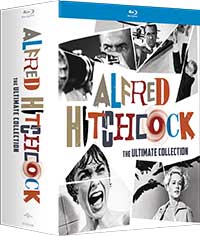 Universal thought that it was time to reissue the extras-loaded Blu-rays from 2012's "Masterpiece Collection," and who are we to argue? Cutting a nice, fat swath across Hitch's legendary canon, the lineup includes some of his finest films: Psycho, The Birds, Vertigo, Rear Window, North by Northwest (a personal favorite), The Man Who Knew Too Much, Marnie, Saboteur, Shadow of a Doubt, Rope, The Trouble with Harry, Torn Curtain, Topaz, Frenzy, and his last, Family Plot. The book-style packaging for the 15 platters might seem familiar, as well as the companion book–densely packed with photos and insight–along with the abundant on-disc supplementary materials, expert commentary tracks and enjoyable interviews and vintage tidbits beyond counting. What really sets this redux apart is the addition of two bonus discs (DVDs) which (I believe) were created just for this box. The first disc is filled with one episode from each of the seven seasons of Alfred Hitchcock Presents (1955-1962), while the other has one each from the three seasons of The Alfred Hitchcock Hour (1962-1965), a welcome addition since the latter has still not been released here in the U.S. in complete season sets. Each DVD contains an overview featurette about its particular series, and taken together they provide a fascinating glimpse into the state of popular entertainment during the decade of The Master of Suspense's greatest popularity.
---
[amazon_auto_links id="107561″]
---
DVDs
Dynasty The Complete Series (CBS/Paramount)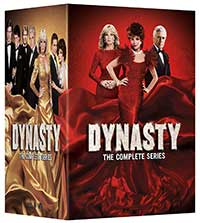 The late Prince once stated that "you don't have to watch Dynasty to have an attitude," to which I add, "but we could all learn a lot." Among the guiltiest of the small-screen pleasures of my youth was this juicy primetime soap, spanning 1981 to 1989, seeming to epitomize the decade of excess… at least until it began to overstay its welcome. Like Dallas before it, the backdrop was the oil business, but creators Richard and Esther Shapiro managed to capture here more of the romance and grandeur of George Stevens' Giant. Launched each week by Bill Conti's memorable theme, Dynasty served up an ever-churning cast, sometimes explained away by plastic surgery, these powerful men and their comely, bedecked, differently powerful ladies embroiled in unending personal and professional turmoil. Despite an exceptionally well-written first year, the series came into its own with the arrival of troublemaking Alexis (Joan Collins in what would be revealed as her career-defining performance) in the Season Two premiere on November 11, 1981. The 217 episodes fill these 53 neatly repackaged discs, along with profiles of TV siblings Steven and Fallon Carrington (Al Corley and Pamela Sue Martin, neither of whom appear on the box art) a vintage Entertainment Tonight interview and a retrospective mini-doc.
---
[amazon_auto_links id="106781″]
---
CSI: Crime Scene Investigation The Complete Series
CSI: Miami The Complete Series (CBS/Paramount)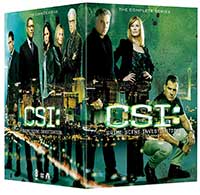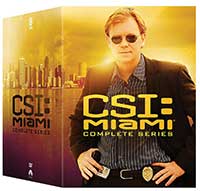 By the numbers (these are shows about science, after all), CSI: ran for a total of 15 seasons and 337 episodes, leading to two different spinoffs and earning half a dozen Emmys along the way, now on a total of 93 discs. As boss Grissom, William Petersen portrayed with delicious awkwardness a man who each week was tasked to methodically get to the bottom of gruesome crimes that would horrify most sane people, relying upon his keen intellect and some made-up technology mixed in with the real stuff. Smart, very entertaining, and for a while the most-watched show on the planet, the Las Vegas-set original also gave Marg Helgenberger her best role since China Beach, in addition to eventually attracting the likes of Laurence Fishburne, Ted Danson and Elisabeth Shue, plus super-fan Quentin Tarantino, who directed 2005's two-part season finale, "Grave Danger." As a heads-up, don't adjust your TV: The discs are an assortment of full-frame and widescreen video in addition to stereo and 5.1-channel audio. A staggering amount of bonus content is strewn across the set, nigh-countless featurettes plus audio commentaries.
Finally acquitting himself after a messy departure from NYPD Blue, David Caruso brought a world-weary edge to the sunny streets (and swamps) of Florida in his decade as Lt. Horatio Caine, an expert in explosive forensics and eyeroll-inducing puns. While the series has been knocked for just giving audiences more of the same, the forensic science spin on tried-and-true police procedurals is a fertile breeding ground for serial television, and the more emotional Caine would never be mistaken for Grissom, surrounded by his own diverse supporting cast. The 232 episodes occupy 65 discs Here again, the format is split between 4:3 and 16:9, and one of the many featurettes even explores the series' transition from film to digital video.
---
[amazon_auto_links id="106782″]
[amazon_auto_links id="106783″]
---
TJ Hooker The Complete Series (Shout! Factory)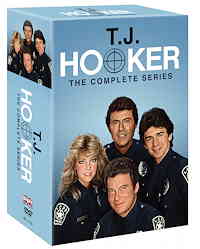 What if Captain Kirk found a second career as a Los Angeles beat cop? With the weekly Star Trek behind him and the movie spinoffs in full swing, William Shatner brought his unique and highly entertaining intensity to the mean streets of the big city, As Sergeant Thomas Jefferson Hooker (a deliberate flip of Kirk's "James T." initials?), he was a seasoned detective now back in blue and teamed with a young rookie (Adrian Zmed) to fight crime on the front lines. Heather Locklear broke up the sausage fest at the top of Season Two, and James Darren joined the cast one week later. With somewhat heavy-handed drama but plenty of action, Hooker was a primetime staple for viewers ever-hungry for police procedurals, across four-and-a-half seasons (1982-1986, the first was a mid-season replacement and a mere five episodes) including the transition from ABC to CBS. Shout!'s 21-disc set neatly collects all 91 installments, ten directed by Shatner himself, plus the inevitable visit from Leonard Nimoy. The 4:3, standard definition mastering and mono audio is quite good, although a new on-camera interview from the wildly engaging Mr. S.–or any bonus content whatsoever–would surely have been cause for further celebration.
---
[amazon_auto_links id="107562″]
---
TheaterByte's 4K & Blu-ray Holiday Gift Guide 2017 Gallery
[envira-album id="106814″]
---
(Editor's Note: A previous version of this article contained the incorrect image and link for Speed Racer: The Ultimate Collection. | Updated to add in mentions of Alfred Hitchcock: The Ultimate Collection and TJ Hooker the Complete Series)