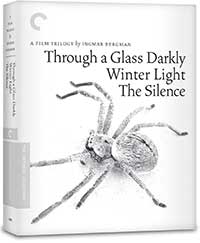 After doing such surreal and artsy films as The Seventh Seal, Swedish auteur Ingmar Bergman decided to turn more toward the personal with his next set of films, which would become the films known as his Trilogy. The son of a Lutheran pastor, Bergman embarked on three films that would explore faith in its own unique way.
Through a Glass Darkly follows a young woman, Karin, who to her family island after spending time in a mental hospital. On the island with her is her lonely brother Minus (Lars Passgård) and husband (Max von Sydow). Her father, a renowned author (Gunnar Björnstrand) estranged from his children is caught between helping his daughter and observing her downfall out of his curious, artistic nature.
Winter Light, the second film in Bergman's trilogy of films dealing with faith is arguably the one that most directly tackles the subject. The story deals with the pastor of a small, rural church (Tomas Ericsson) who, while suffering a cold on a Sunday afternoon after a service for his small congregation, is also suffering a crisis of faith. A fisherman who is a member of his congregation (Jonas Persson), is suffering severe anxiety over China possibly obtaining the atom bomb, and the pastor tries to console him, but instead he can only lament is own loss of faith. His own mistress, a local schoolteacher (Maerta Lundberg) tries to console him and offer him her love, but he cannot accept it from her.
Finally, in The Silence, two sisters Anna (Gunnel Lindblom) and Esther (Ingrid Thulin) along with one's 10-year-old son Johan (Jörgen Lindström) travel to a Central European country that seems to be on the verge of war. The three settle into a hotel and one sister, due to illness, stays in while the other goes out to find a connection. Meanwhile, Johan escapes into the world of the hotel, eventually coming across a troupe of dwarfs. The Silence would be the most controversial of the three films, running into bans and censorship in various countries.
Apart from the very personal themes of faith and humanity running through all of these films, what holds them all together is the beautiful technical filmmaking of Bergman aided by the cinematography of Sven Nyqvist, who provides stark, gorgeous black and white photography, icy, foggy shots over the lakeside in Winter Light, severe close-ups on faces that create such an atmosphere of intimacy, and flawless framing of natural surroundings, such as a shot of two trees framing the local church in Winter Light.
The Video
The Ingmar Bergman Film Trilogy arrives with new 2K digital restorations of each film from the Swedish Film Institute. The transfers were all done on a Scanity film scanner from the 35mm original camera negative of Winter Light, and the 35mm interpositives of Through a Glass Darkly and The Silence. All three films come in their original 1.37:1 aspect ratio in AVC 1080p encodements. The image of Winter Light, despite being the only one from the original camera negative, looks the grittiest, because of the artistic choices originally undertaken during the production, but that said, each one of these films looks brilliant, with stark black and white imagery that really comes through beautifully on my OLED display. Detail is crisp on Bergman's numerous facial close-ups, but even mid-level and distance shots maintain a great level of detail. Blacks are inky and whites do not blow out.
The Audio
Each film's audio track was remastered from the original 35mm monaural optical track and presented in this Ingmar Bergman Film Trilogy collection in LPCM 1.0. The dialogue is clear, and the musical scores come through nicely as well. There isn't much audible crackle or hiss.
The Supplements
While the collection of special features is ported over from previous Criterion Collection issues, they are still well worth watching and reading. As is the usual case with Criterion releases, the older standard definition featurettes have been upscaled to 1080i.
Booklet: An essay by film scholar Catherine Wheatley and an excerpt from Bergman's 1987 autobiography, The Magic Lantern.
Through a Glass Darkly
Ingmar Bergman Introduction (1.78:1; 1080i/60) – In 2003, Swedish journalist Marie Nyreröd recorded brief introductions with the director for many of his films. For Through a Glass Darkly, Nyreröd sets up the film's provenance and location, and she shows an excerpt from a 1961 television program featuring Bergman and members of his cast.
Exploring the Film (1.33:1; 1080i/60) – In this interview, recorded for the Criterion Collection in 2003, Bergman biographer Peter Cowie offers context for Bergman's trilogy of films about faith and Through a Glass Darkly specifically – its inception, key players, and themes.
Harriet Andersson (1.78:1; 1080p) – As a special guest at the 2012 Midnight Sun Film Festival in Sodankylä, Finland, actor Harriet Andersson was interviewed by Ingmar Bergman biographer Foster Hirsch. A brief excerpt from their conversation is presented here, accompanied by behind-the-scenes footage from Through a Glass Darkly.
Sven Nykvist (1080p)– Excerpted audio interview with longtime Bergman cinematographer Sven Nyqvist illustrated with clips from several of the films they made together. Originally recorded on February 7, 1981, during a Harold Lloyd Master Seminar at the American Film Institute in Los Angeles.
Gunnar Björnstrand – A fifteen-minute audio interview with a tor Gunnar Björnstrand, which was conducted by film critic Gideon Bachmann and recorded at the Berlin Film Festival in 1962.
S. Theatrical Trailer (1.37:1; 1080p)
Winter Light
Ingmar Bergman Introduction
Exploring the Film (1.33:1; 1080i/60)– In this interview, recorded in 2003 by the Criterion Collection, Ingmar Bergman biographer Peter Cowie discusses the filmmaker's inspiration for Winter Light, his revolutionary direction, and the performance of Gunnar Björnstrand.
Ingmar Bergman Makes a Movie (1.37:1; 1080i/60) –While apprenticing with Bergman, aspiring filmmaker Vilgot Sjöman (I Am Curious – Yellow) received support from Swedish television to document the making of Bergman's film Winter Light. Recorded on 16mm from August 1961 to February 1963, Ingmar Bergman Makes a Movie features intimate discussions with Bergman and members of his cast and crew, along with footage from the film's Swedish premiere, audience reactions, and the critics' reviews the following day.
S. Theatrical Trailer (1.37:1; 1080p)
The Silence
Ingmar Bergman Introduction
Exploring the Film (1.33:1; 1080i/60) – In this interview, recorded in 2003 by the Criterion Collection, Ingmar Bergman biographer Peter Cowie sheds light on The Silence – its controversial appeal, its austere setting, its opposing characters, and the personal religious catharsis for Bergman that it represents.
Poster Gallery (1080p)
S. Theatrical Trailer (1.37:1; 1080p)
The Final Assessment
Ingmar Bergman and his body of works provide a crash course in filmmaking that any cinephile or film student can study endlessly and find inspiration. This trilogy is just one period in the auteur's canon that testifies to his abilities and the Criterion Collection's set is presented with beautiful reference quality images and sound.
Ingmar Bergman Film Trilogy is out on Blu-ray June 4, 2019 from Criterion Collection
---
Criterion Collection
Studios & Distributors
90 Mins. (Through a Glass Darkly) | 81 Mins. (Winter Light) | 95 Mins. (The Silence)
Run Time
$99.95
MSRP
English Dub
Secondary Audio
Summary
Ingmar Bergman's trilogy of films on faith from 1961-1963, Through a Glass Darkly, Winter Light, and The Silence mark a shift in style for the auteur to a more intimate, personal style of filmmaking and are captured here in beautiful new restorations from the Swedish Film Institute presented in HD on Blu-ray by the Criterion Collection.
What people say... Login to rate
Be the first to leave a review.
Show more