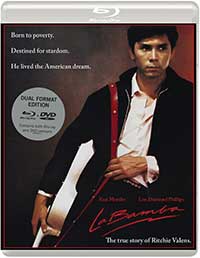 La Bamba is the rather saccharine story of Mexican-American 1950s rocker Ritchie Valens (born Ricardo Valenzuela), whose career was cut short by the tragic plane crash on February 3rd, 1959 that also claimed the lives of The Big Bopper (aka J.P. Richardson) and Buddy Holly. The film focuses mostly on the budding career of Ritchie whose musical prowess is encouraged by his mother Connie (Rosana De Soto) who spurs him on until he is discovered during a talent show at a local venue by record producer Bob Keane (Joe Pantoliano). Ritchie's romance with high school sweetheart Donna Ludwig (Danielle von Zerneck), whose father bans her from seeing the Mexican-American teen, leads to him penning his first hit song "Donna". His success also leads to friction between him and his ne'er-do-well ex-con half-brother Bob (Esai Morales) who seeks solace at the deep end of a bottle. Ritchie's career stays on an upward curve, with more hits coming in fast and steady, as was often the case in the 1950s (and the 1960s). Valens would go on to record such enduring numbers as the title track, "C'mon Let's Go", and his cover of "Ooh, My Head" until the fatal plane crash ended his life.
La Bamba certainly takes liberties with his biography as most biopics of famous people do. Given how short a span of time Valens actually spent in the limelight compared to how long his music has endured, it's not surprising that would be the case. What makes the film so watchable are the heartfelt performances from the cast, particularly Lou Diamond Phillips who would, unfortunately, spend years crawling out of the shadow cast by his performance in this film. Valens' music, provided by the then relatively unknown Mexican-American Tex-Mex band Los Lobos also livens up the film. Their performances (both the acoustic folk and full rock version) of "La Bamba" are invigorating and they would go on to reach the charts decades after Valens first recorded the hit.
The Video
La Bamba's 1987 vintage 35mm film source arrives on Blu-ray from Eureka looking quite good. While there is some film softness in this master, it is clean despite a little bit of coarseness in the grain structure. The saturation is good and shadows look nuanced and organic without much tipping over into noise.
The Audio
La Bamba originally ran in theaters with a Dolby Stereo soundtrack, which was a four-channel system with left and right stereo channels, two channels for center channel and matrixed rear and side surround "ambience" channels. For this release, we get the stereo track in LPCM 2.0, so no ambience, and a 5.1 DTS-HD Master Audio, which may as well be matrixed, because it doesn't sound very discrete at all and, beyond that, it sound somewhat anemic. While it does offer up clear dialogue, there's not much punch to it, the stereo imaging is narrow, and low end is weak.
The Supplements
Both audio commentaries are very enlightening and provide a lot of detail on the film's production and some trivia on Ritchie Valens and his family. My preference was for the commentary with the director, producer, and cast. The rest of the extras are interesting time capsules back to the '80s.
Director, Producer & Cast Commentary
Taylor Hackford & Daniel Valdez Commentary
"La Bamba" Music Video – Los Lobos (1.33:1; SD; 00:03:09)
"Lonely Teardrops" Music Video – Howard Huntsberry (1.33:1; SD; 00:03:31)
Featurette – Remembering Ritchie (1.33:1; SD; 00:21:10)
Original Theatrical Trailer (1.33:1; SD: 00:00:56)
The Final Assessment
La Bamba is not a perfect movie by any means, but it is a heartfelt biopic about a young rocker whose life ended at a tragically young age by no fault of his own. The performances all around are excellent and this 30th Anniversary Edition from Eureka Entertainment provides satisfying results on Blu-ray.
[amazon_auto_links id="97401"]
Columbia Pictures | New Visions | Eureka Entertainment
Studios & Distributors
£17.99
MSRP
English DTS-HD MA 5.1
Audio
LPCM 2.0 Stereo
Secondary Audio
Summary
La Bamba is a heartfelt biopic that takes liberties with the Ritchie Valens life story, but is ultimately watchable owing to the strong performances from its cast, the excellent musical performances from Los Lobos and other rockers like Brian Setzer. This 30th anniversary edition from Eureka Entertainment hits the spot with a satisfying Blu-ray transfer.
What people say... Login to rate
Be the first to leave a review.
Show more