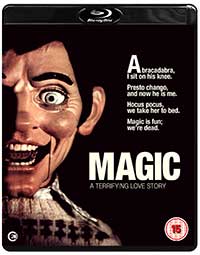 Richard Attenborough directed the 1978 thriller Magic from a William Goldman screenplay based on his novel. This atmospheric horror stars a young Anthony Hopkins as the two-bit magician Corky working the club circuit who is booed off the small stages on which he performs until he comes across a ventriloquist dummy called Fats and his career begins to take off. Corky takes on a manager, Ben Greene (Burgess Meredith), who helps take Corky's career to even bigger heights.
Meanwhile, it quickly becomes evident that there's something strange going on between Corky and his dummy Fats. Fats seems to be less a dummy and more an inner voice allowing Corky's confidence, talent, and verbal acuity to come to the fore, but he also seems to unleash Corky's inner demons.
Ben Greene takes Corky to the heights of the club circuit and even manages to get him a booking on a TV show, which Corky turns down fearing it will require a medical examination that will expose his rumored mental instability. Instead, Corky beats a retreat to a Catskills resort, run by Peggy Ann Snow (Ann-Margret), a woman he once had a relationship with years before. Peggy is now stuck in an unhappy marriage with a local yokel (Ed Lauter) and begins an affair with Corky, but the circumstances of this love triangle begin to accentuate what is now Corky's obvious schizophrenia which has only till now been guessed at through his interactions with Fats. The situation begins to spiral out of control and become increasingly chaotic and violent, to say the least.
Magic is a film that is one stop in a familiar line of storytelling about devilish dolls like the Chucky franchise or more contemporary fare like Annabelle. Where it scores is in the atmospherics that are established early on by director Richard Attenborough who successfully creates a world that is creepy, nearly claustrophobic, and nightmarish. He also cleverly walks a line between presenting Corky and Fats together as a pair that are either supernaturally-driven or a man with severe psychological problems – it's a guessing game right up to the end.
From there the film does tend to devolve into some clichés and the ending is not all too surprising. Throughout, however, Hopkins puts on a brilliant performance that is perfectly dangerous, unhinged at the right moments, but always reined in, the most threatening sort of horror antagonist.
Ultimately, Magic is a film that is flawed but has much to enjoy for aficionados of thrillers and horror. While it isn't one of the strongest of the genre films to come out of the era, it still holds up well if only for its inane creepiness and oddball subject matter.
The Video
Magic comes with an AVC 1080p encodement framed at 1.85:1 from Second Sight Films.  It doesn't seem like there was a brand-new restoration done here for this release as the image does look a bit rough around the edges with a bit of source damage and film softness still present, but overall it does look natural with only the slightest hints of noise and crush in the darker areas. Flesh tones are generally natural.
The Audio
Magic comes to Blu-ray with a LPCM 1.0 audio mix that is competent for a monaural mix with clear dialogue and balanced handling of the score from Jerry Goldsmith.
The Supplements
Magic comes with a solid selection of archival bonus materials that include interviews and more. This is good stuff for film fans.
Screenwriting for Dummies (1.78:1; 1080p)
Anthony Hopkins Interview (1.33:1; 1080p)
Victor Kemper: Cinematographer (1.78:1; 1080p)
Ann-Margret Make-up Test (1.78:1; 1080p)
Fats and Friends (1.78:1; 720p)
Anthony Hopkins Radio Interview with Outtakes (1.78:1; 1080p)
Trailer (1.78:1; 1080p)
TV Spots (1.33:1; 1080p)
Radio Spots (1080p)
The Final Assessment
Second Sight's Blu-ray release of this atmospheric horror/thriller offers a middling transfer that nevertheless looks natural and comes with a solid collection of bonus materials.
Magic is out on Blu-ray in the UK 23 March, 2020 from Second Sight Films
Purchase on Amazon UK:
---
The Creative Content: 3.5/5
The Video: 3.5/5
The Audio: 3.5/5
The Supplements: 4.0/5
Rating Certificate: UK:15
Studios & Distributors: Joseph E. Levine Productions | Twentieth Century Fox | Second Sight Films
Director: Richard Attenborough
Writer: William Goldman (screenplay) | William Goldman (based on his novel)
Run Time: 100 Mins.
Street Date: 23 March 2020
Aspect Ratio: 1.85:1
Video Format: AVC 1080p
Primary Audio: English LPCM 1.0
Subtitles: English HOH