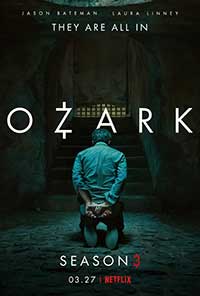 By the end of Ozark: Season 2, the Byrdes– former financial advisor Martin "Marty" Byrde (Jason Bateman), now a money launderer for the Navarro cartel, his real estate agent wife Wendy (Laura Linney), daughter Charlotte (Sofia Hublitz) and son Jonah (Skylar Gaertner) have overcome major obstacles to get approval for a casino project on land belonging to the late local heroin czar Jacob Snell (Peter Mullan) and his widow  Darlene (Lisa Emery).
Season 3 opens with a literal "bang" as warfare between the Navarro and Lagunas cartels is in full force when 37 innocent people are blown up in Navarro territory. The Missouri Belle riverboat casino and money-laundering business is taking off under Ruth Langmore's (Julia Garner) oversight.  Long-standing marital problems between Marty and Wendy have escalated and each is bribing couple's therapist Sue Shelby (Marylouise Burke) to take their respective sides.
Marty rejects Wendy's idea of getting cartel jefe Omar Navarro (Felix Solis) into a legitimate resort hotel/casino business, so she presents the proposal to Navarro's attorney Helen Pierce (Janet McTeer). Helen has moved to the Ozarks for the summer with her teen-aged daughter Erin (Madison Thompson) to get away from her estranged husband. Wendy eventually gets Carl and Anita Knarlson, owners of a failing hotel-casino in St. Joseph, Missouri to capitulate, and the Navarro cartel gets its first legitimate business.
A number of wild cards get dealt during Season 3. Darlene bails Ruth's cousin Wyatt Langmore (Charlie Tahan) out of jail for trespassing and offers him a farm job and, as it turns out, much more. FBI Agent Trevor Evans (McKinley Belcher III), and accountant Maya Miller (Jessica Frances Dukes) begin auditing the casino and all of the Byrdes' other businesses.  Marty spends a long weekend being tortured in a basement cell at Navarro's Mexican estate before being returned home, only underscoring how dangerous money laundering can be.  Wendy's bipolar brother Ben Davis (Tom Pelphrey) unexpectedly shows up at their home. When things heat up between him and Ruth, Ben stops taking his medication and his subsequent unpredictable behavior poses serious threats to the Byrde's businesses.
[envira-album id="102961″]
The cartel war escalates when Lagunas hitmen blow up a truck containing Kansas City mob boss Frank Cosgrove's (John Bedford Lloyd) weekly casino payoff and killing three of his "hired hands." After Frank Jr. (Joseph Sikora) beats up Ruth, Marty severs his ties with the elder Cosgrove and Darlene will later give the unruly young man his comeuppance.
As Season 3 winds down, the Byrdes' lives continue to get more complicated as Helen seeks to insinuate herself into their casino business, Ben must somehow be dealt with, and their partner Darlene plans to resurrect her opium trade in a big way.  Caught between relentless pressure from the Navarro cartel and an ongoing FBI investigation, Marty and Wendy must face some very difficult decisions if they and their children are going to come out of this alive.
Ozark: Season 3 maintains the tension and no-holds-barred violence of the first two seasons, while the picturesque beauty of the Ozarks belies the daily hazards of money laundering and the drug trade.  While Jason Bateman and Laura Linney continue to deliver great turns as a couple at odds with each other,  the series' cast gets another boost from the addition of Tom Pelphrey, Felix Solis, Marylouise Burke and Jessica Frances Dukes. Creators Bill Dubuque and Mark Williams have enhanced the darkness of an already very dark show and make us want even more of the same.  The final plot twists suggest that a Season 4 may be in the offing. We all would relish the thought of seeing what might transpire between Ruth and Wyatt, the Byrdes and the Navarros, and all those pesky FBI agents. Highest recommendation.
 Ozark: Season 3 is streaming now in its entirety on Netflix

[youtube https://www.youtube.com/watch?v=oNDTOy5bU_4&w=551&h=310]
---
The Creative Content: 4.5/5
Show Creators: Bill Dubuque | Mark Williams
Original Release Date: 27 March 2020
Streaming Service: Netflix
Ep. Run Time: 60 Mins.
No. Eps.: 10
Studios & Distributors: Zero Gravity Management | Media Rights Capital | Netflix
Rating Certificate: TV-MA