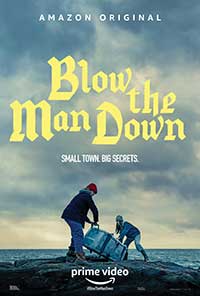 Set in Easter Cove, a typical Maine fishing village, Blow the Man Down, opens with a rousing rendition of the title sea shanty delivered by a chorus of fishermen who skewer, gut and decapitate their catch of the day.
Sisters Priscilla (Sophie Lowe) and Mary Beth Connolly (Morgan Saylor) are attending the funeral of their mother Mary Margaret (Linda Shary). The sisters are flat broke and about to lose their home as the family fishing business is struggling. Three of Mary Margaret's long-time friends are also in attendance: Susie Gallagher (June Squibb), Doreen Burke (Marceline Hugot), and Gail McGuire (Annette O'Toole). Conspicuously absent is another old friend, Enid Nora Devlin (Margo Martindale). Enid is the wealthiest and nastiest person in town as she runs a profitable brothel in the Ocean View hotel.  Doreen, Susie, and Gail, as well as the late Mary Margaret, were all partners in this business until they became disenchanted and quit.
The film's sentinel event occurs quite early, when Mary Beth goes to "The Desert," the town's only bar, and gets picked up by fisherman Gorski (Ebon Moss-Bachrach). When Gorski makes a move on her at his fishing shack, she fatally harpoons him. Mary Beth engages Priscilla's help and the two sisters dismember the dead man and stuff his body into an ice chest that they heave into the ocean.  Priscilla inadvertently leaves behind a knife with "Connolly Fish" engraved on its handle and the missing weapon becomes one of the many ongoing problems for the young Connollys.
The dead body of Dee (Meredith Holzman), an Ocean VIew prostitute, washes up on the shore. Officers Ernie Coletti (Skipp Sudduth) and Justin Brennan (Will Britain) visit Enid and ask about Gorski who is a person of interest in this case. As their investigation continues, Brennan who harbors a crush on Priscilla is getting closer to discovering what really happened on that fateful night. Lurking in the shadows is another Ocean View working girl Alexis (Gayle Rankin) who was Dee's best friend and is convinced that Enid was somehow involved in the murder.
[envira-album id="122546″]
Mary Beth returns to Gorski's shack and finds a paper bag loaded with cash that she takes with her. Later, Enid also drops by the shack and finds that her money sack is missing but finds instead the blood-stained fish knife. Enid needs the cash to pay bar-owner Declan Crawley (Thomas Kee) so her working girls to continue to solicit johns at The Desert. She also connects the dots in Gorski's disappearance and her meeting with the Connolly sisters provides the film's dramatic apex.
Blow the Man Down is a dark comedy/mystery and its spot-on evocation of life in small towns and of those characters who inhabit them brings to mind films like Fargo and Three Billboards Outside of Ebbing Missouri. Writer/directors Bridget Savage Cole and Danielle Krudy were making their feature-length film debuts and came up with a well-paced storyline with numerous subplots that thoroughly engage viewers right up to a truly Hitchcock-style ending. The film is blessed with a marvelous group of character actors like Martindale, Squibb, O'Toole, and Hugo. Young leads Lowe and Saylor naturally play off of each other like they have been doing this all of their lives. Todd Manhazi's camera work, whether close-ups of lobsters in a glass case or panoramas of Maine's picturesque shoreline, is splendid.   Brian McOmber contributes an atmospheric score that bolsters this indie film's deft blend of humor, pathos, and the darker side of human nature. Definitely worth seeing and highly recommended.
Blow the Man Down is now available for viewing on the Amazon Prime Video network
[youtube https://www.youtube.com/watch?v=uWM1U_kd0rE&w=850&h=478]
---
The Film: 4.0/5
Studios & Distributors: Secret Empire | Tango Entertainment | Amazon Studios
Rating Certificate: R (Language, some violence, sexual material and brief drug use)
Country: USA
Language: English
Run Time: 95 Mins.
Aspect Ratio: 1.85:1
Directors: Bridget Savage Cole | Danielle Krudy
Writers: Bridget Savage Cole | Danielle Krudy
Release Date: 20 March 2020 (USA)