Man Without a Star is a 1955 western by director King Vidor filmed in vivid Technicolor by cinematographer Russell Metty and starring Kirk Douglas.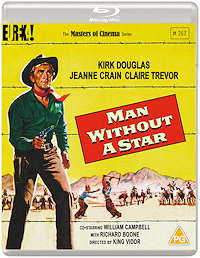 The drifter and train-hopping cowboy Dempsey Rae (Douglas) saves the life of a young and naïve Jeff Jimson (William Campbell; Hush… Hush, Sweet Charlotte) while making his way on the rails back home to Wyoming. Dempsey takes Jeff on Taking Jeff on as his apprentice teaching him how to be a cowhand and even more so how to "be a man."  When Dempsey goes to work for the beautiful ranch owner Reed Bowman (Jeanne Crain), but her plans to encircle her property in barbed wire and force the other ranchers off the land using brutal gunslingers sets her against the locals. Dempsey finds himself embroiled in the fight and the only one who can stand up for the justice of the other ranchers.
Man Without a Star stands apart from many of the other westerns of the era. This is a time when the genre was changing, and this film finds itself caught between two worlds. It's not quite a deconstructed western like High Noon and certainly doesn't even anticipate the coming spaghetti westerns, but it does seem to grapple with the challenges of the "every man" up against the powerful elites, and Douglas's character is an unwilling hero not quick on the draw. It also harkens back to earlier commercial westerns with its singing cowboys in the "Man Without a Star" theme song that Dempsey launches into.
What really makes the film is the beautiful cinematography in Technicolor from Metty and the star performance from Douglas. Thinking that this was a relatively low budget Universal western shot over the course of about four weeks, a lot was done in that relatively short period of time. Is it one of the absolute top 20 westerns of all time? Perhaps not, but it surely would make a top 100 or 200 list.
Man Without a Star (1955)
The Video
Man Without a Star comes to Blu-ray in a 2.00:1 AVC 1080p encodement from Masters of Cinema. The film was shot on 35mm in Technicolor. I have no information on the source for this release but judging on the overall softness and somewhat coarse appearance of the grain structure, I don't think this transfer is a restoration based on the original three-strip camera negatives. That said the image still looks natural, even if the color doesn't really have much of that vivid 'pop' that is normally associated with Technicolor films. There are also some issues in the source that are unavoidable like some color splotches or the timing issues with the three-strip format that shows up as mild haloing around the edges of characters. Detail trails off quickly from the foreground into backgrounds.
The Audio
The original mono mix for Man Without a Star is provided in LPCM 2.0. It is clean and free from clipping, heavy hiss, pops and clicks. The dialogue is intelligible and sound effects sound good enough.
The Supplements
I love when I see Kim Newman's name listed in the bonus features because it means I am in for a really enjoyable audio commentary or video interview. The commentary here with Newman and Barry Forshaw is not to be missed. There's also a superbly informative and interesting video interview from Neil Sunyard on King Vidor and Man Without a Star. The release also comes with a collector's booklet with essay, etc.
Audio Commentary by Kim Newman and Barry Forshaw
Neil Sinyard on Man Without a Star (1080p; 00:18:04)
Trailer (1080i/60)
A collector's booklet featuring a new essay on the film by writer Rich Johnson, and a new piece by critic Richard Combs about the Western films of King Vidor
The Final Assessment
A fine western with a superb performance from Kirk Douglas doing classic Kirk Douglas, gorgeous cinematography, and excellent direction from King Vidor on a satisfying Blu-ray platter from Masters of Cinema.
Man Without a Star (Masters of Cinema) is out on Blu-ray in the UK 15 August 2022 from Eureka Entertainment

---
Rating Certificate: UK-PG
Studios & Distributors: Universal-International | Eureka Entertainment
Director: King Vidor
Written By: Borden Chase (screenplay) | D.D. Beauchamp | (screenplay) | Dee Linford (novel)
Run Time: 89 min.
Street Date: 15 August 2022
Video Format: AVC 1080p
Primary Audio: English LPCM 2.0 Mono
Subtitles: English SDH