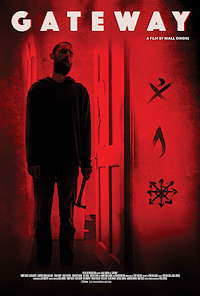 When four criminals decide to move their drug operation to a previously abandoned house, they all figure this is what they need to continue their business. Upon arrival at the said place, they find a mysterious locked room. While this may not sound all that weird, they all begin to realize that this house and room has a sinister plan for each of them, in indie horror film Gateway.
The thriller focuses on a character by the name of Mike (Timmy Creed,) a low-level drug dealer who finds himself in debt with a big-time supplier. To repay said debt, Mike and his friends are given the address of an abandoned house, where they plan to grow weed in hopes of dwindling down said debt. Soon, one of the gang members is found hung in one of the rooms of the house.
Rent or Purchase Gateway on Prime Video
While Gateway may sound like a cliché horror film where the 'strange' house begins killing the inhabitants one by one, such is not the case here. Yes, some of the plot devices and camera movements have been seen before; however, Owens a majority of the horror tricks are sufficiently used in a manner that keeps us guessing and, more importantly, glued to our seat.
The elements Owens uses, particularly that of the score by Tony Langlois, allows Gateway to be quite the effective film. The pace is swift and tense, the scares mostly genuine and true, and the acting convincing. All this adds up to a surprisingly well-done horror film.
Rent or Purchase Gateway on Amazon Prime Video
---
Rating Certificate: NR
Studios & Distributors: Pic Du Jer Productions | Dark Sky Films
Country: Ireland
Language: English
Run Time: 80 Mins.
Director: Niall Owens
Written By: Niall Owens
Release Date: 15 July 2022 (US) (Digital)