Aspect Ratio: 1.66:1 (Mulan); 1.78:1 (Mulan II)

Video Codec: AVC/MPEG-4

Resolution: 1080p/24 (23.976Hz)

Audio Codec: English DTS-HD Master Audio 5.1 (48kHz/24-bit), English Dolby Digital 2.0, French, Portuguese, Spanish Dolby Digital 5.1

Subtitles: English, English SDH, French, Portuguese, Spanish

Subtitles Color: White

Region: ABC (Region-Free)

Rating: G

Discs: 3 (1 x Blu-ray + 2 x DVD)
Digital Copies: N/A

Run Time: 88 Mins. (Mulan); 79 Mins. (Mulan II)

Studio: Walt Disney Studios Home Entertainment

Blu-ray Release Date: March 12, 2013
List Price: $39.99
–
Overall
[Rating:4/5]
The Film
Mulan
[Rating:4.5/5]
Mulan II
[Rating:3.5/5]
Video Quality
Mulan
[Rating:4.5/5]
Mulan II
[Rating:4/5]
Audio Quality
Mulan
[Rating:4.5/5]
Mulan II
[Rating:3.5/5]
Supplemental Materials
Mulan
[Rating:3.5/5]
Mulan II
[Rating:2/5]
Click thumbnails for high-resolution 1920X1080p screen captures
(The  below TheaterByte screen captures are lightly compressed with lossy JPEG at 100% quality setting and are meant as a general representation of the content. They do not fully reveal the capabilities of the Blu-ray format)
–
The Film
Mulan
[Rating:4.5/5]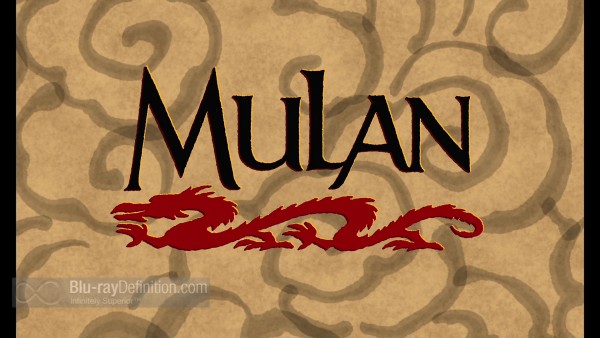 Mulan II
[Rating:3.5/5]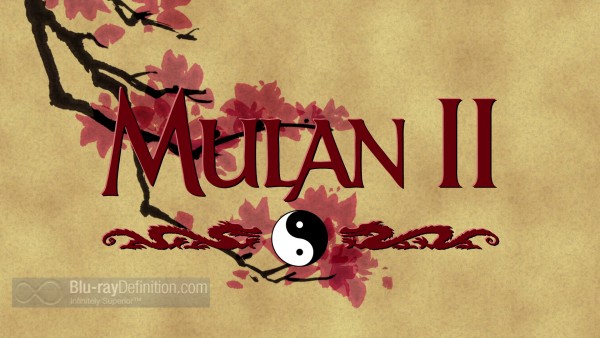 In 1998, Disney continued the renaissance of their animation studios with Mulan. The story is taken from the Chinese legend of Hua Mulan, a 6th century Chinese heroine who took her father's place in the army and went on to become a great warrior. Disney's Mulan, directed by Tony Bancroft and Barry Cook, is a star-studded family-friendly adventure that uses the legend as its starting point. Starring Ming-na Wen as the voice of the titular character, it follows the young, rambunctious Mulan who has reached the age where her family is ready to arrange for her marriage. Unfortunately, her clumsiness and her free spirit make her poor marriage material in China's current social climate. With dishonor facing her and her family, more tragedy strikes when the Huns launch an invasion of China and the emperor decrees that one man from every family must serve in the imperial army. Not wanting her aging and wounded father to serve, Mulan dresses up as a boy and takes his place. To help her through the ordeal, her family's ancestors send along a bumbling dragon named Mushu (voiced by Eddie Murphy) and a "lucky" cricket also hitches a ride. The film has beautiful background imagery and marvelous character designs. The animation, as started by Disney with Beauty and the Beast, is mainly hand-drawn with some elements, like the large crowd sequences, done with CGI. Jerry Goldsmith's music, a mixture of Hollywood classic and Asian influence, is infectious, with catchy tunes and sweeping melodies. It's a fantastic adventure.
Mulan II, a direct-to-video sequel from 2004, brings back nearly all the original voice actors minus Eddie Murphy, whose role as Mushu is taken over by Mark Moseley doing his best Murphy imitation. Having the advantage of being so close to the original in years (unlike, say, Lady and the Tramp II), Mulan II is one of the better of Disney's direct-to-video sequels. Although it does not have the same quality of animation of the original feature (the characters here look a bit blocky and the backgrounds are less intricate), the story is enjoyable. Mulan (Ming-na Wen) and General Shang (BD Wong) are now engaged and the couple are tasked with an important mission by the emperor. They have to escort three princesses who have all had their marriages arranged in order to secure peace. Mulan begins to believe the marriages are wrong, and so do the princesses, as they want to follow their hearts elsewhere and marry for love. Meanwhile, Mushu is busy trying to drive a wedge between Mulan and Shang, believing Mulan will not be happy because she has nothing in common with the general. A bit of an on-the-nose parable about following your heart and true love that recycles some of the songs from the original film, Mulan II may suffer somewhat from being too simplistic. Early on, it also falls prey to what many of these Disney sequels do, and that is a heavy reliance on slapstick comedy in an attempt to play to the lowest common denominator concerning children. However, the story picks up as Mulan, Shang, and the princesses hit the road and come across some dangers.
Video Quality
Mulan
[Rating:4.5/5]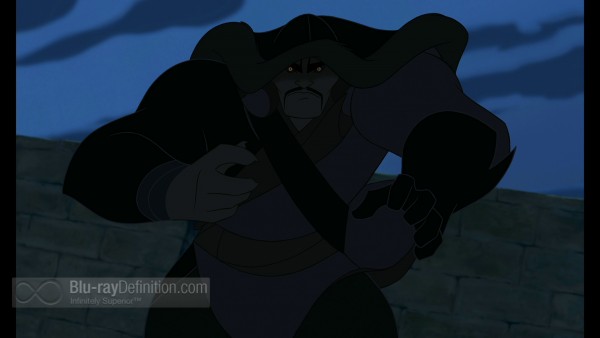 Mulan II
[Rating:4/5]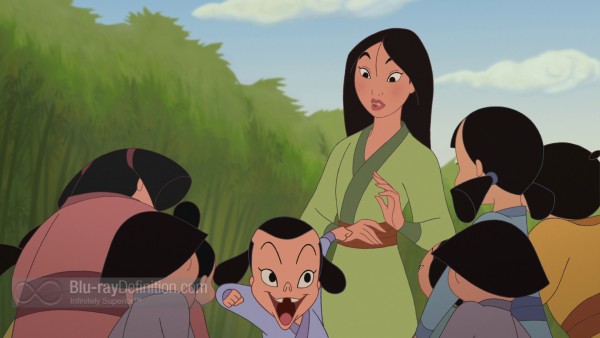 Both films are given very strong AVC/MPEG-4 1080p encodements from Disney. Mulan seems to be the stronger of the two, with the crisper detail and lack of most anomalies. Mulan II, apart from its blockier-looking animation, seems to have some spots where the animation looks just a tad soft at times, but it is still a fundamentally solid effort, with good colors.
Audio Quality
Mulan
[Rating:4.5/5]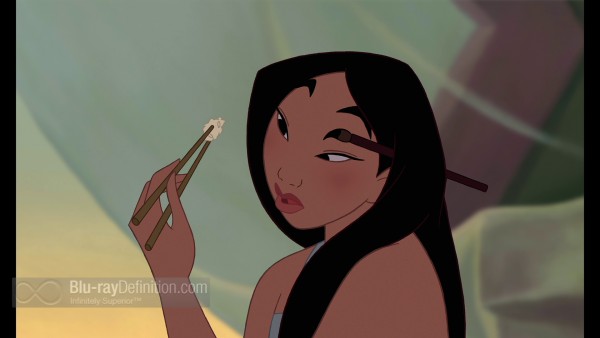 Mulan II
[Rating:4/5]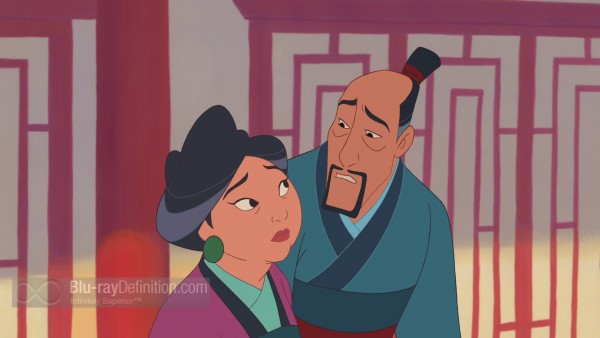 Both films are provided with English DTS-HD Master Audio 5.1 (48kHz/24-bit) as well as English Dolby 2.0, and French, Portuguese, and Spanish Dolby Digital 5.1 dubs. Mulan has the more robust of the two 5.1 mixes. It offers a lush amount of ambience, spectacular dynamic range, natural sounding high frequencies, spacious panning, and a good balance of sounds. For example, the galloping of the Huns' horses is both thunderous and engulfing as it often moves across the room, from one side of the front to the next side at the back in a diagonal patter, for instance. The musical pieces sound lovely, with clean vocals, and airy strings. Dialogue is clean as a whistle. Mulan II is a strong effort as well, just not quite as engaging. It offers good dynamics and balance, but it seems just a little bit drier and has a little less discrete use of the surround channels.
Supplemental Materials
Mulan
[Rating:3.5/5]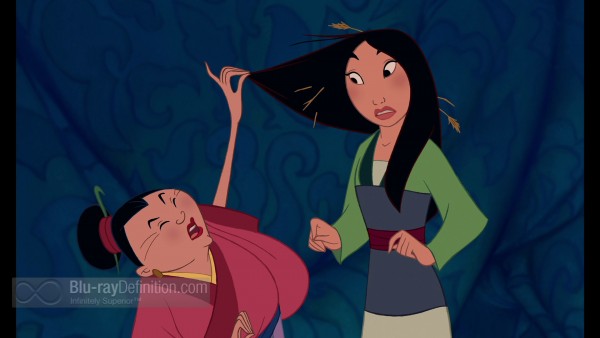 Mulan II
[Rating:2/5]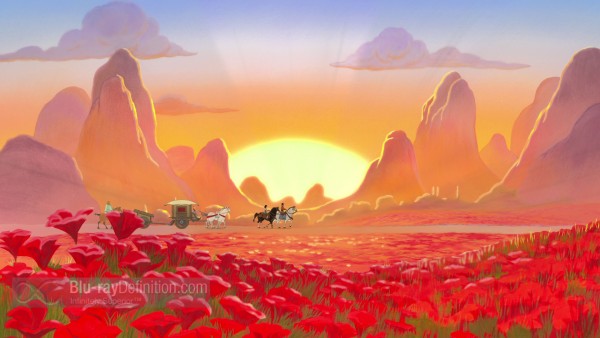 Each film comes with a large dose of ported-over standard definition features. Naturally, Mulan has the most, but Disney fans should be generally satisfied.
The supplements:
Standard DVDs of each feature.
Mulan:
Audio commentary by producer Pam Coats and directors Tony Bancroft and Barry Cook
Deleted Scenes (1.33:1; SD; 00:22:35):

"Keep 'Em Guessing"
The Prologue Chronicle
Shadow Puppets Prologue
The Betrothal
Shan-yu Destroys Village
Mulan's Daydream
The Emperor's Dream

Classic Backstage Disney:

Mulan's Fun Facts (1.33:1; SD; 00:02:13)
The Journey Begins:

Discovering Mulan (1.33:1; SD; 00:06:48)
The Ballad of Hua Mulan (1.33:1; SD; 00:05:18)
Early Presentation Reel 1995 (1.33:1; SD; 00:02:20)
Early Presentation Reel 1996 (1.33:1; SD; 00:01:59)

Story Artists' Journey:

Finding Mulan (1.33:1; SD; 00:07:04)
Storyboard to Film Comparison: Mushu Breaks the Dragon (1.33:1; SD)

Design:

Art Design (1.33:1; SD; 00:05:33)
Character Design (1.33:1; SD; 00:03:47)
Ballad of Color (1.33:1; SD; 00:04:27)

Production:

Mushu Awakens (1.33:1; SD)
Matchmaker Meets Mulan (1.33:1; SD)

Digital Production:

The Hun Charge (1.33:1; SD; 00:04:50)
Digital Dim Sum (1.33:1; SD; 00:04:01)

Classic Music & More:

"I'll Make a Man Out of You" music video performed in Mandarin by Jackie Chan (1.33:1; SD)
"Reflection" music video performed by Christina Aguilera (1.33:1; SD)
"Reflejo" music video performed in Spanish by Lucero
Mulan II:
Classic Backstage Disney: Voices of Mulan (1.33:1; SD; 00:02:54)
Deleted Scenes (1.33:1; SD):

Battle Sequence
Mei Flirts
The Escape Part 1
The Escape Part 2

Classic Music & More: "(I Wanna Be) Like Other Girls" Music Video by Atomic Kitten (1.33:1; SD)
The Definitive Word
Overall:
[Rating:4/5]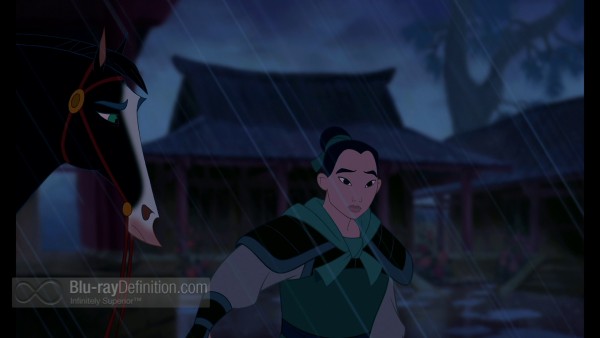 A fine effort from Disney, Mulan is perhaps deserving of a Platinum Edition release from Disney, rather than simply this 2-movie collection, almost throwaway release. Nevertheless, this is an awesome film that is an absolute pleasure to watch. Kids will also appreciate the sequel, even if parents find less to like there.
Additional Screen Captures
[amazon-product]B008Y6TGIY[/amazon-product]
[amazon-product]B00AO68692[/amazon-product]
Shop for more Blu-ray titles at Amazon.com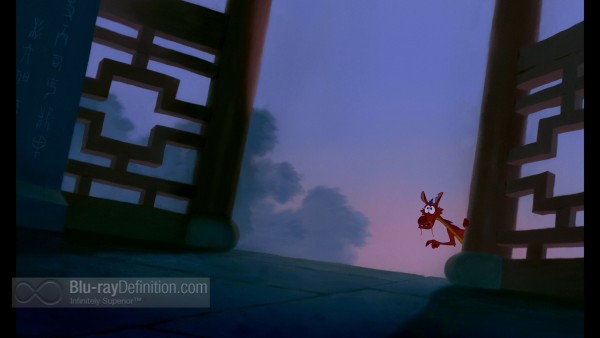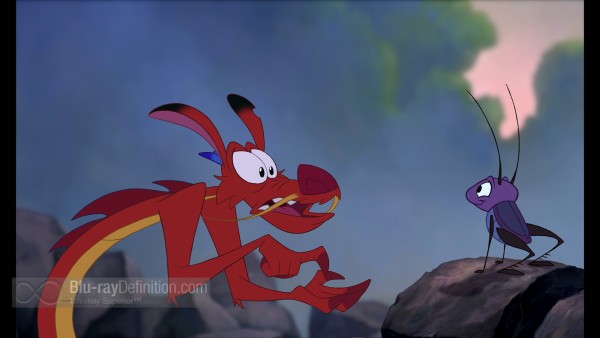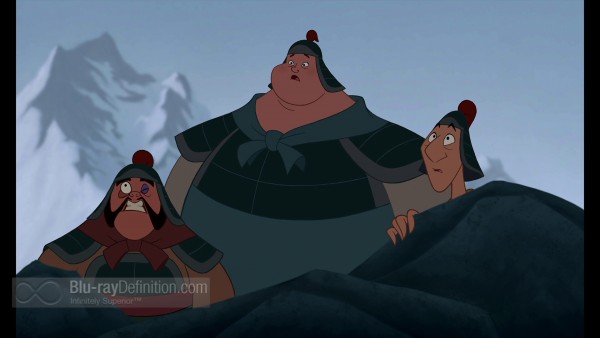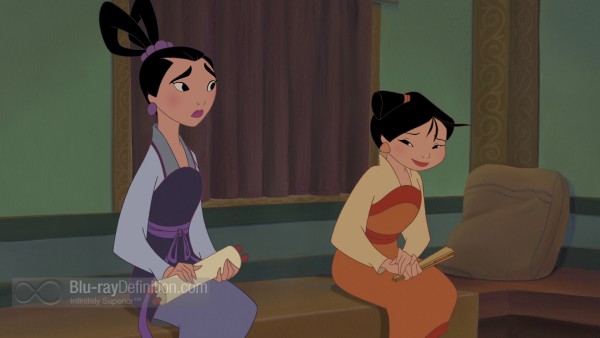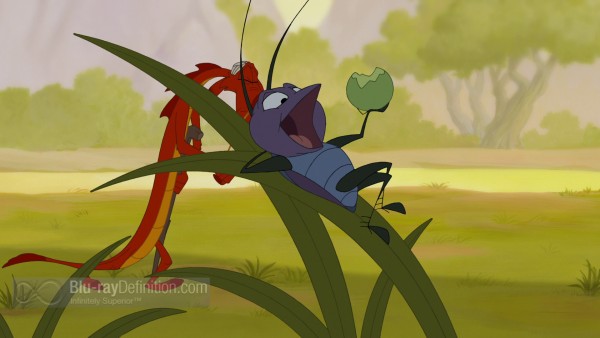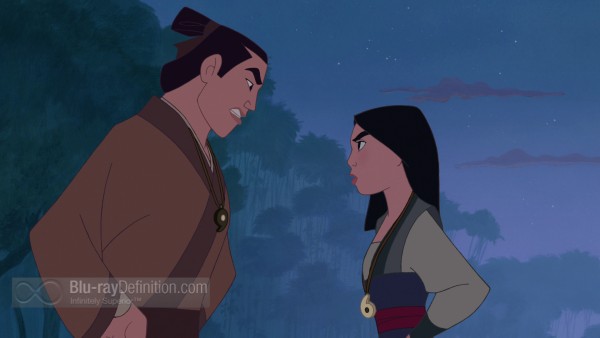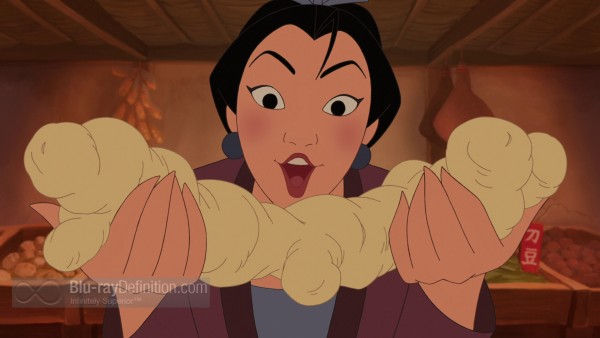 –
[amazon-product]B008Y6TGIY[/amazon-product]
[amazon-product]B00AO68692[/amazon-product]
Shop for more Blu-ray titles at Amazon.com
Overall
[Rating:4/5]
The Film
Mulan
[Rating:4.5/5]
Mulan II
[Rating:3.5/5]
Video Quality
Mulan
[Rating:4.5/5]
Mulan II
[Rating:4/5]
Audio Quality
Mulan
[Rating:4.5/5]
Mulan II
[Rating:3.5/5]
Supplemental Materials
Mulan
[Rating:3.5/5]
Mulan II
[Rating:2/5]
–