– –
The Collection
[Rating:4/5]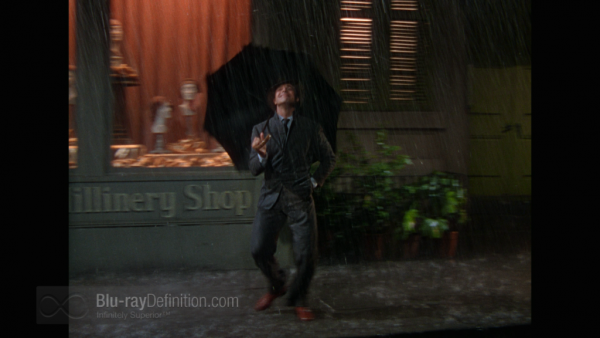 Musicals: 4-Movie Collection puts four of Warner Brothers' top screen musicals together for the first time in the Blu-ray disc format.  Each of these films combines excellent casts with stellar singing and dancing, reminding us that there truly was a golden age of movie musicals.
Singin' in the Rain (1952)
As one of the most iconic movie musicals ever made, Singin' in the Rain covers the Hollywood studios' often awkward transition from silent to talking films. The legendary Gene Kelly plays Don Lockwood, a silent film star attempting to make it in the "talkies." Prior to getting his big break with Lina Lockwood (Jean Hagen), Don was a Hollywood stuntman. Swarmed by his adoring fans at a film premiere, Lockwood literally jumps into a car driven by Kathy Selden (Debby Reynolds), an aspiring actress who later emerges from a cake at a studio party and, this time,  gets Don's full attention.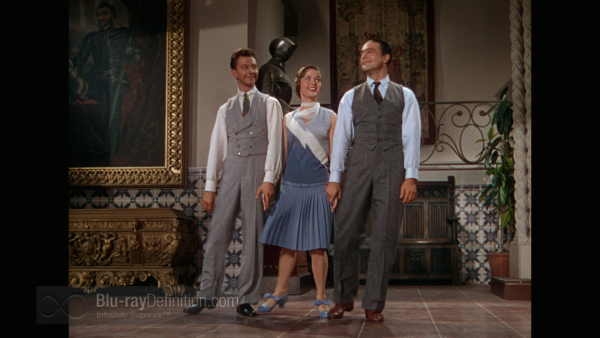 Don and Lina's first talking picture, "The Dueling Cavalier," comes acropper when the hidden microphones expose Lina's squeaky voice and the hilariously failed sound synchronization humiliates the actors.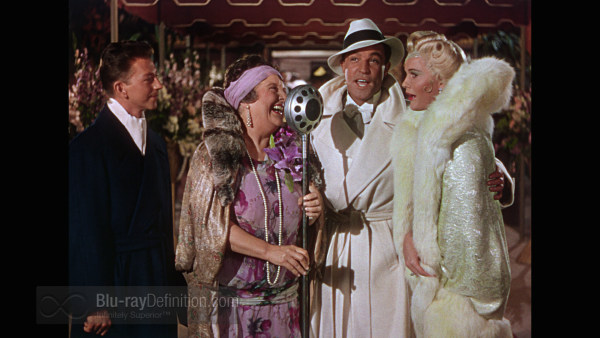 This picture is a colossal flop and Don's future in films looks bleak. Late on a rainy night, he and friend Cosmo Brown (Donald O'Connor) get the brilliant idea to redo the failed film as a musical with Kathy doing voiceovers for Lina. What follows is Don's famous "Singin' in the Rain" song and dance scene that made an indelible impression on 1950s filmgoers.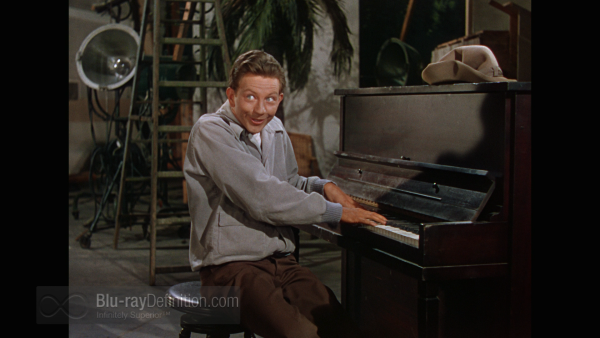 The film becomes "The Dancing Cavalier," adding several big song and dance routines such as one where Kelly teams up with star dancer Cyd Charisse in a steamy nightclub number. Some rough spots in the love story notwithstanding, the outcome is never in doubt and the audience gets a wildly successful film.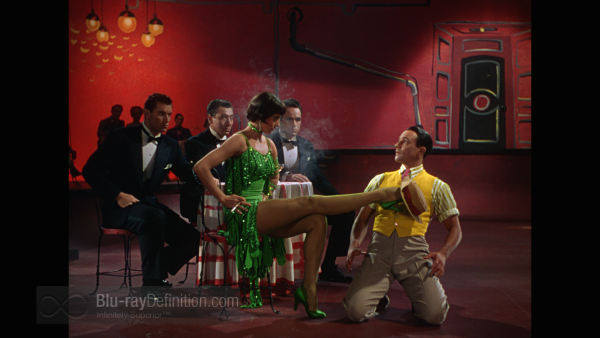 Kiss Me Kate (1953)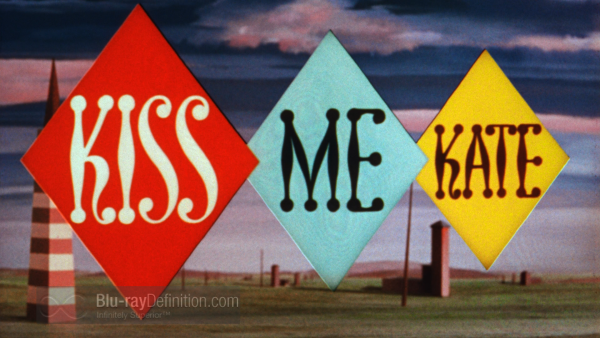 Cole Porter's Tony-winning play, loosely based on Shakespeare's, The Taming of the Shrew, is now transferred to the silver screen. Porter (Ron Randell) pitches his show to Fred Graham (Howard Keel) but wants Fred's ex-wife, Lilli Vanessi (Kathryn Grayson) to play the lead character, Kate. Lilli is planning to marry cattle baron Tex Calloway (Willard Parker), so the two men must coax her to accept the part by first offering it to Fred's "girlfriend" Lois Lane (Ann Miller) already set to play Bianca, Kate's younger sister.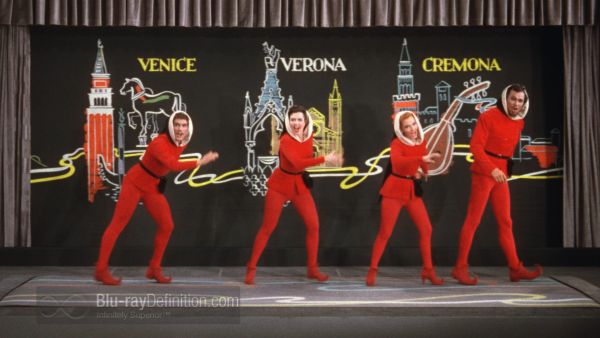 Fred and Lilli display obvious friction during rehearsal while Lois berates her real boyfriend, compulsive gambler and actor Bill Calhoun (Tommy Rall).  Lilli and Fred reminisce, and it is quite clear that a flame still flickers between these former spouses.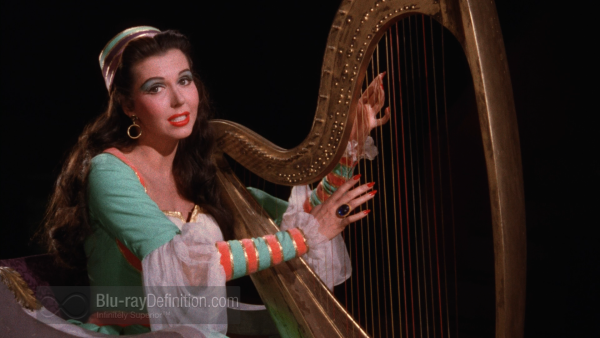 Fred sends flowers to Lois but when these mistakenly arrive in Lilli's dressing room (with a very personal gift card), the romantic temperature between the pair continues to rise. Just before opening curtain, two thugs, Lippy (Keenan Wynn) and Slug (James Whitmore) invade Fred's dressing room and show him an IOU for two grand with his signature (forged by Bill).
The "play" opens as Petruchio (Fred) arrives in Padua to find a wealthy wife. Katherine (Lilli) has no suitors, while younger sister Bianca (Lois) has three, Lucentio (Bill), Gremio (Bobby Van), and Hortensio (Bob Fosse). Kate's wealthy papa Baptista (Kurt Kasznar) offers Petruchio a sizeable dowry. When Lilli finds Fred's love note to Lois, the action on stage begins to resemble their real offstage relationship, culminating with the classic "spanking" scene.
Lilli threatens to leave the show, but Lippy and Slug "convince" her to remain so Fred can earn enough to settle his "gambling debt." There is little doubt how this one will turn out, but it is fun getting there with such great numbers as "So in Love," "Too Darn Hot," "Wunderbar," "I Hate Men," "Always True to You in my Fashion," and "From this Moment on."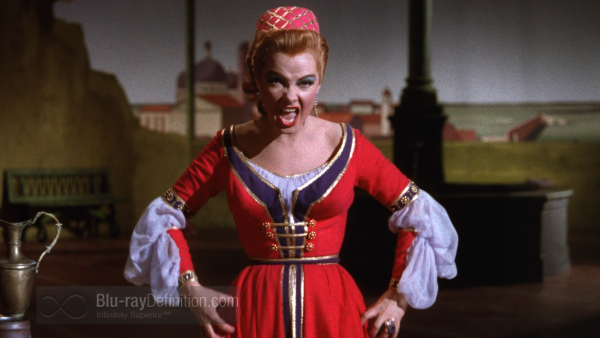 The Band Wagon (1953)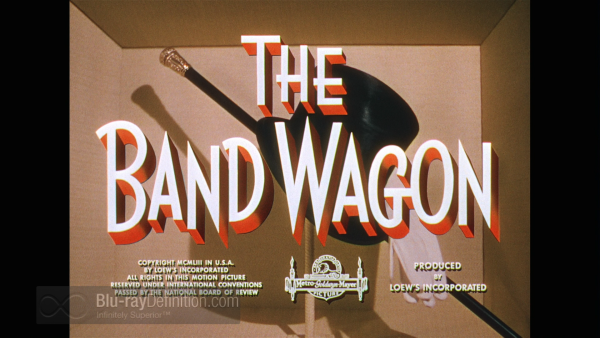 Yet another film about show business finds well-known singer/dancer Tony Hunter (Fred Astaire) on the apparent downside of his career. Friends Lester Marton (Oscar Levant) and his wife Lily (Nanette Fabray) have just written a show that might give Tony a new life on stage.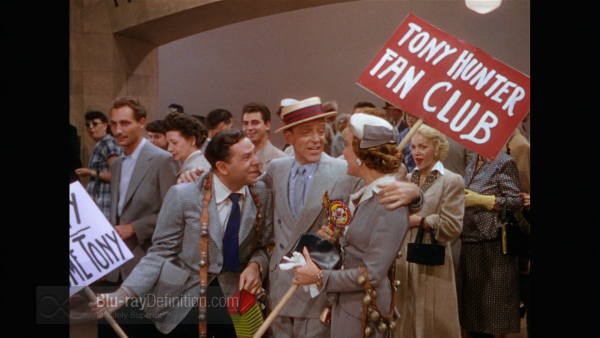 The Martons find a director, Jeffrey Cordova (Jack Buchanan), who turns out to be an egotistical, know-it-all boor. Jeffrey envisions the show, now known as "The Band Wagon," as an adaptation of the Faust legend rather than as a lighthearted musical. The showstopper "That's Entertainment" intercedes as Tony balks at Jeff's new concept.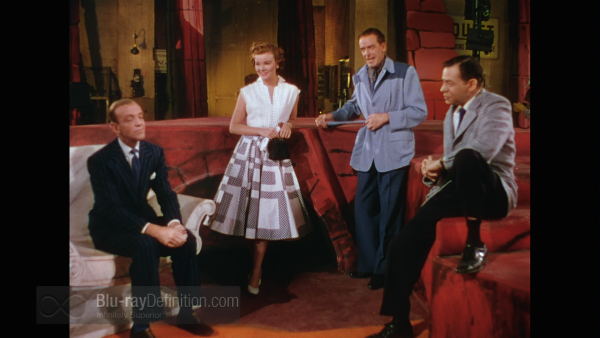 Jeff decides that the production's success depends on hiring famed ballerina Gabrielle Gerard (Cyd Charisse) but first, he must win over her boyfriend Paul Byrd (James Mitchell). Tony sees Gabrielle on stage, and is totally smitten but feels inadequate to partner her in the musical.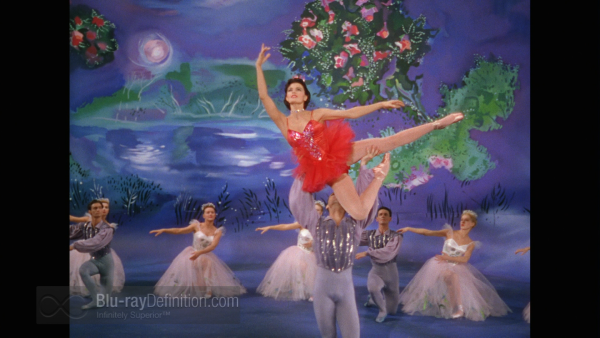 Production of the new show proceeds according to Jeff's completely offbase version. Tony rebels and leaves but Gabrielle suddenly shows up in his in hotel room. There is a rapproachment between the two and Tony takes Gaby out for a night on the town that concludes with their performing a classic pas de deux, "Dancing in the Dark," in Central Park .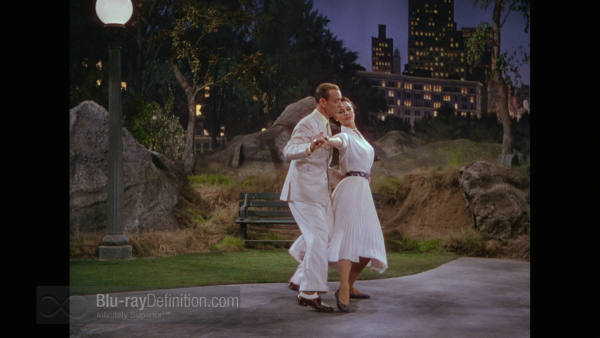 The New Haven preview performance is a complete bomb. An after-show cast party puts Gaby and Tony together again and the cast decides to remake the musical. Gaby and Paul part ways, and, well, you can foresee another happy ending as Tony takes over and restores the musical to its original form while financing it with the sale of his art collection.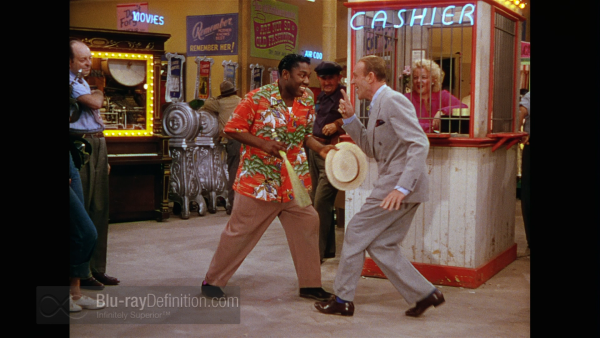 Calamity Jane (1953)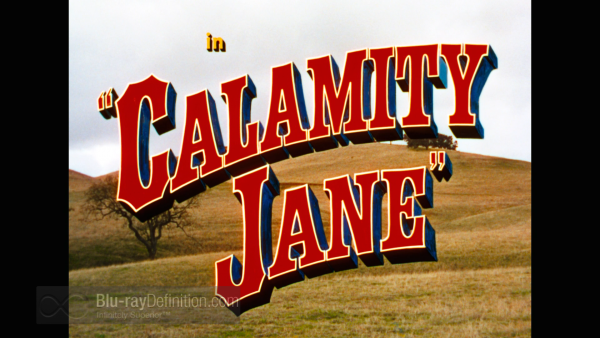 Unlike the urbanity of the previous musicals, Calamity Jane is plain old Wild West. Calamity Jane (Doris Day) is a pistol-toting momma and a Deadwood, South Dakota resident with a yen for handsome Cavalry Lieutenant Danny Gilmartin (Philip Carey) whom she rescues from the Indians.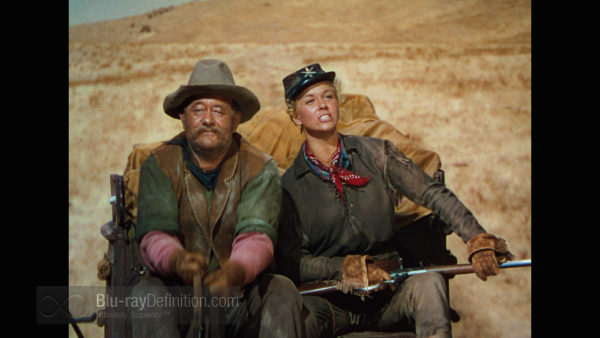 At the Golden Garter Saloon, the featured female entertainer "Frances Fryer" (Dick Wesson) turns out to be a man, nearly causing a patron riot. To make things right, Calamity goes to Chicago to bring back popular singer Adelaid Adams (Gale Robbins). She bets Wild Bill Hickock (Howard Keel) that when she brings Adelaid back, he will attend the opening show dressed as a squaw.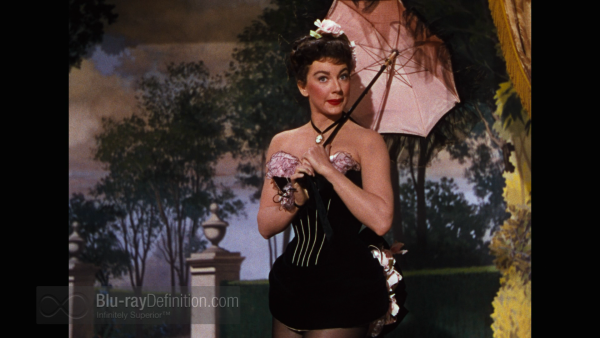 About to leave for a Parisian tour, Adelaid dresses down her maid Katie Brown (Allyn McLerie) stating that Katie lacks "the equipment" for a stage career. In a classic case of mistaken identity, Calamity crashes the dressing room and thinking that Katie, wearing Adelaid's costume, is the singer herself, offers her the saloon gig in Deadwood.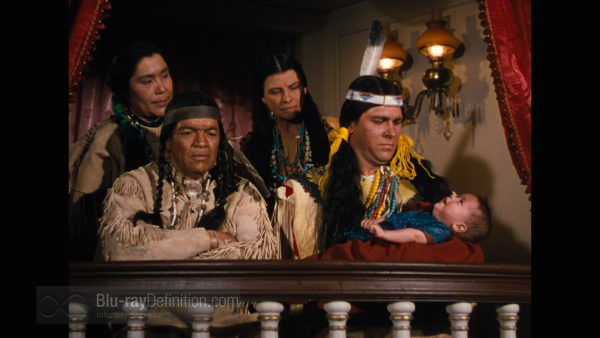 Once in Deadwood, Kate starts winning over all of the men, particularly Wild Bill and Danny, much to Calamity's chagrin. To add further confusion, Frances Fryer recognizes that Katie is an imposter but, fortunately, she delivers the performance of her life, and becomes the belle of the ball.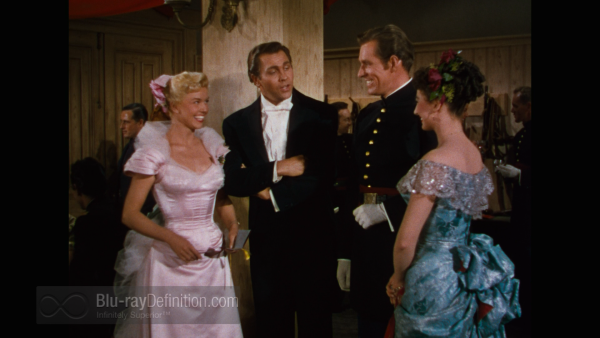 Calam and Katie become "roommates " in  CJ's "bachelor cabin," that Katie transforms with her "woman's touch". The transformation of Calamity herself is remarkable but tension arises when the Lieutenant continues to gush over Katie.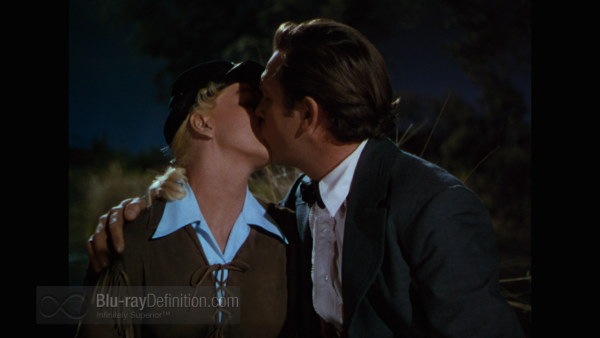 The big dance becomes a watershed moment as a gussied up Calam declares war with Katie over Lieutenant Danny.  Not to worry, the two right couples are eventually united in yet another Hollywood musical triumph that features the evergreen "Once I had a Secret Love."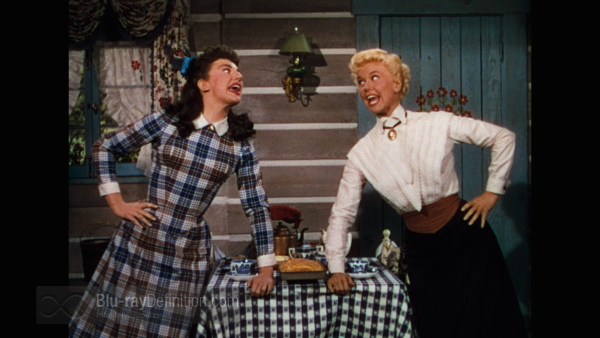 Video Quality
[Rating:3.5/5]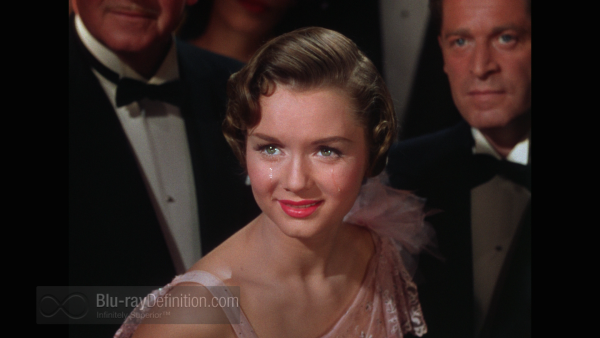 These restorations are remarkable, displaying great colors, a minimal amount of grain and blur, and some spectacular close ups. The picks of the litter are Kiss Me Kate and Singin' in the Rain, but all are immensely watchable. [NOTE: Kiss Me Kate was one of the first musicals shot in 3D, but this reviewer's system could only evaluate the 2D version].

Audio Quality
[Rating:3.5/5]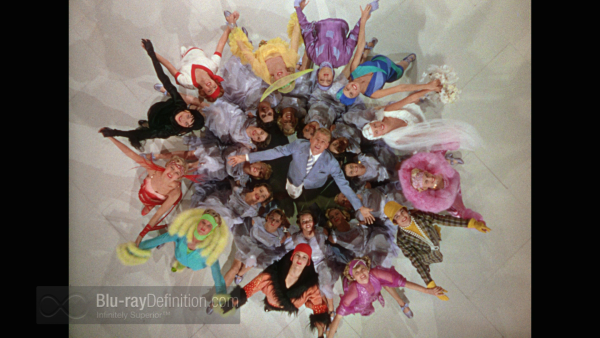 Kiss Me Kate was the only soundtrack recorded in stereo but the audio remastering makes all of these musicals very listenable with relatively little evidence of boxiness or compression.

Supplemental Materials
[Rating:4/5]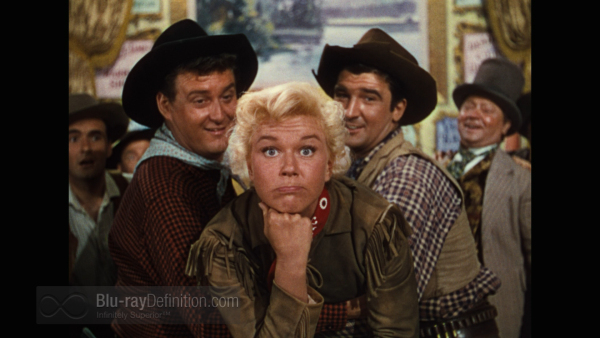 Singin' in the Rain:
Feature Commentary by Debbie Reynolds, Donald O'Connor, Cyd Charisse, Kathleen Freeman, co-director Stanley Donen, screenwriters Betty Comden and Adolph Green, filmaker Baz Luhrmann, and author/film historian Rudy Behlmer.
Sing along Jukebox
Singin' in the Rain: Raining on a New Generation (50:48) (English Dolby Digital Stereo 48k/16b): An in depth feature on the importance of this film on the Hollywood musical tradition.
Theatrical trailer.
Kiss Me Kate:
Cole Porter in Hollywood: Too Darn Hot (English Dolby Digital Stereo 48k/16b) (9:02) Anne Miller narrates a behind-the-scenes short about this film with additional contributions from Kathryn Grayson, James Whitmore, and Tommy Rall.
Mighty Manhattan, New York's Wonder City (English Dolby Digital Stereo 48k/16b) (5:08) A brief travelogue through New York in the film's era.
Barney's Hungry Cousin (English Dolby Digital Stereo 48k/16b) (6:42). A cartoon that sneaks in and highlights a popular character of the film's decade.
Theatrical Trailer
The Band Wagon
Commentary by Liza Minnelli and Michael Feinstein.
Get Aboard! The Band Wagon (English Dolby Digital Stereo 48k/16b) (37:09): an excellent retrospective on the making of this film with contributions from some original cast members.
The Men Who Made the Movies: Vincente Minnelli (English Dolby Digital Stereo 48k/16b) (58:25): A documentary on this famous director that highlights his body of work.
Jack Buchanan and the Glee Quartet (English Dolby Digital Stereo 48k/16b)  (6:00): a short subject featuring one of the film's stars in a comedy routine.
The Three Little Pups (English Dolby Digital Stereo 48k/16b) (6:46): a cute cartoon that is a takeoff on Three Little Pigs.
Theatrical trailer
Calamity Jane
So You Love Your Dog (English Dolby Digital Stereo 48k/16) (10:31): A newsreel feature about a World War II K-9 dog.
Duck Dodgers in the 24 ½  Century (English Dolby Digital Stereo 48k/16b): A futuristic cartoon that stars Daffy Duck impersonating legendary spaceman "Buck Rodgers."
Western Style Premiere (English Dolby Digital Stereo 48k/16b) (0:44): a brief film about the premiere of this film in its original location.
Photoplay Magazine's Film Awards (English Dolby Digital Stereo 48k/16b) (0:51): Coverage of an award ceremony that recognized Doris Day and director David Butler.
Theatrical Trailer

The Definitive Word
Overall:
[Rating:4/5]
The Warner Bros. musical film tradition is well served by these four restored Golden Age selections. I cannot think of a better way to introduce young viewers to the classic Hollywood musical that, unfortunately, appears to have "gone with the wind." A real bargain-priced set that easily earns my high recommendation.
Additional Screen Captures
[amazon-product]B00P9E9PN0[/amazon-product]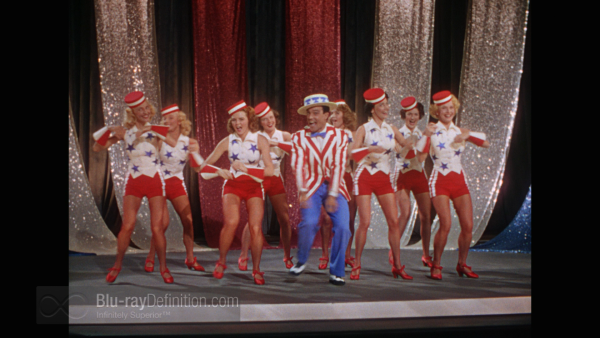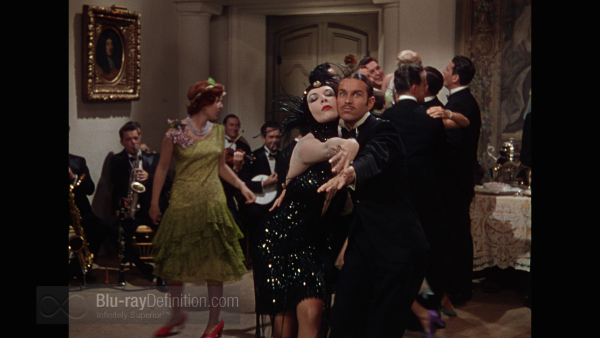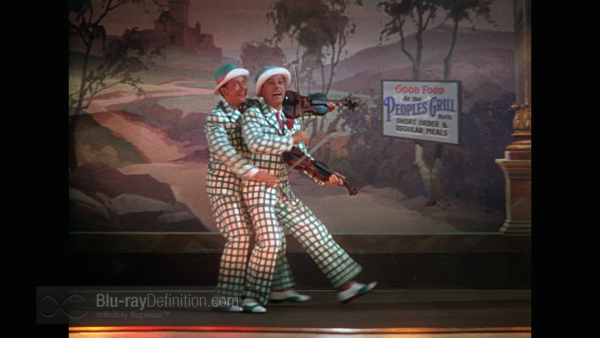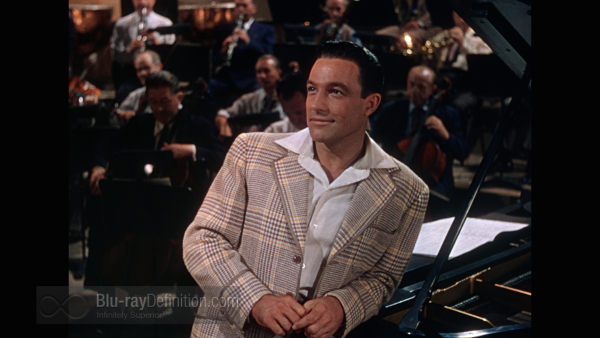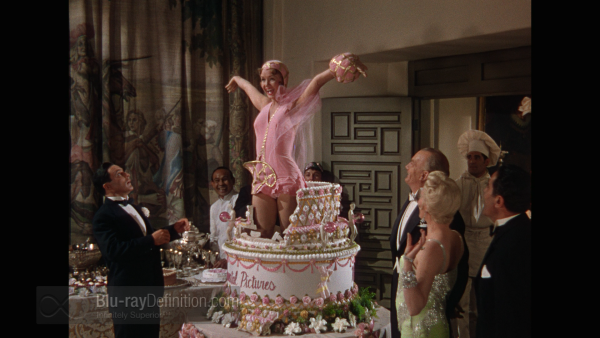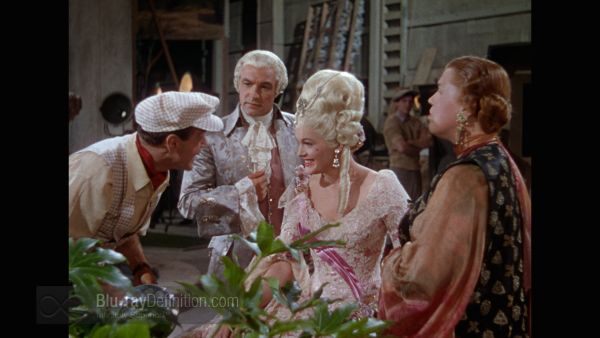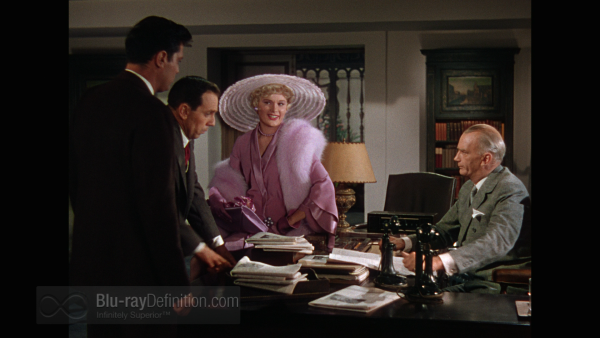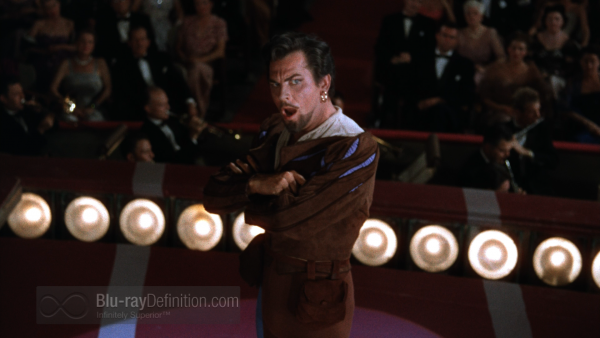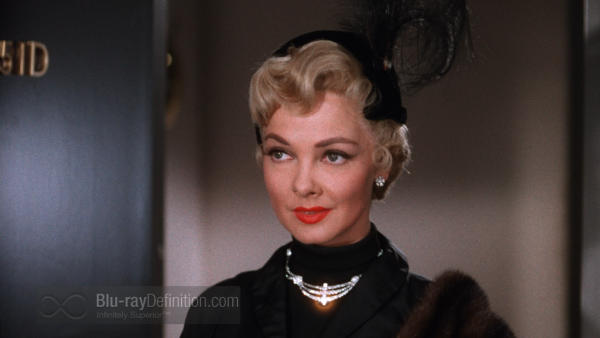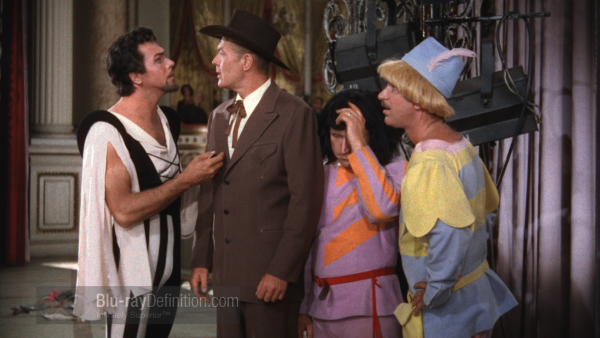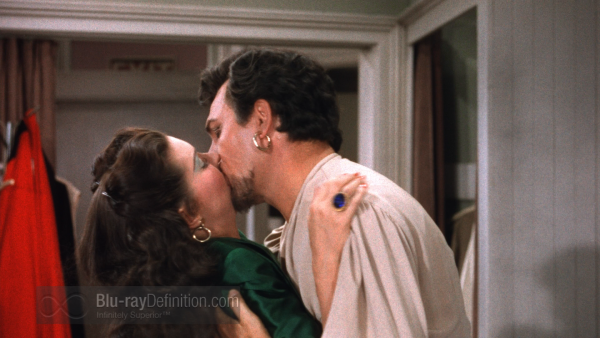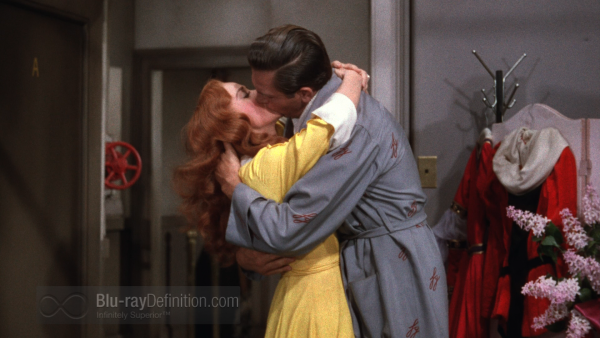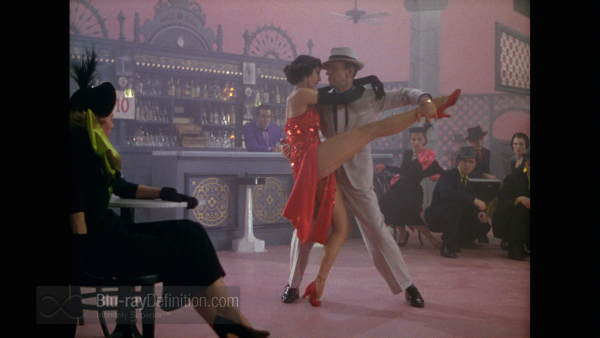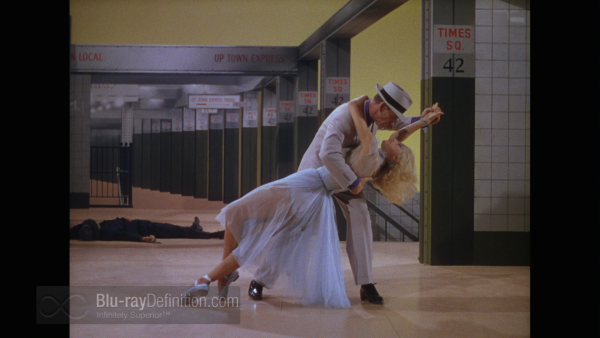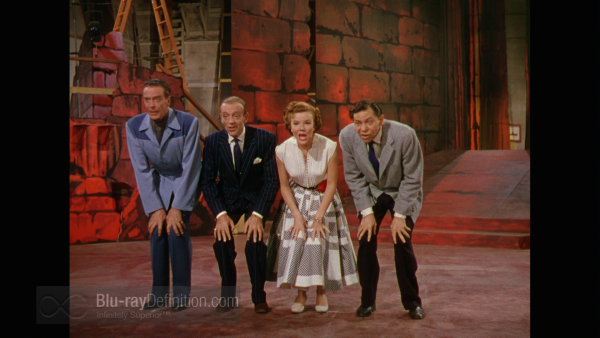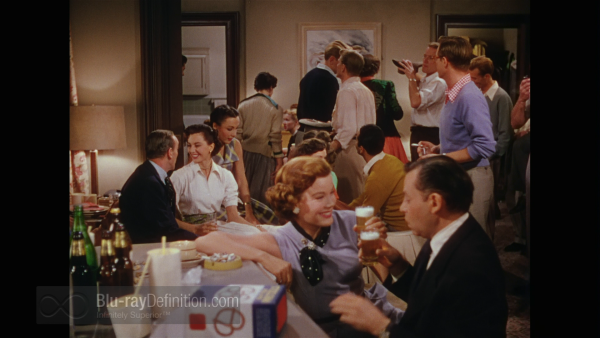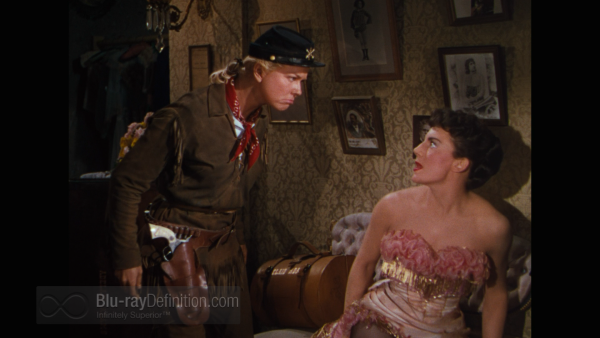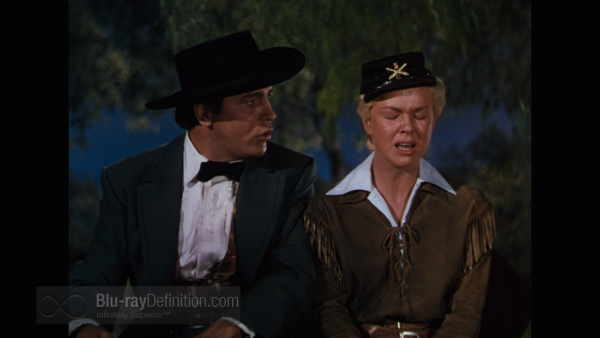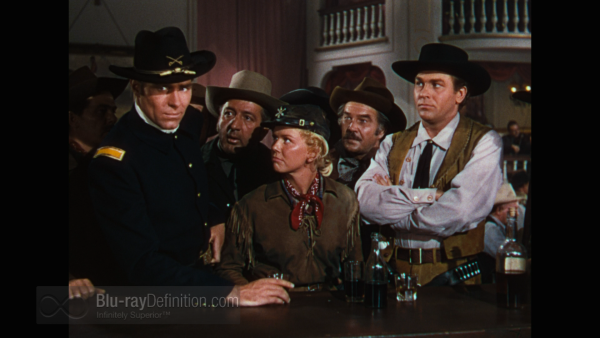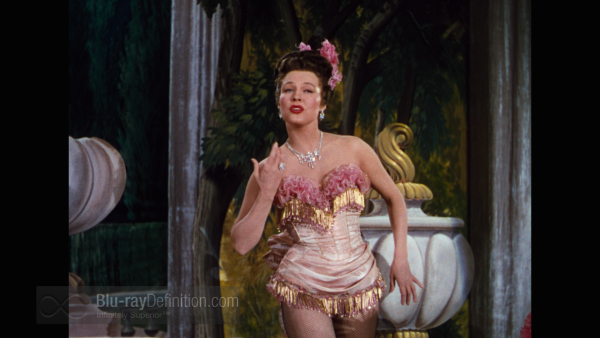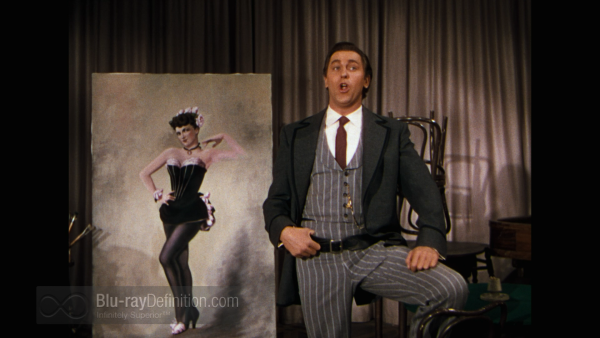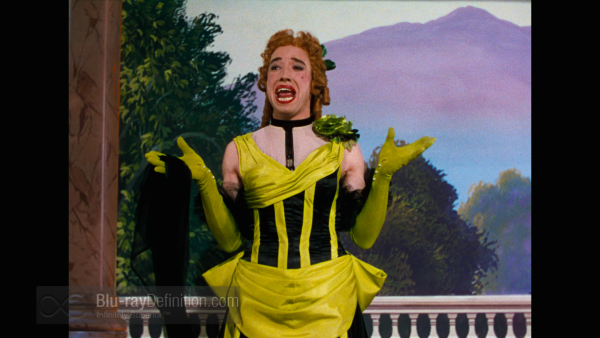 [amazon-product]B00P9E9PN0[/amazon-product]