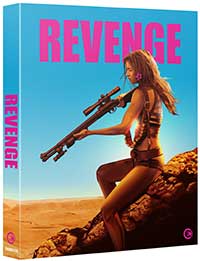 The indie horror/thriller Revenge from writer/director Coralie Fargeat is a stylish, feminist gut punch to the patriarchy that landed right at the height of the #MeToo movement in 2017. The story follows a group of three wealthy businessmen who head off to a desert canyon via helicopter to do some big game hunting as part of an annual "boy's getaway" in order to let off some steam.
One member of the trio, Richard (Kevin Janssens) brings along his beautiful young mistress Jen (Matilda Anna Ingrid Lutz). The night before the hunt there's some partying and drinking and things seem fine. The morning of the hunt is when thing get out of control. One of Richard's buddy's who believes Jen was flirting with him the night before and now owes him sex gets rough with her, elevating the situation to a brutal rape while Richard is away making arrangements and their other friend fails to have enough concern to stop what he sees happening.
To her dismay, when Richard returns, rather than helping her and trying to get her back home, he gets violent with her, which leads to her eventually getting shoved off a precipice and left for dead – but she doesn't die. She manages to slip away. Now the real hunt begins. The three entitled pricks start to hunt Jen, now wounded from her fall, but it's not long before she is hunting them.
Revenge is a brutal and thrilling film that flips the script on the slasher and manhunt genre. A feminist outcry from the heart of MeToo. We have a strong female protagonist in Jen, perfectly portrayed by Matilda Lutz, who goes from the cliché blonde bimbo and on a dime is a knife-wielding, gun-toting figure of strength refusing to be a victim, and just as scary as any badass male action hero like Schwarzenegger, for example.
Propping up the narrative is the slick visual style brought to the film from writer/director Coralie Fargeat. Rather than turn in a gritty looking film as many of these sorts of films often are, what Fargeat presents is a stylish, colorful, presentation that could at times pass for an ad produced right on Madison Avenue. There are bold primary colors and pastels and she manages to also capture the oppressive heat of the desert sun.
Edge of the seat thrills, a guessing game on kills, and some intense gore underscore this powerful feminist indie horror film. This one is an instant classic.
The Video
The digital production for Revenge is brought to Blu-ray in a strong AVC 1080p encodement from Second Sight Films. The film has a colorful palette of primaries and earth tones and this transfer produces them vividly without being oversaturated. The detail is crisp, and there are no artifacts to speak of. We can see the tiniest grains of sand or beads of sweat on faces in closeups.
The Audio
The disc comes with what is labeled an English DTS-HD Master Audio 5.1 mix, but in reality, the film has combined English and French dialogue with optional English for French dialogue subtitles. The sound has clean dialogue with good dynamics and atmospherics, and lows while not roof-rattling are beefy enough.
The Supplements
A small but solid collection of interviews with the lead actress, writer, director, and audio commentary, plus limited-edition bonus materials (see below) make this well worth owning.
Audio Commentary by Kat Ellinger
Out for Blood – An interview with Coralie Fargeat and Matilda Lutz (1080p; 00:42:43)
The Coward – An Interview with Guillaume Bouchède (1080p; 00:14:25)
Fairy Tale Violence – An interview with Robrecht Heyyvaert (1080p; 00:24:13)
Death Notes – An interview with Robin Coudert (Rob) (1080p; 00:24:30)
Limited Edition:

Rigid Slipcase featuring new artwork by Adam Stothard
Poster with new artwork
Softcover book with new writing by Kat Ellinger, author and editor of Diabolique.
The Final Assessment
An excellent horror/thriller film that is visually stylish and arrives in a solid Blu-ray transfer from Second Sight packed with strong bonus features and extras.
Revenge: Limited Edition is out on Blu-ray in the UK 11 May 2020 from Second Sight Films
---
The Creative Content: 4.0/5
The Video: 4.5/5
The Audio: 4.0/5
The Supplements: 4.0/5
Rating Certificate: UK:18
Studios & Distributors: M.E.S. Productions | Monkey Pack Films | Charades | Logical Pictures | Nexus Factory | Umedia | uFund | Canal+ | Ciné+ | Cinémage 12 | Le Tax Shelter du Gouvernement Fédéral de Belgique | Investisseurs Tax Shelter | Second Sight Films
Director: Coralie Fargeat
Writer: Coralie Fargeat
Run Time: 108 Mins.
Street Date: 11 May 2020
Aspect Ratio: 2.35:1
Video Format: AVC 1080p
Primary Audio: English DTS-HD MA 5.1
Secondary Audio: English DTS-HD MA 2.0 Stereo
Subtitles: English subtitles for French dialogue | English HOH