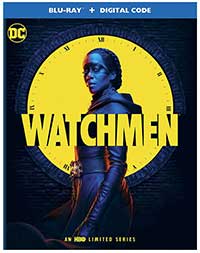 Watchmen is the 2019 HBO limited series based on the original graphic novel series by Alan Moore and Dave Gibbons. Taking place in the same alternate history, it's now thirty years after the original story ends, 2019. Richard Nixon is no longer president, and the Red Scare is no longer the main cultural threat. The Keene Act banning masked vigilantes is now in full swing, but the government has co-opted the idea and passed a law allowing police to wear masks after a violent incident in  Tulsa, Oklahoma – where our series is set – where a group of right-wing white supremacists calling themselves the Seventh Kavalry, inspired by Rorschach's writings and masked image, slaughtered nearly the entire police department in the middle of the night. Escaping death is Angela Abar (Regina King), also known as Sister Night, a police officer in Tulsa who comes back years later and works with the department as one of the few licensed vigilantes.  The series, over the course of its nine, one-hour episodes, pays homage to the alt-history of the original text while dealing with the modern issues of 2019, that being right-wing extremism, racism, and class disparities. It delves into, just as the graphic novels did, the issues of what wearing a mask does to one's psyche and is filled with plenty of Easter Eggs for the hardcore fans. And that is much of the pleasure of watching Watchmen, for while it is an uncompromising commentary on current socio-political issues just as the original text was, there are many layers to this series. Digging into all the clues, symbols, and subtext is half the fun – and also what makes it so difficult to write up a review beyond the rudimentary for fear of dropping major spoilers (there are plenty of those on YouTube if that's what you're looking for).
[envira-album id="123415″]
The Video
Watchmen was shot on the Arri Alexa in ARRIRAW (3.4K) and mastered with a 4K DI, brought to Blu-ray in an AVC 1080p encodement. While I have not yet had a chance to compare this Blu-ray release to the new HBO Max streaming service which purportedly has double the HD streaming bitrate of HBO Now where I originally streamed the series, but I can confirm that this release looks far better than those streams. Apart from some very mild noise in dark areas and some occasional banding, this is a rather clean and crisp encodement with nuanced shadows, bold color reproduction without oversaturation. I see no aliasing or edge enhancement either.
The Audio
Watchmen comes with a lossless English DTS-HD Master Audio 5.1 mix on Blu-ray that is a strong mix for television series, with good dynamic range between the quietest dialogue and the loudest of explosions, and solid effects in the surround channels. Low end is hefty without being too boomy, the high end is airy without being hard on the ears.
The Supplements
Watchmen is packed with behind-the-scenes featurettes and interviews with the cast and crew. It would have been great to have some audio commentaries, but what we do get is some good stuff.
Digital Code
Character Trailers – Sister Night, Blonde Man, and Looking Glass (1.78:1; 1080p)
It's Raining Squids (1.78:1; 1080p; 00:01:58)
Watchmen: Masked and Dangerous (1.78:1; 1080p; 00:02:20)
2019 New York Comic Con (1.78:1; 1080i; 00:36:48) – A Q&A from the 2019 New York Comic Con includes Regina King and Damon Lindelof.
Becoming Sister Night (1.78:1; 1080p; 00:01:02)
Watchmen: Alternate History (1.78:1; 1080p; 00:02:03)
Watchmen: Unmasked (1.78:1; 1080p; 00:16:33)
Andrij Parekh on Directing (1.78:1; 1080p; 00:01:02)
Squid Shelter with Tim Blake Nelson (1.78:1; 1080p; 00:02:27)
Anatomy of a Fight Scene (1.78:1; 1080p; 00;02:32)
(Blu-ray/DVD Exclusive) Immortal Vigilante – Hooded Justice (1.78:1; 1080p; 00:11:47) – a discussion of the series' story-within-a-story original hero Hooded Justice and his origin story.
(Blu-ray/DVD Exclusive) Adrian Veidt: The Colossal King (1.78:1; 1080p; 00:12:36)
Glimpses – The Visual Effects of Watchmen (1.78:1; 1080p; 00:03:03)
Notes from the Watchmen Graphic Novel Artist Dave Gibbons (1.78:1; 1080p; 00:01:49)
Rorschach Featurette (1.78:1; 1080p; 00:01:40)
Sadiqua Bynum Runs, Jumps, and Falls for Sister Night (1.78:1; 1080p; 00:01:02)
The Final Assessment
Magnificent, powerful, gritty, multi-layered, and very respectful of the original graphic novels' intent, Watchmen is a must-watch and highly binge-able TV series, especially on this feature-packed Blu-ray set.
Watchmen (Limited Series) is out on Blu-ray June 2, 2020 from Warner Bros.
---
The Creative Content: 5/5
The Video: 4.5/5
The Audio: 4.5/5
The Supplements: 4.0/5
Studios & Distributors: DC Comics | Home Box Office (HBO) | Paramount Television | Storm Studios | Warner Bros. Television | White Rabbit | Warner Bros. Home Entertainment
Creator: Damon Lindelof
Run Time: 527 Mins.
Street Date: 2 June 2020
Aspect Ratio: 1.78:1
Video Format: AVC 1080p
Primary Audio: English DTS-HD MA 5.1
Secondary Audio: French DD 5.1 | German DD 5.1 | Spanish DD 2.0 Stereo
Subtitles: English SDH | German SDH | French | Spanish (Castilian & Latino) | Dutch | Danish | Korean | Portuguese