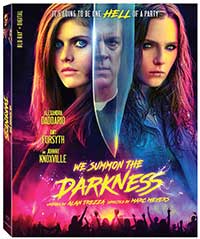 The dark comedy/horror film We Summon the Darkness is set in the 1980s and plays with many of the tropes from the era and of the horror genre. Amidst the backdrop of a number of satanic ritual killings throughout the heartland that a popular televangelist John Henry Butler (Johnny Knoxville) has been using to his advantage to rail against and help to grow his ministry, three best friends Alexis (Alexandra Daddario), Bev (Amy Forsyth), and Val (Maddie Hasson) go on a road trip to see their favorite heavy metal band, Soldiers of Satan in concert. When a van full of three douchey metalhead dudes throws a milkshake at their car on the way, it leads them to crossing paths and eventually hooking up the three apologetic metalheads at the show. Mark (Keean Johnson), Kovacs (Logan Miller), and Ivan (Austin Swift) are eventually invited back to Alexis' family home out in the country for an after-party and that's when the real violence begins to ensue.
To say more about the plot at this point would be giving away the major plot twist in We Summon the Darkness. But after the opening act, the film does kick into high gear slasher material, just not following along the path one would normally expect. Gender roles are reversed, final girl status seems obvious but not for reasons one might be thinking.
Director Marc Meyers (My Friend Dahmer, Human Capital) seems a little bit out of his element with We Summon the Darkness. It's not as assured as his previous outing My Friend Dahmer and the film often verges on camp more than dark comedy, but still, it's a fun and riveting watch for horror fans. Meyers keeps the pacing quick and the production is stylish, with a high gore quotient, but it never tips over into gore porn territory, carefully treading the line of slasher horror and violent thriller.
Alexandra Daddario is superb as a prototypical horror babe, as are her co-stars Amy Forsyth and Maddie Hasson, who become even stronger when the film's twist is revealed.
Extras:
This review is based on the digital version of the film from iTunes, which comes with iTunes digital extras:
"Envisioning Darkness" Featurette
Commentary with Director Marc Meyers and Writer Alan Trezza
[envira-album id="123369″]
We Summon the Darkness is available now on VOD and out on Blu-ray and DVD May 9, 2020 from Lionsgate
---
The Film: 3.0/5
Studios & Distributors: Common Enemy | thefyzz | Magna Entertainment | LB Entertainment | Highland Film Group (HFG) | Iconic Media One | Litecoin Foundation | Nightshade Entertainment | Lionsgate
Rating Certificate: R (for bloody violence, pervasive language, some drug use and sexual references)
Country: USA
Language: English
Run Time: 91 Mins.
Aspect Ratio: 2.39:1
Director: Marc Meyers
Writer: Alan Trezza
Blu-ray & DVD Street Date: June 9, 2020