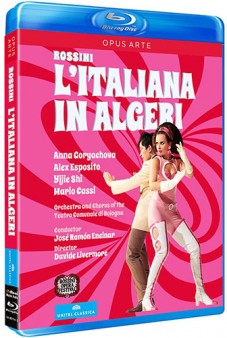 – –

The Film
[Rating:4/5]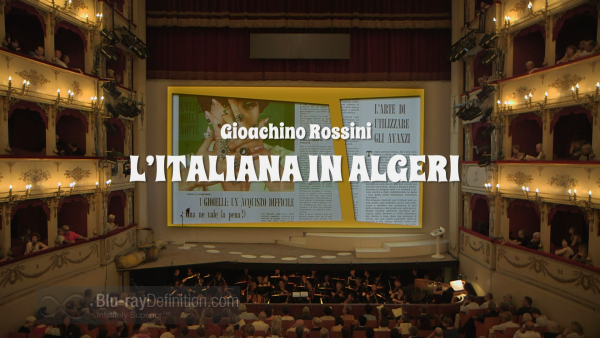 L'Italiana in Algeri (The Italian Girl in Algiers), the seventh opera by the then 21 year-old Giachino Rossini was completed in less than four weeks!  Its 1813 debut was a great success and the Rossini Opera Festival, held in Pesaro (Rossini's birthplace), presents a bicentennial performance (May 2013) that has updated to the 21st century.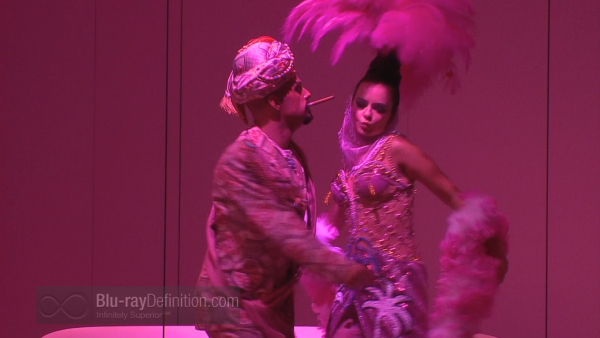 The Bey Mustafà (Alex Esposito) no longer desires his wife Elvira (Mariangela Sicilia), and she is lamenting her situation to her slave Zulma (Raffaella Lupinacci). The Bey confides to Captain Haly (Davide Luciano) that he will get his Italian slave Lindoro (Yijie Shi) to marry Elvira so that, with Haly's help, the Bey can meet a sexy Italian girl.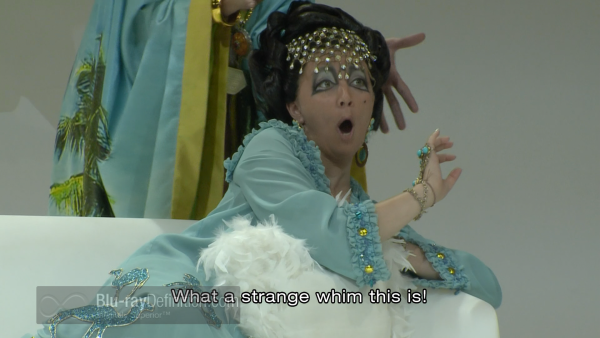 When an Italian airliner is been shot down (by the Bey), we find, among the passengers, the Italian girl, Isabella (Anna Goryachova), and her paramour Taddeo (Mario Cassi) who passes himself off as her uncle. Haly captures Isabella and Taddeo, thinking that his mission to the Bey is now accomplished.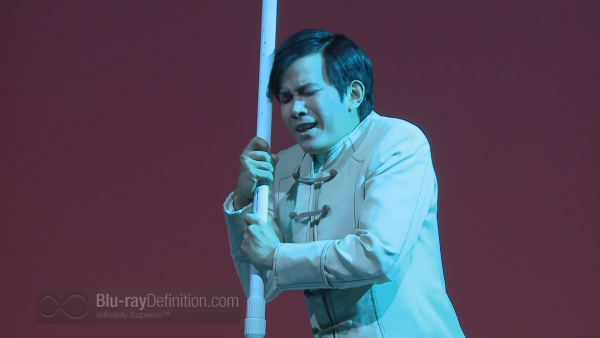 Back in the palace, the Lindoro-Elvira match hits the rocks. To sweeten the pot, Mustafà offers Lindoro a deal that he cannot refuse: take Elvira to Italy and get freedom.  Haly tells Mustafà that the Bey will get the Italian girl. Isabella reunites with Lindoro (her lover) as Elvira and Zulma are about to depart for the airport.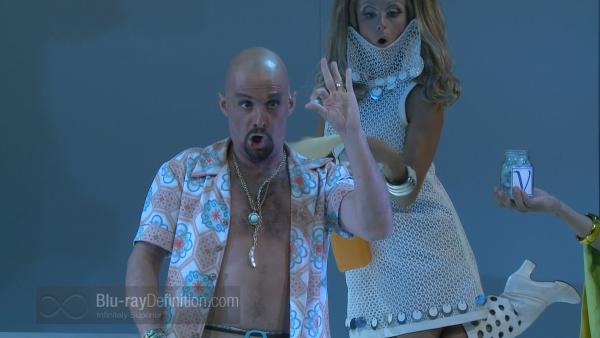 Elvira and Zulma remain in the palace but this does not deter Mustafà from planning his moves on Isabella. When Isabella and Lindoro have a moment alone, they decide to escape together. Taddeo becomes the Bey's unwitting pawn in the pursuit of Isabella.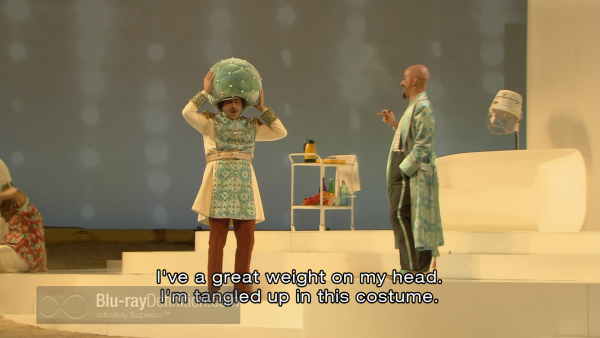 Isabella prepares to share coffee with Mustafà, but she has also invited Elvira who now joins them, creating an awkward situation.  Later, Taddeo tells Lindoro that he is actually Isabella's lover, unaware of the Lindoro-Isabella history. Lindoro convinces Mustafà that there will be a special ceremony to make him Isabella's pappataci (sex-addicted lover)
The pappataci ceremony begins, properly fueled with alcohol, as Mustafà joins in the celebration. An Italian plane arrives providing an escape route for Isabella, Lindoro, and Taddeo. Mustafà summons his troops to stop the fugitives but the men have become inebriated. As the Italians leave, the Bey asks Elvira to take him back.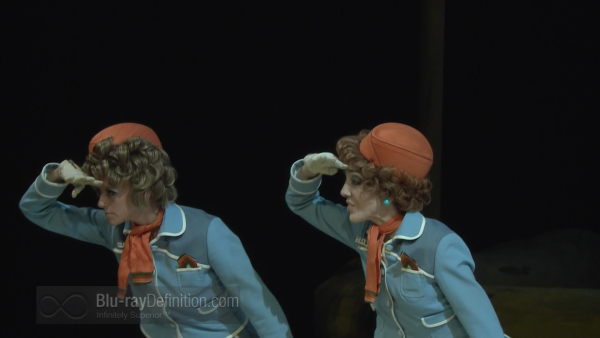 The Orchestra and Chorus of the Teatro Communale di Bologna is led by the sure-handed baton of José Ramón Encinar. The often garish sets, costumes, and stage direction yield two and a half hours of sheer visual and vocal delight. All of the principals sing and act superbly. While mezzo-soprano Goryachova literally steals the show with her campy delivery and svelte physique, her tenor partner Shi gives us very appealing solos much in the spirit of Juan Diego Florez or Javier Camarena. Baritone Esposito negotiates his tricky passages successfully and is the epitome of a Middle Eastern lecher. Stage director Davide Livermore's updating has a comedic rightness that even Rossini would have enjoyed.
Video Quality
[Rating:4/5]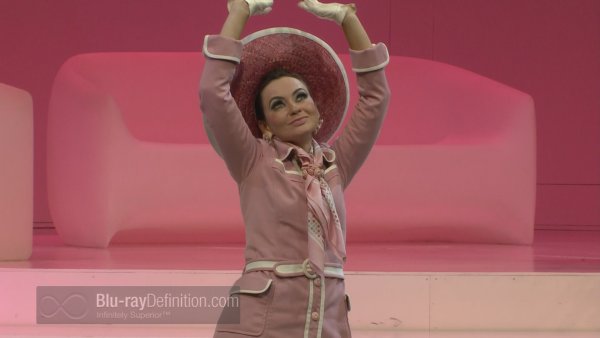 Video  director Tiziano Mancini, as is his wont, makes all parts come together perfectly. There are brilliant colors (think lots of pink) and sharp details. The cartoon projections a la Roy Lichtenstein are a hoot. In the end, we get what the audience got, super coverage of stage and cast.
Audio Quality
[Rating:4.5/5]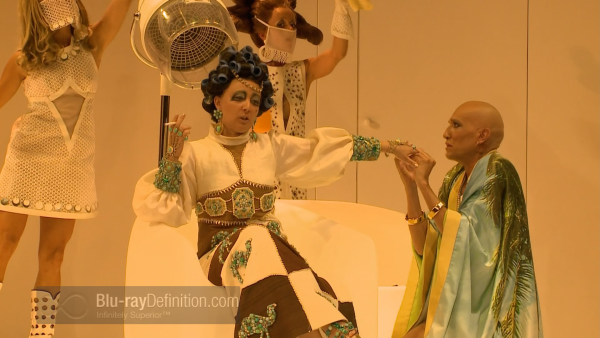 Voices and orchestra are well balanced and Angelo Aneli's libretto is so perfectly captured that no lyric goes unheard.  The surround version is more open but the two-channel option is also quite fine.
Supplemental Materials
[Rating:2/5]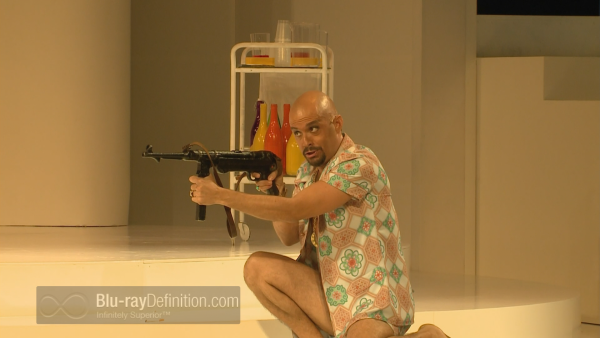 We get a program with cast and credits, a synopsis, and Hugo Shirley's nice background essay on Rossini and the creation of this work. There is also a brief featurette "Making of Italiana in Algeri" (10:39) (Italian LPCM Stereo 48kHz/24-bit) that shows how this production's concept came together.
The Definitive Word
Overall:
[Rating:4/5]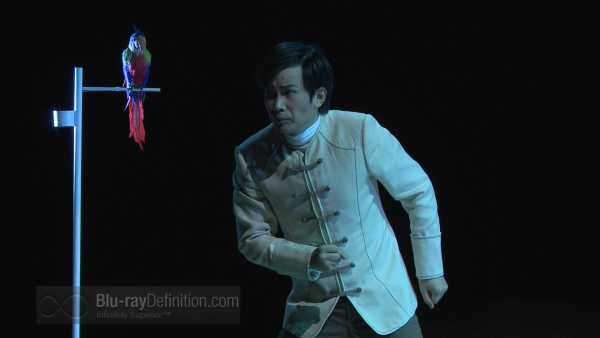 A Blu-ray premiere for this opera buffa, the Rossini Festival provides an upbeat, visually and vocally appealing production that will definitely tickle your funny bone. A young cast, receiving great directorial support, makes this a must-watch for opera lovers. L'Italiana in Algeri aficionados should be aware that there is a Metropolitan Opera DVD led by James Levine and featuring the incomparable Marilyn Horne, still the video standard for this work. That said, for all of its sight and sound virtues, get this one while it is still hot.
Additional Screen Captures
[amazon-product region="uk" tracking_id="bluraydefinit-21″]B00L28TMMQ[/amazon-product]
[amazon-product region="ca" tracking_id="bluraydefinit-20″]B00L28TMMQ[/amazon-product]
[amazon-product]B00L28TMMQ[/amazon-product]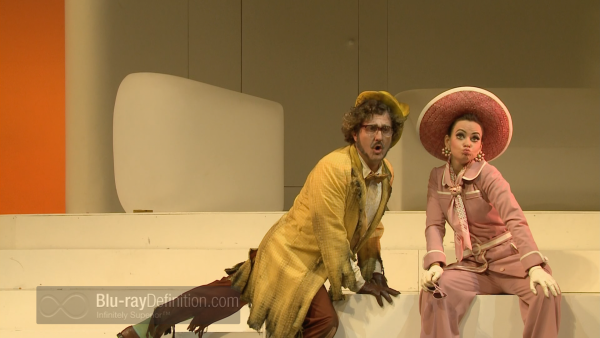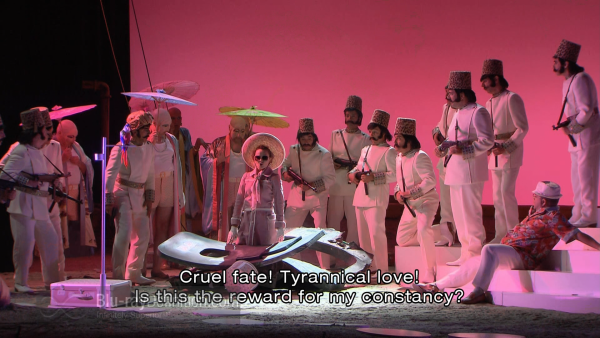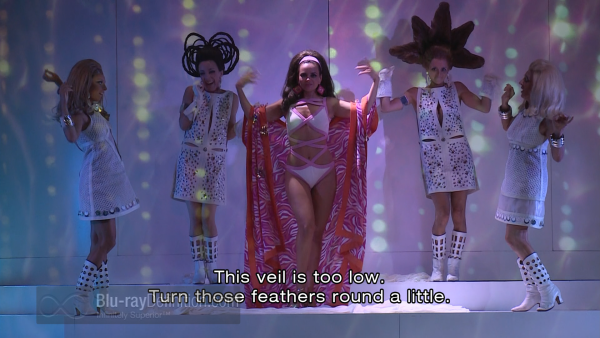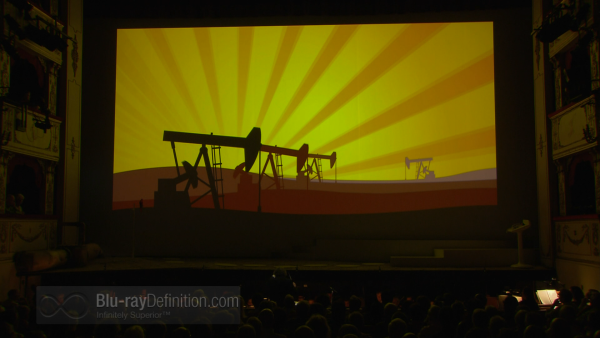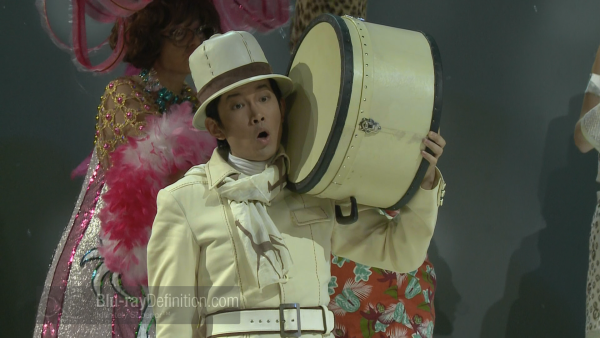 [amazon-product region="uk" tracking_id="bluraydefinit-21″]B00L28TMMQ[/amazon-product]
[amazon-product region="ca" tracking_id="bluraydefinit-20″]B00L28TMMQ[/amazon-product]
[amazon-product]B00L28TMMQ[/amazon-product]