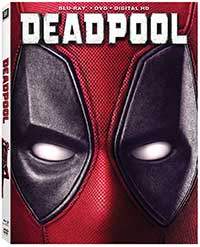 Like 2015's Ant-Man, Marvel's Deadpool is another entry from the comic powerhouse that abandons austerity and instead gives us an irreverent take on the superhero genre. Director Tim Miller and writers Rhett Reese and Paul Wernick take it a step farther than Ant-Man, giving us an R-rated action/adventure that not once takes itself seriously, even during the most perilous moments.
Ryan Reynolds stars as a former Special Forces operative turned mercenary doing dirty jobs like bating up stalkers for teenage girls. When he finds out he has terminal cancer, her takes an offer from a shady character in a bar to go through
an experimental treatment that will save his life. He leaves his girlfriend (Morena Baccarin) behind and goes for the treatment. The treatment, under a sadistic doctor names Francis (Ed Skrein) cures him of him of cancer and gives him superhuman healing powers, but it also deforms him all over, making him look like a burn victim. Vowing revenge, he dons his homemade red suit and becomes the wise cracking, and excessively violent Deadpool out on the hunt for the Francis who ruined his life.
Deadpool is funny – very funny. It's also violent – very violent. This is NOT the sort of superhero flick you take the family to. There's lots of R-rated" language, sex jokes, and, yeah, even a guy taking a bullet right up the ass. But it's all in good fun. I mean, what kind of superhero movie has the superhero just constantly running his mouth and cracking dumb jokes even when his girlfriend's life is in jeopardy? This one sure does. Is it perfect? Not at all. I still can't figure out how, in this origin story where the actual hero narrates the events himself no less, no one managed to tell how Deadpool developed his superhuman ability to leap and carry out those amazing acrobatic skills. Sure, we get that the guy can't be killed, but, where did all the OTHER skills come from?
Well, never mind that. Deadpool won't let you stop to think about it for long, because Miller's direction keeps one well entertained, There's hardly a lull in this film, and the script is so tongue-in-cheek Reynolds even has time to slip in a joke about his own acting skills ("Looks ARE everything! Ever heard Dave Beckham speak? It's like he mouth-sexed a can of helium. You think Ryan Reynolds got this far on a superior acting method?")
The Video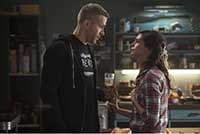 Deadpool is a beautiful HD production shot on the Arri Alexa XT Plus shot at 3.4K with a 4K DI and brought to Blu-ray in a 1080p AVC encodement framed at 2.40:1. The image is just about flawless, with a clean and crisp look, excellent color – that red suit really stands out – and no digital issues like banding, posterization or noise.
The Audio
In theaters Deadpool ran with an Atmos soundtrack (where available) and on the 4K UHD Blu-ray release,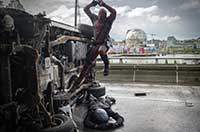 Deadpool gets an Atmos mix, but for this standard Blu-ray release, Fox Home Entertainment for whatever reason has chosen to only include a DTS-HD Master Audio 7.1 soundtrack. The film studios are up to their old tricks again, trying to entice consumers over to their new format, UHD BD, because before that hit store shelves, there was no withholding of Atmos or DTS:X from Blu-ray releases while they were trying to nudge people into upgrading their hardware to support the new audio format. That said, this 7.1 track is very good nonetheless, but perhaps not quite as good as the Atmos mix, but, I can't say, because I have haven't heard that version. We get some very deep low end, lots of solid sound effects in the surround and back channels, rumbling engines, heavyweight body blows, and bullets whizzing past and over our heads. It's exciting to say the least.
The Supplements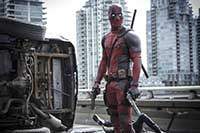 Fox Home Entertainment stuffs this set with a strong set of extras, including two fine audio commentaries an hour-long making of, and some irreverent promotional videos.
Digital HD UltraViolet & iTunes Digital HD Digital Copy
DVD
Commentary by "Wade"/Deadpool/producer Ryan Reynolds and Screenwriters Rhett Reese & Paul Wernick
Commentary by director Tim Miller and Deadpool co-creator/comics artist Rob Liefeld
Deleted/Extended Scenes w/ optional audio commentary by director Tim Miller (2.35:1; 1080p/24; 00:19:14)
Gag Reel (2.35:1; 1080p/24; 00:06:12)
From Comics to Screen…To Screen (1.78:1; 1080p/24; 01:20:00)
Gallery:

Concept Art
Costumes
Storyboards
Pre-Vis
Stunt-Vis-Shipyard

Deadpool's Fun Sack:

Videos (1.78:1; 1080p/24; 00:23:54)
Stills (1080p)
The Final Assessment
Deadpool is an incredibly fun entry into Marvel's universe. Reynolds does an excellent job as the rude, crude, wise cracking superhero with a dubious moral compass. There should be more of these sorts of superhero films that don't take themselves too seriously made, hopefully another Deadpool (and another Ant-Man).
Deadpool (TheaterByte Blu-ray Review)
R (for strong violence and language throughout, sexual content and graphic nudity)
Rating Certificate
Twentieth Century Fox Film Corporation/Marvel Entertainment/Fox Home Entertainment
Studios & Distributors
Rhett Reese, Paul Wernick
Writer
$39.99
MSRP
English DTS-HD MA 7.1 | English Descriptive Audio 5.1 | French DD 5.1 | Spanish DD 5.1
Audio
Summary
Because it doesn't take itself seriously, packs in great action and irreverence, Marvel's Deadpool is an almost perfect bit of popcorn fun for adults. The Blu-ray is also almost perfect, despite leaving off the Atmos mix.
What people say... Login to rate
Be the first to leave a review.
Show more