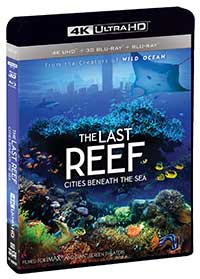 The gorgeous IMAX exhibition film The Last Reef: Cities Beneath the Sea from directors Luke Cresswell and Steve McNicholas was shot on location around the world in the exotic locales of Palau, Vancouver Island, French Polynesia, Mexico, and The Bahamas. It examines the stunning and vibrant underwater coral reef ecosystems that remain on Earth. In typical IMAX exhibition fashion, this film is a stunner, using new underwater 3D technology to explore the underwater reefs as close as possible and it offers as much detail about these complex, life-sustaining "cities" as possible in its brief, approximately 45-minute runtime. From clown fish to dolphins, you'll see a plethora of life that deserves to be preserved in this fantastic bit of eye (and ear) candy.
The Video
The Last Reef is a beautiful large format 65mm 15-perf IMAX production brought to Ultra HD in an HEVC 2160p encodement with HDR10 high dynamic range (an SDR option is also included). The Blu-ray 3D is also included in 2D AVC/MPEG-4 1080p and MVC 3D 1080p. The 4K Ultra HD disc is an amazing visual experience that almost looks three-dimensional even up against the actual 3D disc, which loses its luster in comparison, not having the same sort if brilliant colors and nuance. That said, the 3D looks quite awesome and natural in its own right. You really can't lose whichever you chose here.
The Audio
An English Dolby Atmos (Dolby TrueHD 7.1 compatible) sound mix is provided on both the Ultra HD and Blu-ray 3D discs. It is typically immersive for an IMAX soundtrack with a big, full narration in the center channel, deep low end, and lots of discrete sound effects through the room including in the Atmos channels. This is an excellent, reference quality track where even the musical score is spread nicely through all the channels and nicely balanced with lots of atmosphere.
The Supplements
A series of "making of" featurettes is included that are actually very interesting and provide not only good details on how the film came together, but a little more information on the coral reefs.
Behind the Scenes (1.78:1; 1080p/24):

Ocean Acidification
Filming in Bimini
Editing and Scoring
Jellyfish Lake
Macro Filming in Palau
Reef and the City
Status Under the Sea

Picture Gallery (1.78:1; 1080p/24; 00:02:25)
Trailers
The Final Assessment
The Last Reef is a beautiful IMAX exhibition documentary that gives a typically truncated, but no less interesting take on the issue surrounding the pressure coral reefs are under from pollution. The visuals are stunning and the sound is excellent as well.
[amazon_auto_links id="100501"]
Shout! Factory
Studios & Distributors
Luke Cresswell | Steve McNicholas
Director
HEVC (H.265) 2160p (UHD) w/ HDR10 | AVC 1080p (BD) | MVC 1080p (BD 3D)
Video
English Dolby Atmos (Dolby TrueHD 7.1 Compatible)
Audio
French DTS-HD MA 5.1 | Spanish DTS-HD MA 5.1
Secondary Audio
Summary
This stunning IMAX documentary goes to exotic locales from Palau to The Bahamas to show the remaining coral reefs under pressure from pollution. The Ultra HD 4K and 3D included in this release are both spectacular discs.
What people say... Login to rate
Be the first to leave a review.
Show more