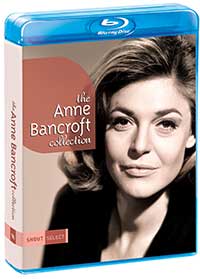 Anne Bancroft (born Anna Maria Louisa Italiano) became one of the most acclaimed actresses of her generation. This Shout! Factory The Anne Bancroft Collection on Blu-ray Disc has eight of her films spanning more than three decades.
Don't Bother to Knock (1952): Bancroft's debut as hotel lounge singer Lyn Lesley whose on-again-off-again boyfriend pilot Jed Towers (Richard Widmark) thwarts a disturbed Nell Forbes (Marilyn Monroe) from harming herself and her babysitting charge.
The Miracle Worker (1962): Based on the real-life story of how nearly-blind therapist Anne Sullivan (Bancroft) miraculously led the young deaf and blind Helen Keller (Patty Duke) into the world of sights and sounds, this film garnered Academy awards for both actresses.
The Pumpkin Eater (1964): Pamela Mortimer's semi-autobiographical novel features Bancroft as Jo Armitage, a thrice-married woman with many children and recurring bouts of depression who comes to terms with her philandering screen-writer husband Jake (Peter Finch).
The Graduate (1967): A period piece laced with a Simon and Garfunkel songs in which Bancroft portrays Mrs. Robinson the libidinous housewife who seduces college graduate Benjamin Braddock (Dustin Hoffman) and spoils his chances with her daughter Elaine (Katherine Ross).
Fatso (1980): Anne Bancroft's only turn as actor, writer, and director, stars food-obsessed, pudgy Dom DeLuise whose sister Antoinette (Anne Bancroft) convinces him to lose weight after his obese cousin dies. Dom's life, if not his physique, gets transformed by the lovely gift-shop girl Lydia Bollowenski (Candice Azzara).
To Be or Not To Be (1983): the collection's only film that co-stars Anne Bancroft and her husband Mel Brooks as Anna and Frederick Bronski whose lives and theater company are threatened by the Nazi invasion of Poland. This remake of Ernst Lubitsch's 1942 dramedy shows off Bancroft's comedic and musical skills.
Agnes of God (1985): Mother Superior Miriam Ruth (Bancroft) discovers a dead baby in the room of the naive novice Sister Agnes Devereaux (Meg Tilly) at their Montreal convent. Court-appointed psychiatrist Martha Livingston (Jane Fonda) evaluates the young girl's sanity, an assignment that has the doctor questioning her own beliefs.
84 Charing Cross Road (1987): Partnered with Anthony Hopkins, Bancroft plays Helene Hanff, a script editor seeking to buy classic English books. She begins a transatlantic correspondence with Frank Doel (Hopkins) who sells antique books for Marks & Co. at the title's London address. The pair never met but exchanged many letters over the years chronicling their respective lives.