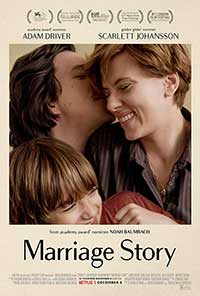 Oscar-winner Kramer vs. Kramer took dead aim at the impact of divorce on a couple with a young son. Noah Baumbach's The Squid and the Whale grappled with the personal aftershocks from his own parents' divorce and he now revisits this stressful subject in Marriage Story in which another married couple with a young son is in the throes of ending their union.
Charlie Barber (Adam Driver) is a New York avant-garde theater director, living with his actress wife Nicole (Scarlett Johansson), and their son Henry (Azhy Robertson). Nicole was a former teen film star who left her native Los Angeles for New York where she met and married Charlie. After putting her acting career on hold to become a wife and mother, she had recently returned to the stage in Charlie's revival of the classic Greek tragedy Electra. An unexpected offer of a starring role in a new television series has Nicole and Henry moving to the home her mother Sandra (Julie Hagerty) in LA where the show is to be filmed. Before departing, Nicole informs Charlie that she intends to file for divorce just as he is preparing his theatrical company for their big Broadway stage debut.
Although the couple had wanted an amicable dissolution of their 10-year-old marriage, this decision is derailed when Nicole hires ball-buster divorce lawyer Nora Fanshaw (Laura Dern) and Charlie responds with his own aggressive attorney Jay Marotta (Ray Liotta). The pressure cooker in this no longer "friendly" finish to the Barber's union blows open when Nicole visits  Charlie in the LA apartment that he rented to be closer to Henry. Their respective gloves come completely off in a barely furnished living room, apparently ending any hopes for reconciliation. As the film winds down, Charlie croons Sondheim's "Being Alive" in the bar lounge frequented by members of his cast that once included Nicole, signaling his acceptance of how the divorce has changed his life.
[envira-album id="121547″]
I have seen most of Baumbach's previous films and again noticed the continued influence of Woody Allen's style on this writer-director's method of weaving his dialogue-driven storylines from one scene into another. Like Allen, Baumbach also mixes in occasional dollops of humor, typified by the scene in which Charlie's one-time attorney Bert Spitz (Alan Alda) starts telling him a pointless joke while continuing to run up the legal tab. Cinematographer Robbie Ryan's cameras present a searing focus on the principals, pinpointing this film's very poignant story. The saccharine score composed by Randy Newman tugs at our heartstrings as does the device of having a dyslexic Henry try to sound out Nicole's handwritten paean to Charlie that went unread at their only pre-divorce mediation session in New York.
Critical acclaim in film festivals followed by a limited theatrical screening to make it Oscar-eligible, Marriage Story has already generated a lot of Academy Award buzz. This is a cautionary tale painted with indelible images of love and loss and garnished by nice contributions from screen veterans Alda, Hagerty, Dern, Liotta, and Wallace Shawn. The main credit for making this a memorable film must go to the two leads who lay bare their characters' souls as their marriage disintegrates. This film is potent stuff and the raw emotions that are revealed throughout will have viewers' own emotional reserves deeply drawn upon–always the sign of a terrific film. Highly recommended.
Marriage Story is now streaming on Netflix
[youtube https://www.youtube.com/watch?v=BHi-a1n8t7M&w=864&h=486]
---
The Film:4.0/5
Studios & Distributors: Heyday Films | Netflix
Rating Certificate: R (for language throughout and sexual references)
Country: USA
Language: English
Run Time: 136 Mins.
Aspect Ratio: 1.66:1
Director: Noah Baumbach
Release Date: 6 December 2019