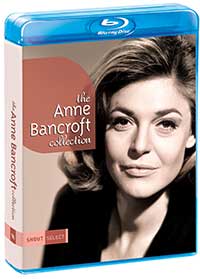 Anne Bancroft (born Anna Maria Louisa Italiano) became one of the most acclaimed actresses of her generation. This Shout! Factory The Anne Bancroft Collection on Blu-ray Disc has eight of her films spanning more than three decades.
Don't Bother to Knock (1952): Bancroft's debut as hotel lounge singer Lyn Lesley whose on-again-off-again boyfriend pilot Jed Towers (Richard Widmark) thwarts a disturbed Nell Forbes (Marilyn Monroe) from harming herself and her babysitting charge.
The Miracle Worker (1962): Based on the real-life story of how nearly-blind therapist Anne Sullivan (Bancroft) miraculously led the young deaf and blind Helen Keller (Patty Duke) into the world of sights and sounds, this film garnered Academy awards for both actresses.
The Pumpkin Eater (1964): Pamela Mortimer's semi-autobiographical novel features Bancroft as Jo Armitage, a thrice-married woman with many children and recurring bouts of depression who comes to terms with her philandering screen-writer husband Jake (Peter Finch).
The Graduate (1967): A period piece laced with a Simon and Garfunkel songs in which Bancroft portrays Mrs. Robinson the libidinous housewife who seduces college graduate Benjamin Braddock (Dustin Hoffman) and spoils his chances with her daughter Elaine (Katherine Ross).
Fatso (1980): Anne Bancroft's only turn as actor, writer, and director, stars food-obsessed, pudgy Dom DeLuise whose sister Antoinette (Anne Bancroft) convinces him to lose weight after his obese cousin dies. Dom's life, if not his physique, gets transformed by the lovely gift-shop girl Lydia Bollowenski (Candice Azzara).
To Be or Not To Be (1983): the collection's only film that co-stars Anne Bancroft and her husband Mel Brooks as Anna and Frederick Bronski whose lives and theater company are threatened by the Nazi invasion of Poland. This remake of Ernst Lubitsch's 1942 dramedy shows off Bancroft's comedic and musical skills.
Agnes of God (1985): Mother Superior Miriam Ruth (Bancroft) discovers a dead baby in the room of the naive novice Sister Agnes Devereaux (Meg Tilly) at their Montreal convent. Court-appointed psychiatrist Martha Livingston (Jane Fonda) evaluates the young girl's sanity, an assignment that has the doctor questioning her own beliefs.
84 Charing Cross Road (1987): Partnered with Anthony Hopkins, Bancroft plays Helene Hanff, a script editor seeking to buy classic English books. She begins a transatlantic correspondence with Frank Doel (Hopkins) who sells antique books for Marks & Co. at the title's London address. The pair never met but exchanged many letters over the years chronicling their respective lives.
[envira-album id="121516″]
The Video
These films range widely in age, so there is the expected variation in the quality of the original 35mm prints. While no information is provided about the film's remastering, much of the grain, particularly in the four earliest entries, appears to have been mitigated.  The colors, particularly in the three most recent films are quite vivid, flesh-tones natural-appearing, and facial details well delineated.
The Audio
The DTS-HD Master Audio mono and stereo soundtracks are all quite acceptable with little evident compression or distortion and consistently clear dialogue. As befits a movie with song-and-dance numbers, To Be or Not To Be gets the best overall sound thanks to its DTS-HD MA 5.1 track.
The Supplements
There are plenty of worthwhile extras on four of the discs while a slim program booklet provides an extended biography of Bancroft and brief synopses of each film.
The Pumpkin Eater:
Jeremy Mortimer on Penelope Mortimer (English Dolby Digital Stereo 48K) (32:01)
Dinah and Fergus (English Dolby Digital Stereo 48K) (32:04)
The Graduate
Commentary by Mike Nichols and Steven Soderbergh
Commentary by Howard Suber
Buck Henry and Lawrence Turman Interview (English Dolby Digital Stereo 48K) (24:56)
Dustin Hoffman Interview (English Dolby Digital Stereo 48K) (37:50)
Sam O'Steen and Mike Nichols (English Dolby Digital Stereo 48K) (26:13)
Students of The Graduate (English Dolby Digital Stereo 48K) (25:58)
The Graduate at 25 (English Dolby Digital Stereo 48K) (22:40)
Mike Nichols and Barbara Walters (English Dolby Digital Mono 48K) (15:34)
Paul Simon and Dick Cavett (English Dolby Digital Mono 48K) (5:29)
Screen Tests
Trailer
Fatso
Looking Back On Fatso with Producers Stuart Cornfeld and Mel Brooks (English DTS-MA Stereo 48K) (12:20) (English DTS-MA Stereo 48K) (12:20)
Interview with Film Historian Maya Montanez Smukler (English DTS-MA Stereo 48K) (26:14)
Image Gallery
Press Kit
To Be Or Not To Be
Brooks and Bancroft: A Perfect Pair (English Dolby Digital Stereo 48K) (14:49)
How Serious Can Mel Brooks Really Get? (English Dolby Digital Stereo 48K) (2:46)
Profiles: Mel Brooks, Anne Bancroft, Charles Durning (English Dolby Digital Stereo 48K) (6:15)
Isolated Score Track (DTS-HD MA)
Trailers
The Final Assessment
Anne Bancroft enjoyed a prolific and successful acting career on the stage and both large and small screens. While these Blu-ray discs have been available separately, it is nice to have them boxed together and at a reasonable price. The dramatic quality of the films themselves vary from quite memorable (The Miracle Worker, To Be or Not To Be) to quite forgettable (Fatso, Don't Bother To Knock), but Bancroft's contributions reflect the high standards that she consistently set for herself. Those coming to her film work for the first time will be pleased to discover that there was much more to her silver screen personae than The Graduate's  Mrs. Robinson. As has been often said in Hollywood, "they don't make 'em like that anymore," this is a nice stocking stuffer for the cineastes on your Christmas gift list.
The Anne Bancroft Collection is out on Blu-ray on December 10, 2019, from Shout! Factory
---
The Creative Content: 3.5/5
The Video: 3.5/5
The Audio: 3.0/5
The Supplements: 3.0/5
Rating Certificate: TV-14 (DBTK) | Not Rated (TMW, TPE) | PG (TG, Fatso, TBONTB, 84) | PG-13 (AOG)
Studios & Distributors: Shout! Factory | 20th Century Fox | MGM | Columbia Pictures | Olive Films | StudioCanal
Directors: Roy Baker | Arthur Penn | Jack Clayton | Mike Nichols | Anne Bancroft | Alan Johnson | Norman Jewison | David Jones
Writers: Daniel Taradash | Wilson Gibson | Harold Pinter | Calder Willingham | Buck Henry | Anne Bancroft |Thomas Meehan | Ronny Graham | John PIelmeier | Hugh Whitemore
Run Time: 803 Mins.
Original MSRP: $79.95
Street Date: 10 December 2019
Aspect Ratio: 1.37:1 | 1.85:1 | 2.35:1
Video Format: AVC 1080p
Audio Format: DTS-HD MA Mono, Stereo & 5.1
Subtitles: English SDH