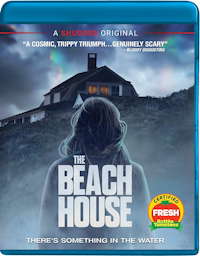 The Beach House, a Shudder Original film, is a mind-bending, piece of psychedelic 'Lovecraftian' horror that follows two college sweethearts that go for a getaway and find themselves fighting off a mysterious what seems like a possible infection from a mystery source.
Emily (Liana Liberato) and Randall (Noah Le Gros) arrive at Randall's father's beach house to work out their relationship issues on a quiet getaway when they also meet older couple Mitch (Jake Weber) and Jane (Maryann Nagel), friends of Randall's father who also arrive to stay at the beach house for a getaway. Things seem fine between the two couples as they dine and relax and party together and decide to go outside and enjoy the beach view, which looks strange. An odd cast comes over the sky and beach, but no one really thinks anything of it – until the seeming hallucinations and terror starts. Mitch and Jane start to become quite odd, almost bestial; Emily and Randall are forced to flee and find themselves in a dense fog. Is it the end of the world? A faint voice on an abandoned CB radio warns Emily to find shelter and stay inside.
Telling more would give away much of this film's deeper meaning and of course the twist at the end. Let's say there is a philosophical bent to the story here about the origins of humanity, evolution and perhaps devolution and the end.
Jeffrey A. Brown, who writes and directs, gives a film that is colorful and hazy, drawing from the likes of Apocalypse Now and surreal, like the more recent horror gems like Mandy. That's not to say it ever rises to the level of either of those films, but there is a lot here to grab onto, and multiple views may yield more. Brown may yet be able to give us a true classic given an even bigger budget.
The Video
The 1.85:1 AVC 1080p encodement of The Beach House looks excellent. This transfer comes across as clean, colorful without oversaturation, filmic, and free from noise, or motion artifacts.
The Audio
The Beach House comes with a competent English DTS-HD Master Audio 5.1 audio mix. The dialogue is clear, the dynamic range stays in a limited range, even though it stays in a fairly narrow range, more atmospheric than bombastic and it works for this film.
The Supplements
There are no supplements
The Final Assessment
An interesting film visually and philosophically that poses lots of questions, gets up and running, and offers up a great production with small budget. The Blu-ray is barebones but looks and sounds good.
The Beach House is out on Blu-ray December 15, 2020 from RLJE Films
---
Rating Certificate: Not Rated
Studios & Distributors: Low Spark Films | Uncorked Productions | Shudder | RLJE Films
Director: Jeffrey A. Brown
Written By: Jeffrey A. Brown
Run Time: 87 Mins.
Street Date: 15 December 2020
Aspect Ratio: 1.85:1
Video Format: AVC 1080p
Primary Audio: English DTS-HD MA 5.1
Subtitles: English SDH | French | Spanish