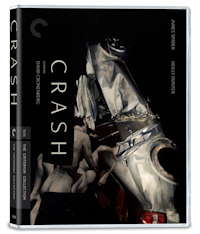 Crash (1996) is the controversial David Cronenberg film that mixes sex and violence in the stylistic way only Cronenberg can. This is not to be confused with the Magnolia imitation of the same name by director Paul Haggis (2004) that actually won an Oscar for Best Picture.
In Cronenberg's film, the commercial director James Ballard (James Spader) survives a car crash and suddenly finds himself caught up in a subculture of people, run by Vaughan (Elias Koteas), who are aroused by automobile accidents and, more precisely, by putting themselves in danger through high-risk automobile crashes. James eventually finds himself fixating on techno-erotic fantasies aided by two of the women he meets in this new underground community, Helen Remington (Holly Hunter) and Gabrielle (Rosanna Arquette), while his wife Katharine (Deborah Kara Unger) more deeply explores her death fetish.
The film gets off the ground, so to speak, quite quickly with its sexual explorations. The first thing we see once the title sequence is over is Deborah Unger pulling out her bare breast and placing it suggestively on the wing of a small airplane wing inside an empty hangar as a man who is not her husband James looks on. The sex doesn't let up from there and Cronenberg floods the viewers with one kinky scene after the next quite quickly. Viewers averse to so much sex may get a bit uncomfortable. It is not so much the sex that earned this film all the controversy, but, rather, the instigation of sex by violence and maybe even the cold and clinical manner in which Cronenberg portrays it all.
Crash is in the end a strange relic of the 1990s. A snapshot of American nihilism, the growth of the technocratic culture and the longing for connection as people continued to grow apart. Although there is (or was anyway) no evidence, to the best of my knowledge, that Cronenberg's portrayed automobile accident fetish actually existed, it is no doubt intriguing to watch.
The Video
This is a new 4K digital restoration supervised by director of photography Peter Suschitzky approved by director David Cronenberg that arrives in its original aspect ratio of 1.66:1, the preferred AR of Cronenberg, taken from the original 35mm camera negative, additional title elements, and a 35mm interpositive for reference. It's a beautiful transfer that has a lot of detail, the film grain is retained without being overwhelming, and the shadow details are greatly extended. The film has three palettes that stick out. There's a muted, cool palette, the warmer, richer indoor tones, and then outdoor, daylight tones that look a little brighter and less muted. All three come across quite well on this Criterion disc.
The Audio
There is a newly created 5.1 mix that was created for this restoration from the original Dolby Stereo master and approved by David Cronenberg. There were no new elements added to the mix, but it sounds lush and atmospheric, one of the better 'reprocessed' 5.1 mixes there are out there.
The Supplements
Criterion doesn't supply any new or previously unreleased material to accompany this release, but the included bonus features, especially the audio commentary, are excellent, nonetheless.
Essay by film critic Jessica Kiang on a foldout mini poster of the cover art.
Commentary featuring David Cronenberg recorded for the Criterion Collection in 1997.
Ballard and Cronenberg (1080i; 01:41:41) – A 1996 Guardian lecture at the British Film Institute with author J.G. Ballard and director David Cronenberg discussing Cronenberg's adaptation of Ballard's novel Crash and the controversy surrounding the book and film.
Cannes Press Conference (1080i; 00:37:39) – The press conference that followed the film's controversial premiere at Cannes, featuring director David Cronenberg, producers Jeremy Thomas and Robert Lantos, and key members of the cast.
Press-Kit Footage (1080i; 00:08:47) – Selections from the 1996 Newline Cinema electronic press kit for Crash include behind-the-scenes footage and brief interviews with director David Cronenberg, author J.G. Ballard, and actors Holly Hunter, Elias Koteas, James Spader. And Deborah Kara Unger.
Trailers:

S. Trailer
International Trailer
The Final Assessment
This new restoration of Cronenberg's Crash from Criterion is excellent despite the availability elsewhere in the world of a 4K release. One must think that Criterion cannot hold out much longer on jumping into the 4K world. Until then, for all those who do not import or are still not 4K capable, then by all means grab this up.
Crash is out December 1, 2020 from the Criterion Collection
---
Rating Certificate: NC-17
Studios & Distributors: Alliance Communications Corporation | Recorded Picture Company (RPC) | The Movie Network (TMN) | Téléfilm Canada | Criterion Collection
Director: David Cronenberg
Written By: J.G. Ballard (novel) | David Cronenberg
Run Time: 100 Mins.
Street Date: 1 December 2020
Aspect Ratio: 1.66:1
Video Format: AVC 1080p
Primary Audio: English DTS-HD MA 5.1
Subtitles: English SDH