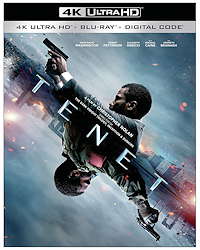 Writer-director Christopher Nolan chose the title for this film, Tenet, not for its explicit meaning but because it was a palindrome, reading the same forwards or backwards. Viewers will eventually find out that forward and backward movement will apply to the manipulation of time, a device that Nolan has previously used in Inception and Interstellar.
The Protagonist (John David Washington) is a CIA agent recruited by the Tenet organization. He receives the "simple" assignment to prevent World War III in which a weapon known only as the "Algorithm" will be used to destroy the past and take out most of the people on Earth. The Protagonist meets Neil, his handler (Robert Pattinson) in Mumbai and finds out from Tenet member Priya Singh (Dimple Kapadia) that Andrei Sator (Kenneth Branagh), a wealthy Russian oligarch and illegal plutonium dealer, has gained the ability to manipulate the past through time inversion. The Protagonist visits art dealer Kat (Elizabeth Debicki), Sator's estranged wife, and promises that if she helps him take down her husband, he will make it possible for her to regain custody of her young son.
What ensues are a number of encounters with Sator's operatives that threaten both the Protagonist and Neil, as the pair join forces with Kat, and an army of Tenet troops to locate the Algorithm, hidden somewhere in Siberia, and prevent its activation. There is extreme urgency to this mission because the Algorithm will be triggered by the impending death of Sator, ill with terminal cancer caused by plutonium exposure.
Tenet is a film that favors spectacular special effects over dialogue and efforts to explain what the Tenet organization is all about or how time inversion actually works. Viewers should not worry about the complexity of the storyline as Christopher Nolan manages to make all of the parts fit together seamlessly by the film's conclusion. The pace is often frenetic as Washington and Pattison eventually become a decent pair of battle zone buddies. Elizabeth Debicki doles out her usual eye-candy and the cast's only shortcoming is Kenneth Branagh's laughable Russian accent.


The Video
The film was originally shot in both 35 mm and 70 mm for theatrical viewing in standard or IMAX versions. Arriflex 765, Panavision Sphero 65 cameras with System 65 lenses were used in this 4K HVEC.2160 version mastered from a 4K digital intermediate. This is a very natural appearing film without the etched closeups that a number of recent 4K UHD Blu-rays seem to have. The HDR10 encodement has a somewhat subdued color palette (many scenes are deliberately dark) and the black backgrounds are not the last word in inkiness. The new Blu-ray Disc in this set is surprisingly close in visual quality to its 4K counterpart. As far as CGI effects go, you can simply go to Chapter 8 where the backwards-forwards car sequence will make your head spin.
The Audio
The original soundtrack versions were recorded in Dolby Digital (35 mm) and 6-track (70 mm). While we do not get Dolby Atmos or DTS:X soundtracks, the DTS-HD MA 5.1 soundtrack is quite impressive and often quite loud with potent immersive sonics.  Pounding low frequency effects are used effectively to support some of the action sequences. Dialogue, such as it is, is reasonably clear.  Ludwig Goransson's electronica score gets a stunning, throbbing recording.
The Supplements
A separate Blu-ray disc has the following extras:
"Looking at the World in a New Way: The Making of Tenet" as told by the cast and production crew. (English Dolby Digital Stereo 48k) (1 hour, 15 minutes)
Teaser and three trailers.
Digital download from Movies Anywhere 
The Final Assessment
Tenet was the only in-theater film that I have seen since the pandemic started and this 4K UHD Blu-ray with its effective DTS-HD MA 5.1 surround soundtrack does a fine job in recreating the theatrical experience. Christopher Nolan has crafted a two-and-a-half-hour sci-fi thriller that is long on special effects and edge-of-the-seat moments that compensate for a paucity of thought-provoking dialogue. This 4K UHD Blu-ray will definitely satisfy viewers who love this genre and will be truly amazed by the numerous action scenes that drive the storyline. Highly recommended.
Tenet is out on 4K Ultra HD Combo December 15, 2020 from Warner Bros. Home Entertainment
---
Rating Certificate: PG-13 (for intense sequences of violence and action, some suggestive references and brief strong language)
Studios & Distributors: Warner Bros. | Syncopy | Warner Bros. Home Entertainment
Director: Christopher Nolan
Written By: Christopher Nolan
Run Time: 149 Mins.
Original MSRP: $44.95
Street Date: 15 December 2020
Aspect Ratio: 2.39:1
Video Format: HEVC (2160p) (4K UHD)
HDR Format: HDR10
Maximum Luminance: 4000 Nits
Minimum Luminance: .005 Nits
Primary Audio: English DTS-HD MA 5.1
Secondary Audio: English, Spanish, French, German, Italian, Portuguese, Polish Dolby Digital
Subtitles: English | Spanish | English SDH | French | Dutch | Norwegian | Portuguese | Russian | Chinese | Korean | Arabic | Croatian | Czech | Danish | Finnish | Swedish | Greek | Hindi | Thai | Hungarian | Romanian