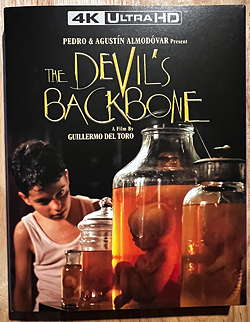 Guillermo del Toro's The Devil's Backbone is set in a strange orphanage in a remote part of Spain during the Spanish Civil War. Run by couple Casares (Federico Luppi) and Carmen (Marisa Paredes), the two are assisted by Jacinto (Eduardo Noriega), the groundskeeper, and beautiful young teacher Conchita (Irene Visedo), who is also involved with Jacinto and also the subject of a young crush for Jaime (Inigo Garces), a slightly older boy in the orphanage known for being a bully. Cesare and Carmen are on the side of the Republican loyalists and storing a large cache of gold bars. This makes them a target for Franco's forces and right before a boy named Carlos (Fernando Tielve), who was abandoned by his parents before the war, arrives looking for a place to stay, the orphanage was attacked by a bomb that lay in its courtyard unexploded and is waiting to be defused. Surprisingly, Carlos becomes friends with Jaime after initially the two have an antagonistic relationship and he begins to see the ghost of a boy named Santi who once lived in the orphanage.
Though Del Toro's film deals quite literally with ghosts and the fear they cause, he also stirs up fear from figurative ghosts – ghosts of the past, of longing, lost opportunities, lost love, loved ones that have past, and of a world itself that has lost its way. The dilapidated house, barren surroundings and motley crew of characters create a more horrific scenario than any apparition could manage to conjure. Del Toro uses the surroundings, the nearly mad scientist biology lab of Casares filled with jars of fetuses, the shadowy corridors of the house and the looming threat of death from the tick-tocking bomb in the courtyard to create anxiety and serious psychological horror.
The Devil's Backbone (2001)
The Video
The Devil's Backbone was shot on 35 mm Kodak Vision 250D 5246 and Vision 500T 5279 film stock on the Moviecam Compact camera with Zeiss Super Speed and Variable Prime lenses. It hits 4K Ultra HD in a new 4K transfer from Sony arrives in a 1.85:1 HEVC 2160p (4K UHD) Dolby Vision encodement. The first things you will notice is that the film's granularity is fine and very natural in appearance. You will also notice that the coding of Dolby Vision is very minimal. There is not a lot of brightness added and the color grading, while it looks incredible, is very judicious. There are a few more colors in the earth tones and slightly more shades yellow and orange. The specular highlights are mild, but do show some good 'pop' especially once we get to the scenes with the explosion and fire where we can see some vaguely three-dimensional looking flames with slightly more color.
The Audio
The original Spanish-language audio soundtrack is included in a wonderfully eerie and atmospheric DTS-HD Master Audio 5.1 mix. It can vary between dry and front-heavy and full of atmospheric and discrete sounds in the surround channels, but it fits the moments on screen. Low end is good as well and really comes into play later in the film when we have an explosion and fire.
The Supplements
The box set contains a 24-page booklet, featuring an all-new essay from renowned film critic David Thomson about the history of Sony Pictures Classics, along with information about each of the included films and an introduction from SPC co-presidents Tom Bernard and Michael Barker.
Although there is a good bit to sink your teeth into here, it is all ported over and upscaled. The two audio commentaries with the director are a welcomed inclusion.
Original EPK Featurette (1080p; DV; 00:12:56)
"Que Es Un Fantasma?" – The Making of The Devil's Backbone (1080p/60; DV; 00:27:18)
Summoning Spirits
Commentary with Guillermo del Toro
Commentary with Guillermo del Toro and Guillermo Navarro
Director's Thumbnail Track (1080p; 00:13:47)
Deleted Scenes with Optional Commentary (1080p/60; DV; 00:03:41):

Carlos and the Principal
Encounter in the Plaza
Carmen and Conchita: After the Confession
"I'm Coming with You"

Sketch, Storyboard, Screen: Multi-Angle (1080p/60; DV; 00:12:07) – A multi-angle look at the rough sketch, storyboard, and final picture of each scene.
Theatrical Trailer (1080p)
The Final Assessment
With The Devil's Backbone Del Toro began to form a cinematic lexicon that is instantly familiar and recognizable as his own that we would see again in films like Pan's Labyrinth and The Shape of Water, even as he drew from multiple influences like Nightmare Alley and The Night of the Hunter. Sony Pictures Classics presents the film on a very satisfying 4K Ultra HD disc.
The Devil's Backbone is out on 4K Ultra HD in the Sony Pictures Classics 30th Anniversary 4K Box Set on November 22, 2022, from Sony Pictures Home Entertainment
---
R (for violence, language and some sexuality)
Studios & Distributors: El Deseo | Tequila Gang | Sogepaq | Canal+ España | Anhelo Producciones | Sony Pictures Classics | Sony Pictures Home Entertainment
Director: Guillermo del Toro
Written By: Guillermo del Toro | Antonio Trashorras | David Muñoz
 Run Time: 108 Mins.
Street Date: 22 November 2022
Aspect Ratio: 1.85:1
Video Format: HEVC 2160p (4K UHD)
HDR Format: Dolby Vision (HDR10 Compatible)
HDR10 Metadata:

MaxLL: 424 nits
MaxFALL: 221 nits

Primary Audio: Spanish DTS-HD MA 5.1
Subtitles: English | English SDH