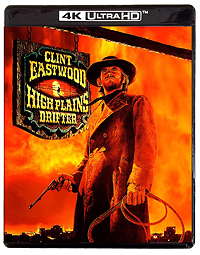 In his second directorial outing, High Plains Drifter, Clint Eastwood dons the persona of The Man with No Name, that was developed during his run of Sergio Leone westerns. Galloping into the strange lakeside town of Lago out of the haze of the desert heat, the mysterious Stranger (Eastwood) arrives into the quiet and paranoid town with all eyes on him and with a less than warm welcome. After having his quiet drink at the local saloon interrupted by the local toughs who then attack him at the barbershop as he tries to get a shave the Stranger shows off his skills as a gunslinger. Now the townsfolk who were suspicious and wanted him gone want him to stay and defend them against a group of outlaws (led by Eastwood regular Geoffrey Lewis) who are heading into town with a score to settle. The Stranger agrees to stay and train them how to fight, but given his gruff manner, authoritarian leanings, and his willingness to kill and do other terrible things, it isn't long before the people of Lago begin to believe he may have his own agenda.
In High Plains Drifter Eastwood showed that he learned a lot about the western and deconstructing the western while working with Leone. The film's locations, the shooting style with the avoidance of zoom lenses, and the almost surreal flashback scenes make it edgy and removed, and The Stranger one of the most despicable yet charismatic western anti-heroes ever put on the screen.
High Plains Drifter (1973)
The Video
High Plains Drifter arrives in a new 4K restoration from KL Studio Classics framed at 2.35:1 in an HEVC 2160p (4K UHD) Dolby Vision HDR encodement. It has HDR10 metadata showing a MaxLL of 4324 nits and a MaxFALL 567 nits. The source is not perfect – there are some frames that are very murky – but this restoration and transfer look stunning. The grain structure is very organic, even in the scenes, like the opening, with the heaviest layers. Colors are very vibrant and have lots of variation thanks to the Dolby Vision wide color gamut. The sky is a deep azure, in comparison, the also excellent Blu-ray, provides a paler blue sky in the background. Also, the scenes where the town is painted red on the 4K really come through with a deep, vermillion 'pop' on the 4K disc and on the Blu-ray it looks like a dirty copper, reddish orange. The most stunning scene on the 4K comes in the third act where one character is dragged out into the open at night by his neck and bullwhipped, Clint Eastwood silhouetted by the town in flames in the background. This supplies three-dimensional flames, inky blacks, and superb specular highlights.
The Audio
The English DTS-HD Master Audio 5.1 mix for High Plains Drifter sounds spacious and dynamic with a good low end and clean dialogue. There is not an aggressive use of the surround channels, but that would not work with a film like this. A stereo DTS-HD Master Audio 2.0 mix is also included.
The Supplements
The two audio commentaries provide in depth information on the film, Eastwood, its locations, and more. They are both interesting listens. The new interviews of the actors are also great to watch.
*LIMITED O-CARD SLIPCASE (NO LONGER AVAILABLE FOR NEW ORDERS from Kino Lorber)
Blu-ray with feature film in HD and bonus features
Audio Commentary by Film Historians Steve Mitchell and Nathaniel Thompson
NEW Audio Commentary by Filmmaker Alex Cox
Blu-ray Only:

NEW Lady Vengeance: Interview with Actress Marianna Hill (1080p; 00:14:12)
NEW Hell to Pay: Interview with Actor Mitchell Ryan (1080p; 00:08:14)
NEW The Barber of Lago: Interview with Actor William O'Connell (1080p; 00:16:12)
A Man Named Eastwood: Vintage Promo (1080p; 00:07:08)
Trailers from Hell with Josh Olson (1080p; 00:02:33)
Trailers from Hell with Edgar Wright (1080p; 00:02:32)
Poster and Image Gallery (1080p; 00:04:02)
High Plains Drifter – Radio Spot (1080p)
High Plains Drifter – TV Spot (1080p)
High Plains Drifter – Trailer 1 (1080p)
High Plains Drifter – Trailer 2 (1080p)
The Final Assessment
A classic western that still stands as a testament to Eastwood's skills as a director and his command over the genre, High Plains Drifter looks and sounds gorgeous in this new 4K release from KL Studio Classics. Highly recommended.
High Plains Drifter is out on 4K Ultra HD Combo Pack November 22, 2022, from KL Studio Classics

---
Rating Certificate: R
Studios & Distributors: The Malpaso Company | Kino Lorber
Director: Clint Eastwood
Written By: Ernest Tidyman | Dean Riesner (uncredited)
Run Time: 105 Mins.
Street Date: 22 November 2022
Aspect Ratio: 2.35:1
Video Format: HEVC 2160p (4K UHD)
HDR Format: Dolby Vision (HDR10 Compatible)
HDR10 Metadata:

MaxLL: 4324 nits
MaxFALL: 567 nits

Primary Audio: English DTS-HD MA 5.1
Secondary Audio: English DTS-HD MA 2.0 Stereo
Subtitles: English SDH