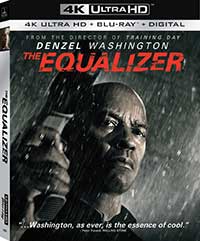 Based on the 1980s TV series of the same name, The Equalizer, a modern noir set in Boston, reunited star Denzel Washington with director Antoine Fuqua (Training Day).
Th story follows a quiet widower, Robert McCall (Washington) with a mysterious past who spends his days working in a big box hardware store called Home Mart (think Home Depot) and training one of his co-workers, Ralphie (Johnny Skourtis) to lose weight to get a position as a security guard at the store, while at nights McCall is alone at his spartan apartment or going through his nightly ritual of heading out to the local diner to read a book and drink a cup of tea.
It's at this late-night diner where McCall befriends local young prostitute 'Teri,' real name Alina (Chloë Grace Moretz) who dreams of being a singer. Alas, Alina is trapped in brutal circumstances under the control of Russian gangsters. When they retaliate against her in a particularly horrific manner for striking one of the johns that hit her, McCall decides he can't stand by and do nothing. He gets dragged into a web of corrupt Boston cops, dangerous Russian organized crime goons, and becomes the target of one Russian fixer, Teddy (Marton Csokas), sent over from Russia by the head honcho to clean up the mess.
As with much of Fuqua's work, The Equalizer is a stylized crime drama – sleek, drenched in shadow and gritty. Boston, often the center point of the cinematic crime drama (The Town, The Departed, The Thomas Crown Affair), is a moody backdrop of broken loners, secrets in the night, and criminals run amok. Although The Equalizer is a violent film, much of it is close, hand-to-hand violence. Guns, tough they appear, take a backseat to what are the hidden fighting skills of Robert McCall, who likes to time his attacks with a stopwatch he wears on his wrist.
Though she petty much vanishes from the film after the first act, Chloë Grace Moretz plays a pivotal role, and given her youth and the world weary character she plays, she holds her own playing opposite the always cool as ice Denzel who comes across as a more than convincing badass you wouldn't want to f**k with.
The Video
The Equalizer hails from 2014 – a digital production shot on the Arri Alexa Plus with Panavision C-, E-, G-Series and Angenieux Optimo 2S lenses at 2.8K resolution in the anamorphic format. It is sometimes easy for we videophiles to get bogged down in technical details, but let me say this, this film, which arrives in a 2.40:1 framed HEVC 2160p (4K) encodement on 4K Ultra HD with HDR10 High Dynamic Range looks spectacular. It's clean, and although not a pure 4K production, shows a lot of finer detail. The HDR a spectacular as well. While not always as natural as it may have been were it done in Dolby Vision, it is eye-catching. Check out the red lamp shades in Teddy's Russian restaurant haunt – they 'pop' with bright lamplight highlights peering out from the tops and a vermillion shade of red, while the nuance of dark shadows in the rest of the room is maintained. By contrast – no pun intended – on the equally stellar Blu-ray, these lampshades look more magenta than blood red and the light, while bright, is hardly as starkly white. Other standout moments are during famous Home Mart scene with Denzel and the nail gun while the fire sprinklers rain down.
The Audio
The Equalizer hits 4K Ultra HD with an awesome immersive Dolby Atmos mix that is balanced, dynamic, and utilized the overhead and surround and surround back channels superbly with plenty of solid effects, atmospherics, and score. The low end rocks, punches hit you in the gut, and when it rains you really hear it overhead.
The Supplements
The supplements are Making Of and Behind the Scenes type featurettes, with a set of deleted scenes that help to set up the sequel. The Blu-ray has the excellent Vengeance Mode with Denzel Washington and Antoine Fuqua featuring video commentary related to specific scenes.
Movies Anywhere – Play a digital version via your provider of choice (iTunes, Amazon Prime Video, Fandango Now, Vudu, Google Play)
Blu-ray
5 Never Before Seen Deleted Scenes on 4K Ultra HD featuring "McCall's Epilogue" teasing The Equalizer 2 (2.40:1; 1080p/24; 00:05:54)
A Villain's Psychosis (1.78:1; 1080p/24; 00:04:04)
A Modern Hero (1.78:1; 1080p/24; 00:02:24)
Joining Forces Again: Denzel Washington and Antoine Fuqua (1.78:1; 1080p/24; 00:04:52)
Playing the Part: The Cast of The Equalizer (1.78:1; 1080p/24; 00:05:06)
Boston: On Location (1.78:1; 1080p/24; 00:04:41)
The Home Mart Advantage: The Action (1.78:1; 1080p/24; 00:05:15)
On Blu-ray: Vengeance Mode featuring Denzel Washington and Antoine Fuqua and 6 Featurettes (some of the Featurettes on Blu-ray recycle the material and interviews used in the featurettes on the 4K Ultra HD) and a Photo Gallery
The Final Assessment
The Equalizer, like many films in this genre today, has obviously been heavily influence by the Bourne franchise, but it takes that and runs with it. I have never watched the original TV series, but I remember it in passing. Something tells me this film is ten times cooler and about the same amount more brutal. This 4K Ultra HD Combo Pack from Sony  comes with a Blu-ray and Movies Anywhere digital code and is reference quality all around.
The Equalizer is out on 4K Ultra HD Combo Pack July 10, 2018 from Sony
[amazon_link asins='B07CNC395K' template='ProductAd' store='theaterbyte-20′ marketplace='US' link_id='2ebd7925-9735-11e8-b562-f33a177e9fc4′]
R (for strong bloody violence and language throughout, including some sexual references)
Rating Certificate
Columbia Pictures Corporation | LStar Capital | Village Roadshow Pictures | Escape Artists | ZHIV Productions | Mace Neufeld Productions | Lonetree Entertainment | Sony Pictures Home Entertainment
Studios & Distributors
Richard Wenk (written by) | Michael Sloan (based on the television series created by) | Richard Lindheim (based on the television series created by)
Writer
HEVC (H.265) 2160p (4K) | AVC 1080p (Blu-ray)
Video
English Dolby Atmos (Compatible w/ Dolby TrueHD 7.1)
Primary Audio
English DTS-HD MA 5.1 | English Audio Descriptive Service | French (Parisian) DTS-HD MA 5.1 | French (Québécois) DD 5.1 | Czech DD 5.1 | German DTS-HD MA 5.1 | Hungarian DTS-HD MA 5.1 | Italian DTS-HD MA 5.1 | Japanese DTS-HD MA 5.1 | Polish DD 5.1 VO | Portuguese DD 5.1 | Spanish (Castilian & Latino) DD 5.1
Secondary Audio
English | English SDH | Arabic | Cantonese | Chinese Traditional |Czech | Danish | Dutch | Estonian | Finnish | French | German | Italian | Japanese | Korean | Norwegian | Polish | Portuguese | Spanish (Castilian & Latin American)
Subtitles
HDR Effect (If Applicable)
Summary
A Boston widower with a mysterious past and secret fighting skills (Denzel Washington) helps a young prostitute (Chloë Grace Moretz) who is trapped in a terrible life by a brutal Russian crime organization, and finds himself the target of their fixer in this stylized and riveting crime thriller that reunites Washington with director Antoine Fuqua (Training Day). This 4K Ultra HD Combo Pack release from Sony features a stunning HDR transfer and magnificent Dolby Atmos sound mix.
What people say... Login to rate
Be the first to leave a review.
Show more