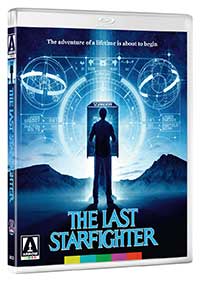 The Last Starfighter is the 1984 sci-fi adventure film that follows protagonist Alex Rogan (Lance Guest) lives in a trailer park where is mom is the manager. In order to escape the doldrums of daily life, Alex plays the videogame Starfighter at the arcade and becomes holder of the high score. Little does Alex know that the game is really a test to find someone who qualifies as the "Last Starfighter," an interstellar champion to take up the cause for real in a battle that is raging between two factions in the farthest reaches of the galaxy.
Veteran actor Robert Preston arrives playing Centauri, an affable old stranger who shows up to inform Alex that because of his proficiency in Starfighter, he is expected to join Centauri's Star League, then do battle with the evil Kodan forces. Centauri then flies Alex away in his Star Mobile, which looks suspiciously like a remodeled Delorean, leaving behind an Alex doppelganger to shift any suspicion.
The Last Starfighter is remembered fondly (by those who still remember it anyway) by those who loved it in the 1980s and very much stirs up a sense of nostalgia for the arcade and videogame culture of the era. Mostly, it is remembered for being one of the first films to incorporate 3D CGI visual effects. There are many shots of spaceships and so on done digitally that do stand out a lot more than they would today, but in the context of a 1984 sci-fi film, they look fantastic and actually add even more charm to the film, despite the way look a bit too sanitized and shiny in comparison to the rest of the film.
Apart from the effects, Starfighter is a fun film, with Lance Guest being a charismatic, everyman hero and the filmmakers deftly weave together a contemporary sci-fi story of space adventures set in the present interwoven with everyday teenage angst back on Earth via Alex's doppelganger. The flaws in the film, apart from an overly lighthearted screenplay even in some of the most dire circumstances, are that it was meant as a setup for a sequel and that sequel never materialized, so the story in a way leads to an ending that doesn't quite feel completely gratifying.
The Video
The Last Starfighter has been newly restored from a 4K scan of the original negative for this Blu-ray and appears in a 2.39:1 AVC 1080p transfer from Arrow Video. This is yet another breathtaking recent transfer from Arrow, just like the recently released and reviewed here as well Mallrats. This one is maybe doesn't look quite as good, but we are also talking about a 35mm film source that is about 11 years older than Mallrats, so given its vintage it looks incredible. It is clean, but the grain is still there without being overwhelming, there's lots of crispness, deep blacks without a lot of crush, only a hint of some washout in darker areas at times hinders this from being completely flawless. The colors are outstanding. Without even being HDR and benefitting from that Wide Color Gamut, the vibrant color palette of this film really 'pops' in things like the laser beams or the spaceship control board.
The Audio
The Blu-ray comes with three audio mixes. One is a stereo mix in DTS-HD Master Audio 2.0, one DTS-HD Master Audio 5.1 mix, and a DTS-HD Master Audio 4.1 mix originally created for the film's 70mm release and never included on any home video format before this release. I like all three of these mixes, but the stereo mix is my least favorite because it has the least clarity of the three. The 4.1 mix, which uses a monaural surround back channel (or combines your two surround channels for those who do not have surround back channels) sounds almost as expansive as the 5.1 mix and provides clear dialogue in the center. Both 5.1 and 4.1 mixes are effective at balancing the score and spreading it across the front and mixing good ambience in, but the 5.1 obviously does it a bit better and with discrete surround channels. The 2.0 mix has good stereo effects, but the sound is a little bit on the dull side in comparison to the other two mixes.
The Supplements
As usual with the Arrow releases, The Last Starfighter is a collector's dream when it comes to bonus features and extras. There are five new interviews and two new audio commentaries, plus a number of additional interviews and archival featurettes and more. Furthermore, the first pressings get the collector's booklet with writing on the film, limited edition poster, and more. See below for details.
(NEW) Brand new audio commentary with star Lance Guest and his son Jackson Guest
(NEW) Brand new audio commentary with Mike White of The Projection Booth podcast
Archival audio commentary with director Nick Castle and production designer Ron Cobb
(NEW) Maggie's Memories: Revisiting The Last Starfighter (1080p; 00:09:28) – a new interview with actress Catherine Mary Stewart
(NEW) Into the Starscape: Composing The Last Starfighter (1080p; 00:12:20) – a new interview with composer Craig Safan
(NEW) Incredible Odds: Writing The Last Starfighter (1080p; 00:09:27) – a new interview with screenwriter Jonathan Betuel
(NEW) Interstellar Hit-Beast: Creating the Special Effects (1080p; 00:10:14) – a new interview with special effects supervisor Kevin Pike
(NEW) Excalibur Test: Inside Digital Productions (1080p; 00:07:46) – a new interview with sci-fi author Greg Bear on Digital Productions, the company responsible for the CGI in The Last Starfighter
Greetings Starfighter! Inside the Arcade Game (1080p; 00:07:24) – an interview with arcade game collector Estil Vance on reconstructing the Starfighter game
Heroes of the Screen (1080i; 00:24:19) – archival featurette
Crossing the Frontier: Making The Last Starfighter (720p; 00:32:02) – archival 4-part documentary on the making of the film
Image Galleries:

The Cast
Starfighter Command
The Starcar
The Gunstar
Ko-Dan Armada
Alternate Ending
Anatomy of a Starfighter CGI
Promotion and Merchandise

Theatrical and Teaser Trailers
Reversible sleeve featuring original and newly commissioned artwork by Matt Ferguson
Limited Edition O-Card – FIRST PRESSING ONLY
Limited Edition Reversible Poster featuring original and newly commissioned artwork – FIRST PRESSING ONLY
Collector's booklet featuring new writing by Amanda Reyes and sci-fi author Greg Bear's never-before-published Omni magazine article on Digital Productions, the company responsible for the CGI in The Last Starfighter – FIRST PRESSING ONLY
The Final Assessment
This film was way ahead of its time and its visual effects may seem a bit jarring and out of place today, but for those who lived through the era or for those interested in films from the era, it doesn't get much more keyed in than this. Arrow has provided a stellar transfer with excellent bonus features. For those who want to get a little nostalgic or even for those who want to see this film for the first time, this is the way to see it.
The Last Starfighter (Special Edition) is out October 27, 2020 from Arrow Video
---
The Creative Content: 3.5/5
The Video: 4.5/5
The Audio: 5/5
The Supplements: 4.5/5
Rating Certificate: PG
Studios & Distributors: Lorimar Film Entertainment (as A Lorimar Presentation) | Universal Pictures (as A Universal/Lorimar Production) | Arrow Video
Director: Nick Castle
Written: Jonathan R. Betuel (as Jonathan Betuel)
Run Time: 101 Mins.
Original MSRP: $39.95
Street Date: 27 October 2020
Aspect Ratio: 2.39:1
Video Format: AVC 1080p
Primary Audio: English DTS-HD MA 5.1
Secondary Audio: English DTS-HD MA 2.0 Stereo | English DTS-HD MA 4.1
Subtitles: English SDH