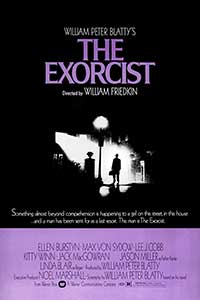 The Exorcist is director William Friedkin's 1973 supernatural horror film based on the William Peter Blatty novel, who also writes the screenplay. It revolves around a teenage girl who becomes possessed by a demonic entity and the two Roman Catholic priests engaged to perform an exorcism on her to save her life.
PLOT
Twelve year old Regan is living with her mother Chris in Georgetown. She gradually starts showing some signs of being possessed by referring to an imaginary friend, Captain Howdy, and showing problematic behavior during a doctor appointment. However, doctors think there is a problem with her brain and a series of checkups begin. Some other alarming situations, such as a mysterious accident and an attack of Regan on her mother, lead to an urgent consultation with a psychiatrist. Father Karras, a priest who is burdened by the loss of his dear mother, observes Regan's situation after Chris' request. Her reaction to the idea of holy water and her "Help Me" scars on her stomach make him believe she is actually possessed by a demon. So, Father Karras and the experienced Father Merrin decide to proceed with an exorcism.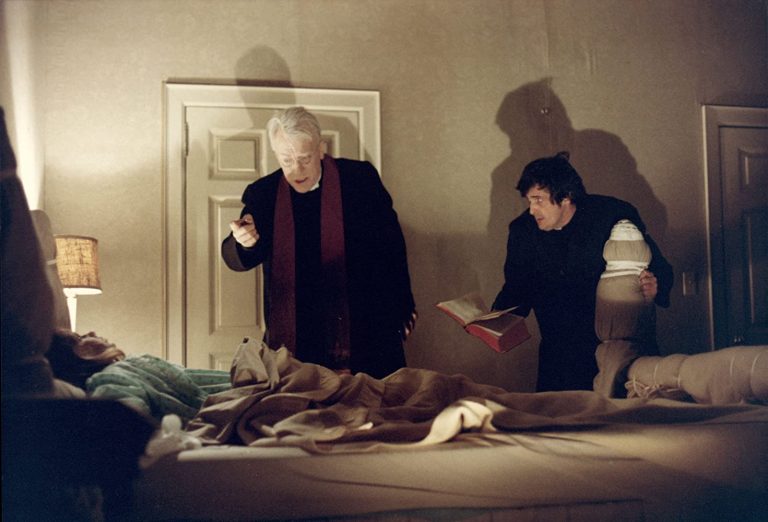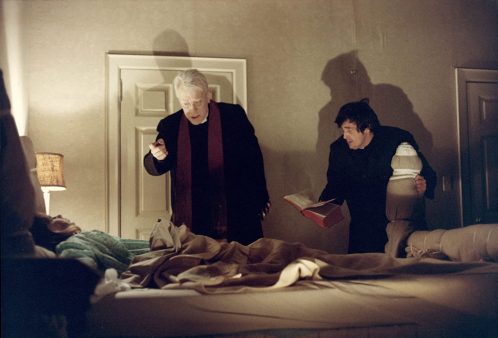 CHARACTERS
Chris MacNeil (Ellen Burstyn) is an actress and Regan's mother. She loves her daughter and is worried about the impact that is going to have on her the father's absence after the divorce. She becomes really alarmed after witnessing this abrupt change of Regan's behavior and the thought of losing her makes her devastated.
Regan (Linda Blair) is Chris' twelve year old daughter. She is a kind girl with a good heart. Gradually, though, she starts changing.
Father Karras (Jason Miller) is a Catholic priest who is questioning his own faith and he feels depressed after the death of his mother. Chris finds him in despair, begging him to save her daughter's soul.
Father Merrin (Max von Sydow) is a Catholic priest who is experienced in exorcisms as he performed one in 1950's in Iraq, something which allegedly almost cost him his life. He is enlisted from the Church to cooperate with Father Karras and defeat the demon possessing Regan.
ACTING
Ellen Burstyn was amazing in her role as the unnerved mother (Chris MacNeil) who wanted to do the best for her daughter, Regan. Linda Blair was also convincing as Regan and the chemistry between the mother and daughter in the film is a highlight of the film. Jason Miller was also very good as Father Karras and together with Max von Sydow, whose performance was impeccable, they were exceptional in exorcism scene.
DIRECTION/ CINEMATOGRAPHY
The film is appealing and the viewer's interest remains to the very end because of the feeling of some imminent danger, and then because of the teenage protagonist's fate, whether she will be saved or not. The occasional shots of the demon's rage and the scenes of the exorcism are well made with the appropriate dose of terror and suspense. In terms of cinematography, cold color tones are more prevalent, as for example in the stills that take place in Regan's room and at the street at night. Darkness is used a lot and generally the movie is very intense.
THE END
The ending was very good, still I think that the dialogue about the movies between two of the characters was a bit unnecessary.
The Exorcist was originally released in theaters  26 December 1973 (USA)
---
The Film: 4.0/5
The Plot: 3.5/5
Character — Lead: 4.5/5
Character — Supporting: 4.5/5
Directing: 4.0/5
Cinematography: 4.0/5
Studios & Distributors: Warner Bros. (presents) | Hoya Productions (as A Hoya Production)
Rating Certificate: R (for strong language and disturbing images)
Country: USA
Language: English
Run Time: 122 min | 132 min (director's cut)
Aspect Ratio: 1.75:1 (theatrical ratio) | 1.78:1 (Home Media Release)
Director: William Friedkin
Written By: William Peter Blatty (written for the screen by) | William Peter Blatty (novel)
Original Release Date: 26 December 1973 (USA)