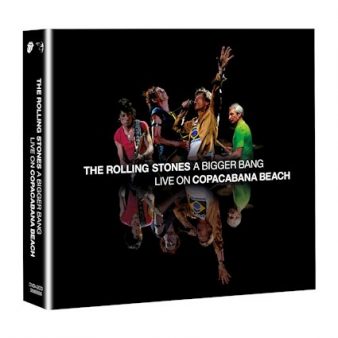 One of the biggest free rock 'n roll concerts in history, The Rolling Stones' legendary performance at the famed Copacabana Beach in Rio de Janeiro on February 8, 2006 is captured in its entirety for the first time by Mercury Studios in this remixed, re-edited and remastered version The Rolling Stones — A Bigger Bang: Live On Copacabana Beach. 
It becomes obvious at the beginning when The Stones burst onto the stage from a bridge leading from the Copacabana Palace Hotel that this will be a very special evening for the huge audience that, courtesy of the overhead cameras, extends as far as the eye can see.  Once Mick Jagger's opening greeting in Portuguese is over, this ageless group of sexagenarians launches into one of their signature songs "Jumpin' Jack Flash" and the crowd just eats it up. The high energy continues into "It's Only Rock 'n Roll" and does not let up for the entire two hours of the set with the following track list.
Intro
Jumpin' Jack Flash
It's Only Rock 'n' Roll (But I Like It)
You Got Me Rocking
Tumbling Dice
Oh No, Not You Again
Wild Horses
Rain Fall Down
Midnight Rambler
Night Time Is The Right Time
Band Intros
This Place Is Empty
Happy
Miss You
Rough Justice
Get Off Of My Cloud
Honky Tonk Women
Sympathy For The Devil
Start Me Up
Brown Sugar
You Can't Always Get What You Want
(I Can't Get No) Satisfaction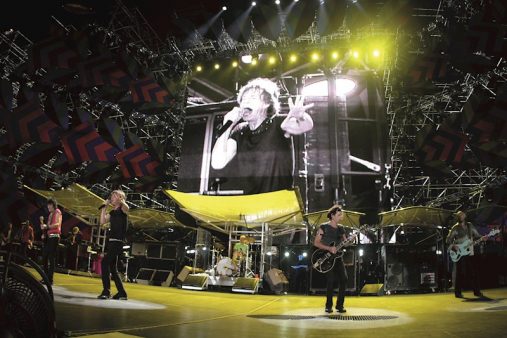 Rolling Stones fans that bought the 2007 DVD of this concert will find four songs that were not in the original release The Biggest Bang: "Tumbling Dice", "Oh No, Not You Again", "This Place Is Empty", and "Sympathy For The Devil." The last is especially welcome since it is not only my favorite Stones' song but also the extended version more than does it justice.  There are three songs that were new at the time of the concert, "Rain Fall Down", "This Place Is Empty", and "Rough Justice," as well as a cover of the Ray Charles classic "Night Time is the Right Time."
The Video
There is only so much dusting and cleaning that can be done to a 15-year-old DVD–now available in both DVD and Blu-ray incarnations with a 1.33:1 aspect ratio that was shot at night under bright lights with an array of cameras. That said, the camera crew does an outstanding job in conveying the white heat of a live performance, highlighting the singers and instrumentalists when called for, and staying out the way when not needed.  Details and edges are not particularly sharp but the remastering crew did their level best with what they received in the original print.  Colors are decent if not eye-popping, but the blackness of Mick Jagger's Devil costume is downright eerie. Be prepared for a lot of flashing lights both on stage and off stage from the thousands of cameras that the audience members brought with them.  Fortunately this element is well handled by the various cameras that kept the flashes from being too distracting.*
The Audio
Audio will not be assessed.*
Editor's Note: Since this review was taken from a lower-quality digital screener, the quality of the video and audio will not be assessed in this review. Comments on "The Video" refer to the visual elements of the concert rather than the video quality of the image.
The Supplements
Below is a listing of what buyers might expect depending on which Bigger Bang package that they purchase.
The Rolling Stones — A Bigger Bang: Live On Copacabana Beach will be available on multiple formats, including DVD+2CD, SD BD+2CD, 2DVD+2CD Deluxe, 3LP (pressed on blue, yellow, and green vinyl), 3LP pressed on clear vinyl (exclusive to Sound Of Vinyl) & digital. The Deluxe 2DVD+2CD edition is packaged in a 12 X 12 40-page book, with the Copacabana concert on DVD and 2CD, along with an exclusive bonus DVD including a November 2005 concert in Salt Lake City, UT, also from the Bigger Bang tour.
Mercury Studios also offers The Rolling Stones: Rain Fall Down (Live on Copacabana Beach) / Rough Justice (Live In Salt Lake City) — a limited edition 10" picture disc released as part of the first Record Store Day Drops.  Participating record stores where this  disc can be found, are listed on  https://recordstoreday.com/Stores.
The Final Assessment
Over their nearly six-decade performing and recording career, The Rolling Stones have set themselves apart from the rest of the rock 'n rollers by virtue of longevity alone. However, as this Copacabana concert clearly demonstrates, these guys, who are still performing in their mid-to-late 70s, can still bring it! This is one of those self-recommending video discs that will lend itself to repeated viewings and will encourage home audience members to sing along to their favorite Stones' songs as these ageless wonders never cease to amaze.
All versions of A Bigger Bang are available on July 9, 2021
---
Studios & Distributors: Mercury Studios | Eagle Rock
Run Time: 123 mins.
Original MSRP: $99.98 (2CD + 2DVD) Deluxe edition; $28.49 2CD/Blu-ray
Street Date: 9 July 2021
Aspect Ratio: 1.33:1
Video Format: Standard Definition on Blu-ray
Primary Audio: DTS-HD Master Audio 5.1
Secondary Audio: LPCM 2.0 St