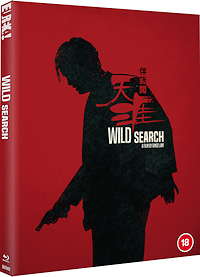 The 1989 Hong Kong film Wild Search comes from Ringo Lam (City on Fire). This is a hard hitting, stylized crime-thriller romance set in the streets of the city-state with gorgeous cinematography by Andrew Lau (Infernal Affairs).
Chow Yun-Fat is Lau, a widower police detective investigating a group of illegal arms dealers in Hong Kong. After one of their deals goes sideways and a shootout leaves them all dead, including a woman who left behind her four-year-old daughter Ka Ka (Chan Cheuk Yan), the sole witness to the crime, Lau must protect the orphan girl.
When Lau and his colleagues track down the last known address for the dead woman thinking there are arms deals being run from there, they find a house in the countryside with her sister Cher (Cherie Chung) and father. As Lau now enlists the Cher to help find the woman's place in the city and he ends up spotting suspicious men coming out from her apartment building. A wild car chase ensues that ends badly. Meanwhile, Ka Ka is placed with her aunt and grandfather and Lau, and his partner Nam (Wong Kwong Leung) keep working with her to see if she can identify the man she saw. While this is happening, Lau and Cherie, a divorcée, seem to be getting closer and developing a romantic relationship. She tells him who Ka Ka's father is and it turns out to be a Hong Kong bigwig Mr. Hung (Paul Chun).
Lam infuses this film with lots of action, some comedic elements, and a sweet romantic subplot. These incongruous elements don't always flow as smoothly as one would like, but Lam manages to make them work and the performances of Chow and Chung certainly help. It all comes together in a fantastically wild, action-packed third act filled with lots of twists, over-the-top yet well-orchestrated set pieces and beautiful visual elements. So, if you want to watch an entry in Hong Kong cinema that touches on many of the earmarks, this is as good as any place to start.

The Video
Wild Search is a from a new high-definition transfer from the original elements and brought to Blu-ray in an AVC 1080p encodement framed at 1.85:1. The image looks natural, but not perfect. Dark areas seem to washout and there is a bit of murkiness in the image and some grain coarseness, but we still have a good amount of clarity, texture, and overall detail, especially in the close-ups in brighter scenes. Colors look rich without being oversaturated and the contrast is solid. The neon lights and streetlights of Hong Kong shine brightly without clipping.
The Audio
Wild Search has both the original Cantonese mono and the original English dub provided in LPCM 1.0. I went with the Cantonese as my reference but sampled the English dub as well. The Cantonese track is generally satisfying with clean dialogue and a punchy midrange. The English dub sounds a little bit murkier overall, but also has clean dialogue.
The Supplements
The audio commentary by the always deeply informed Frank Djeng is the focal point for the bonus features on here. The second feature-length audio interview with voice-over artist Simon Broad is interesting as well. Of course, Eureka provides this limited edition with beautiful artwork in an o-card slipcase and a collector's booklet with essay by David West on the Dark side of Hong Kong cinema's boom years.
Limited Edition Features (First 2000 Copies Only):

Limited Edition O-Card slipcase with new artwork by Gregory Sacré (Gokaiju)
Limited Edition Collector's Booklet featuring new writing by David West (NEO Magazine)

Audio commentary by Asian film expert Frank Djeng
Roy Cheung on Fire (1080p; 00:17:11) – Interview with the actor from 2003
The Doyen of Dubbers – This audio interview with voice-over artist Simon Broad conducted by Asian film expert Frank Djeng plays over the feature film.
The Final Assessment
Another strong Hong Kong Cinema release from Eureka. Fans of the genre should scoop up this slick, action-packed romantic thriller ASAP. Highly Recommended.
Wild Search (Collector's Edition) is out on Blu-ray in the UK 19 July 2021 from Eureka Entertainment

---
Rating Certificate: UK:18
Studios & Distributors: Born Top Producers | Brandy Film Production | Golden Princess Film Production Limited | Silver Medal Productions Ltd. | Eureka Entertainment
Director: Ringo Lam
Written By: Yin Nam
Run Time: 99 Mins.
Street Date: 19 July 2021
Aspect Ratio: 1.85:1
Video Format: AVC 1080p
Primary Audio: Original Cantonese Audio LPCM 1.0
Secondary Audio: Original English Dub LPCM 1.0
Subtitles: English