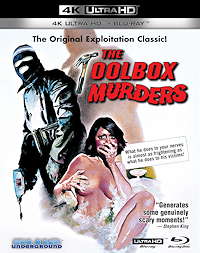 The Toolbox Murders is most famous (or infamous) for one scene from the first thirty-minutes of the film where a beautiful and naked woman in a bathtub is subsequently killed with a nail gun. The majority of this "slasher" cult classic's violence occurs in this same first part of the film as a variety of gorgeous young women in an apartment complex are killed by a masked prowler using a variety of tools from a toolbox. Director Dennis Donnelly, who did most of his work in television, fails miserably at disguising who the killer is, so the "big reveal" that the killer is the owner of the building (Cameron Mitchell) is already obvious to anyone with two eyes. But the film also takes turn away from the dread that was setup in these first thirty-minutes and goes off into a different subplot about the owner having kidnapped another young, teenaged girl who is holding captive in his home. She is meant to replace his dead daughter who died in a car accident, and that death is also given as the reason he is killing the other women. Don't think about it too much because it will make less sense.  Meanwhile his teen nephew (Wesley Eure from Saturday morning's 'Land of the Lost') has his own criminal obsessions with the kidnapped girl, and the film makes another divergence involving him, ending about twenty miles off target from where it began. One can't really call this a great slasher film or thriller as it begins like a controversial, exploitation gorefest and settles into made-for-TV drama with some obvious attempts at using influences from the then very popular giallo genre.

The Toolbox Murders (1978)
The Video
The Toolbox Murders has been newly scanned from its uncut original camera negative in 4K 16-bit with Dolby Vision HDR (HDR10 compatible). The 4K Ultra HD Blu-ray has a HEVC 2160p (4K UHD) with Dolby Vision encodement framed at 1.66:1. With this release Blue Underground continues their mastery of bringing cult films to 4K. This looks stunning, with a beautiful layer of natural grain, crisp details, and gorgeous colors thanks to the masterful application of Dolby Vision. Specular highlights really 'pop' nicely, but not so much that they look too gimmicky, so you will see the glare of headlights at night really standout, or the moon peeking through the trees looking very three-dimensional. We also see lots of sheen on metallic objects, which obviously comes into play with this film a lot as we see various 'tools' of murder. Also flesh tones looks spot on and shadows are superbly nuanced.
The Audio
The Toolbox Murders come with Blue Underground's no usual Dolby Atmos and DTS-HD Master Audio 5.1 mixes as well as the original mono mix in DTS-HD Master Audio 1.0. While the Atmos mix really does open the sound up nicely with atmospheric effects spread to the surrounds and height channels, sounding even bigger than the 5.1 mix, there is an artificiality to the sound that is not there in the quite fine 1.0 mix. This artificiality is somewhat exposed when you get to Chapter 15 at around the 01:14:31 mark and you hear the sound effect of a drill bit landing in a toolbox in the surround channels in both Atmos and 5.1 mixes before it leaves someone's hand. This is an obvious audio goof that should be addressed by Blue Underground. I have already reached out to them.
The Supplements
The audio commentaries are both superbly done. The film historian commentary has a lot of cool tidbits and is easygoing and conversational. The filmmaker and star commentary is naturally more technical but balanced thanks to the inclusion of Pamelyn Ferdin.
Audio Commentary with producer Tony DiDio, director of photography Gary Graver, and star Pamelyn Ferdin
Audio Commentary with film historians Troy Howarth and Nathaniel Thompson
Theatrical Trailer (4K; DV)
TV Spot (1080p; DV)
Radio Spots (1080p; DV):

Radio Spot #1
Radio Spot #2

Poster Still Gallery (Blu-ray Only)
The Final Assessment
Blue Underground gives a masterful restoration of this genre film, minor audio glitch aside. If you're into these sorts of exploitation films, no one does them better on 4K than these guys.
The Toolbox Murders is out on 4K Ultra HD Combo January 18, 2022 from Blue Underground
---
Rating Certificate: R
Studios & Distributors: Cal-Am Productions | Blue Underground
Director: Dennis Donnelly
Written By: Neva Friedenn (screenplay) | Robert Easter (screenplay) | Ann Kindberg (screenplay)
Run Time: 94 Mins.
Street Date: 18 January 2022
Aspect Ratio: 1.66:1
Video Format: HEVC 2160p (4K UHD)
HDR Format: Dolby Vision (HDR10 Compatible)
Primary Audio: English Dolby Atmos
Secondary Audio: English DTS-HD MA 5.1 | English DTS-HD MA 1.0
Subtitles: English SDH