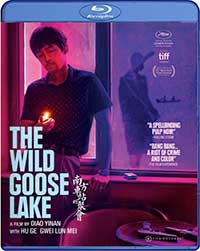 The Wild Goose Lake is a neo-noir crime/thriller out of Mainland China from director/writer Diao Yi'nan that was an official selection and festival favorite at Cannes, Toronto, and the New York International Film Festival.
A stylish and gritty crime noir set in one of China's remote industrial cities, Wuhan, the film follows the gangster on the run Zhou Zenong (Hu Ge), a smalltime mob boss caught up in the middle of crime family rivalries who needs to run after mistakenly killing a cop during a gang competition of stealing motorcycles which was setup to settle intergang feuds. Zenong meets up with the mysterious young "bathing beauty" (code for the prostitutes that trawl the beaches of the titular Wild Goose Lake in Wuhan) Liu Aiai (Kwei Lun-Mei) who is meant to help him find his estranged wife. Eventually, the two enter into a scheme in order to get the reward money on Zenong's head and funnel it to his wife. But First Zenong must skirt the law and rival gang members who have also turned on him in order to get the reward money – and he can't tell if Aiai is really on his side or not.
What Diao dishes out in this film is a sumptuous, slow-burning, completely stylish crime-noir that is part surreal and part gritty. The film oozes with color, dynamics, deep staged action set pieces, night scenes that hint at a fog of uncertainty, maybe of crime, or a foreboding of bad things yet to come. And his use of the soundstage is also incredible. Sound is often overlooked when reviewing a film, maybe because most filmmakers don't spend too much time engineering anything worth mentioning, but Diao's film has an audio mix, even here in this home video version, that is engulfing, big, bold, atmospheric. It moves with the action and fully utilizes all the channels – and it does this with simple 5.1, no fancy Atmos.
The Wild Goose Lake is one of the defining crime-noirs to come out of Mainland Chinese cinema, packed with inventive action set pieces and a commanding sense of style and mood from director Diao, this is a film that changes the game across the board and around the globe.
The Video
The film was shot on the Red DSMC2 Monstro VV camera with Cooke S7/i and Angenieux Optimo Ultra lenses in Redcode RAW (8K) format. With all that resolution, for some reason, a 2K Digital Intermediate was used in the mastering process and that is what was used for this 1080p AVC encodement on Blu-ray. That being said, the film looks great and amazingly filmic, belying its digital source in this transfer. Colors look amazing and dynamic range is strong in what is artistically high contrast imagery in a true noir/neo-noir way.
The Audio
The Wild Goose Lake comes with a Mandarin 5.1 mix in both DTS-HD Master Audio and Dolby Digital. I used the lossless DTS-HD Master Audio mix as my reference but also sampled the lossy Dolby Digital mix on and off. The lossless 5.1 DTS-HD Master Audio mix is big, dynamic, and there are sounds coming from everywhere. It's a very aggressive sound mix that rivals the best Atmos and DTS:X mixes going. You'll hear rainfall throughout the channels, a slamming door from way off to the side or a motorcycle rumbling up from behind you. The lossy Dolby Digital maintains all of the same atmospherics and discrete effects, but it seems to be mastered at a lower level and also there's a bit of a veil over the sound – it's just not quite as clear, but it certainly doesn't sound bad and some people may even prefer its less in-your-face mastering.
The Supplements
We get two interview featurettes and the bonus short film The Goddess with this solid Blu-ray release of the film.
Diao Yinan Featurette (1080p; 00:08:35)
Hu Ge and Gwei Lun Mei Interview (1080p; 00:06:09)
The Goddess (1.66:1; 1080p; 00:06:39) – Bonus short film
The Wild Goose Lake Trailer
The Final Assessment
A fantastic Blu-ray release for an excellent film that is a mildly subversive, wildly stylistic, and violent instant genre classic that overwhelms the senses with color, mood, and a slow-burning sense of dread.
The Wild Goose Lake is out on Blu-ray July 21, 2020 from Film Movement
---
The Creative Content: 4.5/5
The Video: 4.5/5
The Audio: 5/5
The Supplements: 2.5/5
Studios & Distributors: Arte France Cinéma | Green Ray Films | He Li Chen Guang International Culture Media Co. | Maisong Entertainment Investment | Memento Films | Omnijoi Media Corporation | Tencent Pictures | Film Movement
Director: Diao Yi'nan
Writer: Diao Yi'nan
Run Time: 113 Mins.
Street Date: 21 July 2020
Aspect Ratio: 1.90:1
Video Format: AVC 1080p
Primary Audio: Mandarin DTS-HD MA 5.1
Secondary Audio: Mandarin DD 5.1
Subtitles: English