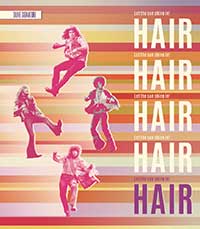 Hair is the 1979 musical film directed by Milos Forman (The People vs. Larry Flint, Amadeus, One Flew over the Cuckoo's Nest) based on the Gerome Ragni, James Rado, and Galt MacDermot stage musical.
John Savage (The Deer Hunter) plays Claude Bukowski, a wide-eyed country boy and Vietnam war draftee from Oklahoma who leaves his farm to head to New York City. There Claude is quickly wrapped up in the hippie subculture in New York, led by Berger (Treat Williams) and his pals Jeannie (Annie Golden), Hud (Dorsey Wright), and Woof (Don Docus) and the rich-girl-turned rebel whom Claude falls in love with, Sheila (Beverly D'Angelo).
Forman actually does an amazing job wrapping this counterculture musical into a palatable big screen film with likable characters and engaging set designs. The memorable hit songs such as "Good Morning Sunshine," I Got Life," and "Hair" don't hurt either, but the dance routines by choreographer Twyla Tharp, though very much rooted in the contemporary styles of the era, also boost the film's atmosphere and viewability.
Where Hair fails is less a matter of the filmmaker and more its themes being so anchored to a moment in time. By 1979 the country had already been through Altamont, the Isle of Wight, the Kent State shootings, Watergate, the rather embarrassing end to war in Vietnam. The utopian dreams of the peace and love crowd seemed more and more like a pie in the sky fantasy and feel even more so today after multiple financial collapses, the AIDS pandemic, 9/11, the war on drugs which has incarcerated millions of black and brown men at a disproportionate rate, police brutality, coronavirus pandemics, and more. Still, particularly now, we can always throw this film on and let the sunshine in, at least for a little while.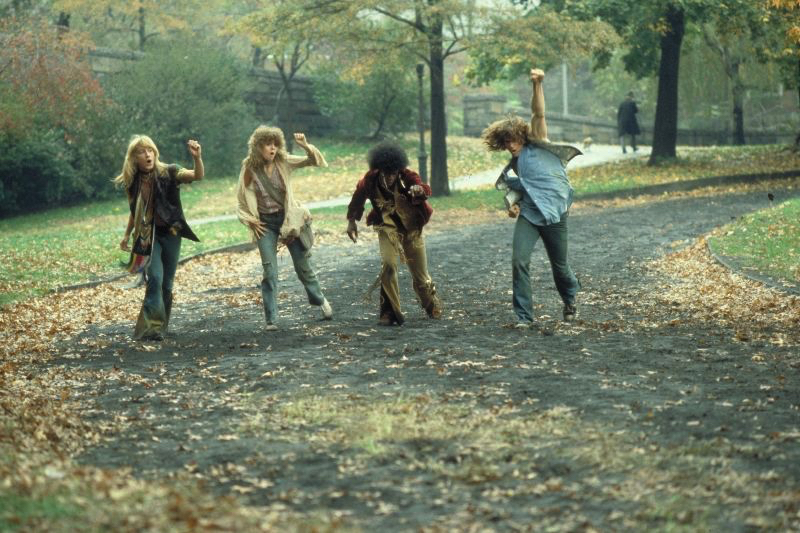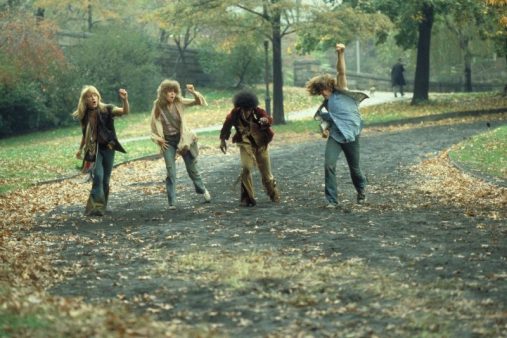 The Video
Hair features a new HD restoration on Blu-ray in AVC 1080p framed at 1.85:1. The opening credit sequence, which is often the case, looks a bit rough, with a lot of source damage and coarse grain, but then the transfer settles down into a clean, crisp, and pleasing transfer that has a lot of detail, good colors, and no evident compression noise or edge enhancement. It looks completely organic and filmic despite some occasional film softness.
The Audio
Hair had a 6-track mix for its 70mm theatrical print in theaters so this Blu-ray release from Olive Signature likely takes that as the jumping-off point for its DTS-HD Master Audio 5.1 remix. And despite the packaging, there is no stereo mix provided. That said, the mix sounds great. It is punchy and dynamic with excellent atmospherics in the surround channels and just a bit of discrete effects off in the surrounds. Low end is very musical and warm.
The Supplements
We get a strong slate of bonus materials with Hair including plenty of new interviews with the cast, an interview with Milos Forman student James Mangold, and a superb audio commentary.
Audio commentary by assistant director Michael Hausman and actor Treat Williams
"The Tribe Remembers" (1080p; 00:30:02) – with actors Beverly D'Angelo, Don Dacus, Ellen Foley, Annie Golden, John Savage, and Dorsey Wright
"Making Chance Work: Choreographing Hair" (1080p; 00:12:31) – with choreographer Twyla Tharp
"Cutting Hair" (1080p; 00:20:55) – with editors Lynzee Klingman and Stanley Warnow
"Hair Style" (1080p; 00:15:50) – with production designer Stuart Wurtzel
"Artist, Teacher, Mentor: Remembering Milos Forman" (1080p; 00:24:21) – with director James Mangold
Essay by critic Sheila O'Malley (on-disc and booklet)
Trailer
The Final Assessment
A very strong transfer and collection of bonus materials for a dated but still classic musical that helped to define an era.
Hair is out on Blu-ray June 30, 2020 from Olive Films
---
The Creative Content: 3.5/5
The Video: 4.5/5
The Audio: 4.5/5
The Supplements: 3.5/5
Rating Certificate: PG
Studios & Distributors: CIP Filmproduktion GmbH | Olive Films
Director: Milos Forman
Writers: Gerome Ragni (musical book) | James Rado (musical book) | Michael Weller (writer)
Run Time: 121 Mins.
Street Date: 30 June 2020
Aspect Ratio: 1.85:1
Video Format: AVC 1080p
Primary Audio: English DTS-HD MA 5.1
Subtitles: English SDH