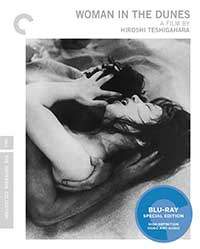 In 1964, Japanese filmmaker Teshigahara Hiroshi in collaboration with novelist and playwright Abe Kobo helped put Japan on the Art House map with this sensual chiaroscuro meditation, Woman in the Dunes.
Tackling multiple subject, such as the relationships between men and women, the dynamics of self-preservation versus the better good of larger society on the whole, the story follows entomologist Jumpei Niki (Okada Eiji) who while on vacation from his teaching position studying insects, wanders into a sandy village where he is kidnapped by the locals and forced to live with a woman (Kishida Kyôko) whose sole task it is to shovel sand for them.
Teshigahara's film is set mostly in one room while it focuses on the building relationship between the captive Jumpei and the "woman" who when we meet her is obviously overjoyed to finally have a companion. Jumpei spends much of his time trying to find a way to escape while also becoming increasingly sexually drawn to his female host. Teshigahara always reminds us of the bleak circumstances both of our protagonists are in by interspersing almost sensual visuals of the sifting sand dunes into the scenes, particularly as Jumpei and the woman begin to get intimate.
Perhaps the overriding theme of Woman in the Dunes can be thought to be that man (and woman) can overcome any circumstance no matter how overwhelming,, because by the end of Woman in the Dunes Jumpei seems more resolved, not to escape from his imprisonment — and his host, despite their sexual relationship, still refers to him as her guest and is afraid of him leaving her – but Jumpei has discovered a way to tap into a water vein and save the two of them. In a shocking turn that offers him the opportunity to finally escape, he thinks more about telling the rest of the villagers about his new invention and helping the many than he does about helping himself. The transformation is now complete.
The Video
The high-definition digital transfer for Woman in the Dunes was created on a Spirit DataCine from a 35mm composite fine-grain master positive. Dirt, scratches, debris, warps, and splices were manually removed using MTI Film's DRS and Pixel Farm's PFClean, while Digital Vision's Phoenix was used for jitter, flicker, small dirt, grain, and noise management. The film is presented in its original 1.33:1 aspect ratio in an AVC 1080p encodement.
The image looks stunning, to say the least. There's a sharp texture and organic, filmic appearance. You can spot grains of sand in the closeups of the dunes in various shots, which is just amazing. While the picture has definitely been cleaned up, one can still see a nice layer of grain. Contrast is strong with nuanced shadows and bright white levels.
The Audio
The original Japanese monaural soundtrack was remastered from an optical fine-grain print. Clicks, thumps, hiss, hum, and crackle were manually removed using Pro Tools HD and iZotope RX 4. The soundtrack is provided in LPCM 1.0 (48kHz/24-bit) and while it sounds a little boxy and limited in dynamic range, is more than acceptable for this film and its program given the age. Dialogue sounds clear and there is very little clipping. The score comes through well also.
The Supplements
Booklet: Essay by film scholar Audie Bock and a 1978 interview with Teshigahara Hiroshi
Video Essay (1.33:1; 1080i/60 upscaled; 00:29:22) – This video essay about Woman in the Dunes, by James Quandt f the Cinematheque Ontario (now TIFF Cinematheque), was recorded for the Criterion Collection in 2007.
Teshigahara and Abe (1.78:1; 1080i/60 upscaled; 00:34:53) – This documentary, detailing the working relationship between director Hiroshi Teshigahara and writer Kobo Abe, features interviews with critics and a number of the filmmaker's associates and friends, including film programmer and professor Richard Peña, Japanese-film scholars Donald Richie and Tadao Sato, set designer Arata Isozaki, screenwriter John Nathan, and producer Noriko Nomura. The interviews were recorded for the Criterion Collection in 2006.
Short Films:

Hokusai (1953)
Ikebana (1956)
Tokyo 1958 (1958)
Ako (1965)

Trailer (1.37:1; 1080p/24; 00:03:03)
The Final Assessment
Riveting, sensual play of light and dark, bleak and lavish, heartbreaking and complex, Woman in the Dunes can be interpreted in so many ways. Teshigahara would eventually abandon filmmaking for many years before returning to it, but never quite in the same, immediate way as these early films. Criterion Collection's Blu-ray is a must for cineastes.
Woman in the Dunes [Criterion Collection] (TheaterByte Blu-ray Review)
The Criterion Collection
Studios & Distributors
Teshigahara Hiroshi
Director
Abe Kôbô, Yoshida Eiko
Writer
Japanese LPCM 1.0 (48kHz/24-bit)
Audio
Summary
Teshigahara's 1964 Art House classic succeeds on multiple levels -- visually, philosophically, and sensually -- and it holds up to the test of time, especially in this new stunning restoration from the Criterion Collection.
What people say... Login to rate
Be the first to leave a review.
Show more