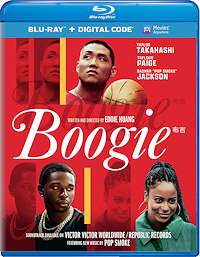 Boogie is the debut feature film from writer/director Eddie Huang. It follows the story of Asian American high school basketball player Alfred 'Boogie' Chin (Taylor Takahashi) from the Asian enclave of Flushing, Queens, NY, who has dreams of making it to the NBA. He is driven to succeed by his father, Mr. Chin (Perry Yung) and his mother, Mrs. Chin (Pamelyn Chee), whose hopes lie in him getting a scholarship to an elite school so he can get his education and be scouted by the NBA, but Boogie has other plans. He wants to go directly to the NBA and is unhappy about being forced to leave his previous school to go play for an elite magnet school where his father feels he has a higher chance of being scouted. The stress at home, the constant pressure, and the squabbling between his parents has him distracted and off his game. He finds relief in a beautiful and smart new girlfriend Eleanour (Taylour Paige) he meets in his AP English class who helps him take his mind off his life for a bit, but he finds his relationship quickly derailing soon.
The biggest weight Boogie's shoulders is his rival, Monk (Pop Smoke), a street-basketball champion who seems unbeatable. Their two teams are set to face off offering Boogie the opportunity to prove himself worthy of going to the NBA. It's never really explained why his big moment comes down to a street basketball match.
The film ultimately is a coming-of-age sports film that also balances the idea of staying true to cultural traditions, honoring one's elders, and staying true to oneself. It's forthright and rarely complex as it wears its emotions and ideals on its sleeve. There's nothing exactly bad about it and it seems like a solid directorial debut. It doesn't trip over itself to provide a diverse look at city life and end up coming across at as a "woke" exercise in virtue signaling, still its inability to relax a little makes it feel sometimes a little too much like a PSA.

The Video
Boogie is a digital production that is available digitally in 4K UHD with HDR, but on disc we get just a standard Blu-ray in AVC 1080p framed at 2.39:1. It is a more than solid transfer with excellent color saturation and clean imagery from noise or banding. There's lots of detail and extended depth of field so the quick action basketball scenes come across nicely while the slower paced scenes also show off the indoor sets or busy New York streets well.
The Audio
Boogie comes with an English DTS-HD Master Audio 5.1 mix that has good thump for the hip-hop inspired songs and score that permeate the mix. The sounds of the city are spread nicely and there are good dynamics and atmosphere.
The Supplements
The featurettes are very brief and not worth going through, but I still welcome their inclusion.
Movies Anywhere Digital Code
The Road to Boogie-Town (1080p; 00:02:32)
Eddie Huang: It's Personal (1080p; 00:02:07)
Shout Out to Pop Smoke (1080p; 00:01:20)
In-Theater Trailer (1080p)
The Final Assessment
A cool coming of age sports drama that explores a group, Asian Americans, rarely identified with sports films, that is satisfying, well shot, and a good first feature.
Boogie is out June 1, 2021 on BLu-ray+ Digital from Universal
---
Rating Certificate: R (for language throughout including sexual references, and some drug use)
Studios & Distributors: Immersive Pictures | Wink Productions | Focus Features | Universal Pictures Home Entertainment
Director: Eddie Huang
Written By: Eddie Huang
Run Time: 90 Mins.
Street Date: 1 June 2021
Aspect Ratio: 2.39:1
Video Format: AVC 1080p
Primary Audio: English DTS-HD MA 5.1
Secondary Audio: Spanish DTS 5.1 | French DTS 5.1 | DVS
Subtitles: English SDH | Spanish | French