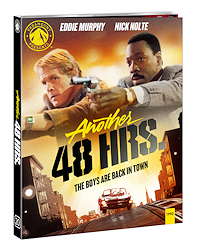 The Another 48 Hrs. is the 1990 sequel to 1982's megahit buddy cop film 48 Hrs. that set the blueprint for many of the films in the genre to follow for the rest of the decade and beyond. Now a bona fide superstar, Eddie Murphy returns along with Nick Nolte and the two pair up in a story set eight years after the first story.
Reggie (Murphy) is about to get out of prison, and he's paid a visit by Jack (Nolte) who needs his help for another 48 hours to hunt down The Iceman, a bigtime drug kingpin that also wants Reggie dead. Reggie wants no part of it until the bus taking him home is flipped over – 17 times and someone also tries to kill Jack, shooting him several times in his bullet-proof vest as he sits in a coffee shop.
Walter Hill's stylish direction is what carries this film more so than the improv of Murphy or the interplay between the leads, like the first time around. The film tries to hit some of the same beat as the first film, but with less impact, like Murphy singing The Police's "Roxanne" or riffing about his woes in a nightclub versus the first movie's redneck bar, then there's a shootout in a no-tell motel that mirrors a similar shootout from the first film. It's all so much retread that it would be tiresome were it not for Hill's impulse to keep the film kinetic, and visually stimulating, at times looking more like a neo-noir or Mad Max film than a buddy cop movie.
In the end, Another 48 Hrs. is as inventive and original as its title suggests, and probably should have remained in the boardroom, but it is not as bad as reviews at the time may have suggested.

The Video
A 4K restoration from the original 35mm negatives, Another 48 Hrs. comes to Blu-ray in a 1.85:1 AVC 1080p encodement and it looks good, maybe even a tad better than the Paramount Presents issue of 48 Hrs., likely due to it initially having just a bit better production value to begin with. The contrast in the darker scenes looks excellent, with obsidian blacks and bright highlights playing off each other in a palette that is at times desaturated and others a little more natural and dwelling in the midtones. The transfer also has a very thin layer of grain, some may think it's a little too suppressed, but it looks natural to me eyes and I don't see any deleterious effects of DNR like smearing or loss of texture on skin or in clothing.
The Audio
Another 48 Hrs. comes with a lossless Dolby TrueHD 5.1 mix that presents the 1980s sound of the James Horner score well, with big punchy percussion and lots of ambience that spreads across the soundstage nicely. The action sequences have good low end and dialogue comes through cleanly without getting lost.
The Supplements
There's not much, but the Filmmaker Focus with Walter Hill is interesting and does include some information that may be new to many.
Digital Copy Code
Filmmaker Focus: Director Walter Hill on Another 48 Hrs. (1080p; 00:14:35)
Trailer (SD)
Collectible packaging featuring foldout image of original theatrical poster and an interior spread with key movie moments.
The Final Assessment
A solid restoration of the less enjoyable sequel to this buddy cop franchise is another fine entry from Paramount Presents.
Another 48 Hrs. is out on Blu-ray July 6, 2021 from Paramount Home Entertainment
---
Rating Certificate: R
Studios & Distributors: Paramount Pictures (presents) | Lawrence Gordon Productions | Eddie Murphy Productions | Paramount Pictures Home Entertainment
Director: Walter Hill
Written By: John Fasano (screenplay by) | Roger Spottiswoode (based on characters created by) | Jeb Stuart (screenplay by) | Walter Hill (based on characters created by) | Larry Gross (screenplay by) | Larry Gross (based on characters created by) | Steven E. de Souza (based on characters created by) | Eddie Murphy (story by) (as Fred Braughton)
Run Time: 95 Mins.
Street Date: 6 July 2021
Aspect Ratio: 1.85:1
Video Format: AVC 1080p
Primary Audio: English Dolby TrueHD
Secondary Audio: French DD 2.0 Stereo | German DD 2.0 Stereo | Japanese DD 2.0 Stereo
Subtitles: English | English SDH | German | French | Japanese