Every time I see a carton from Bowers & Wilkins sitting on my doorstep, I anticipate an audio treat, whether it contains conventional loudspeakers, earphones or headphones. The box in this instance housed a B&W first, the T7, a compact Bluetooth-enabled wireless speaker system.
Size doesn't always matter
A few years ago, I reviewed the B&W Zeppelin Air Wireless speaker system that delivered great sounds via a docked iPod or streamed wirelessly from AirPlay™-enabled devices. Wi-Fi-essential systems may be perfect for one's home but come up short for listening on the road or at the beach. To meet these needs, B&W developed the T7 that uses the Bluetooth aptX  (audio data reduction technology) audio codec rather than the traditional SBC (sub-band coding) scheme for streaming CD-quality music files.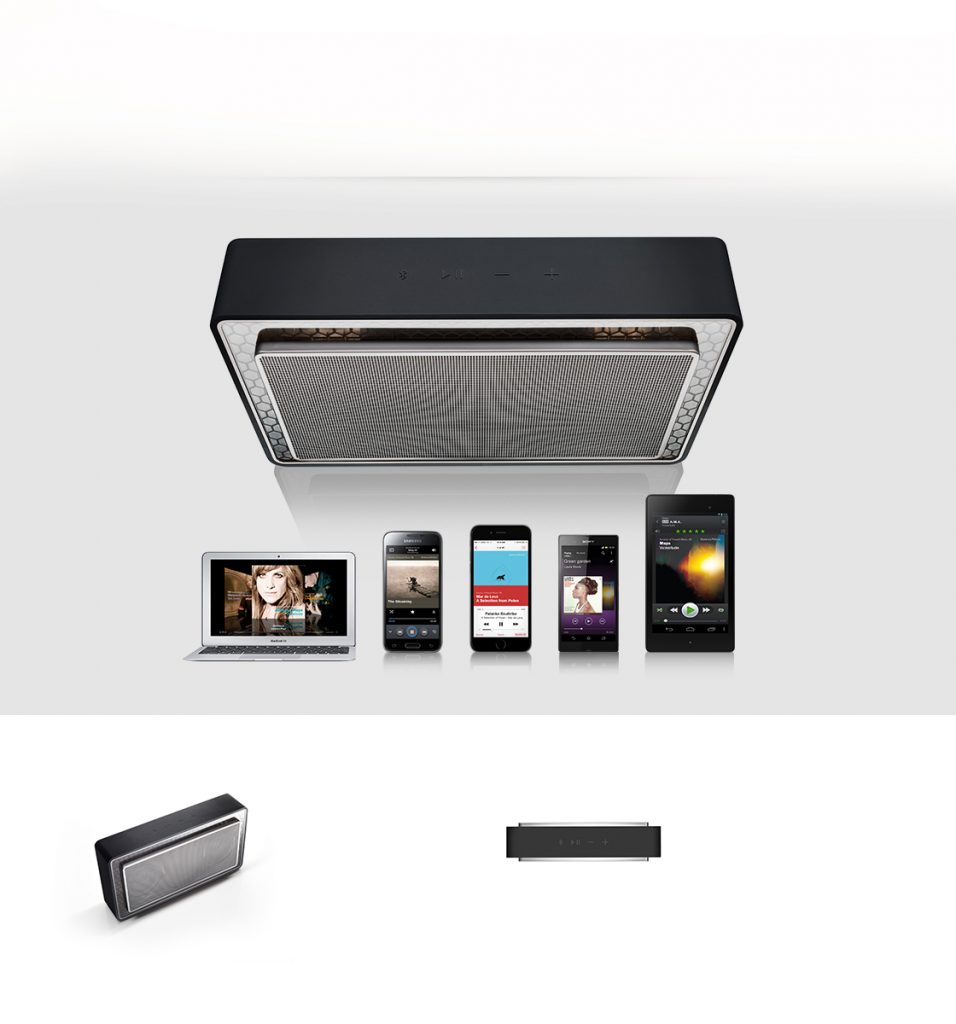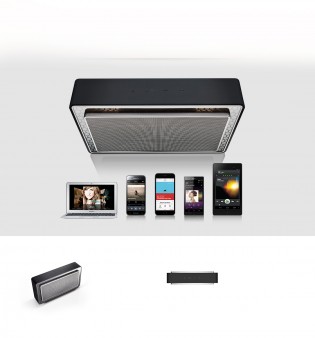 There is a lot going on inside this small speaker system and its snazzy appearance and easy-to-use controls have "millennial appeal" written all over them. Construction values are first-rate.  The T7 chassis itself is only available in black. The Micro Matrix honeycomb surrounds the centrally mounted drivers to minimize cabinet vibrations. The driver complement consists of planar dual-bass radiators flanked by two dynamic tweeter/midrange units. Efficient Class D amplification powers the T7 and dedicated high-quality DACs handle the Bluetooth-streamed audio signals.  The lithium ion battery can play for up to eighteen hours between charges so party animals will have no trouble keeping the party going without having to worry about having an electrical outlet in the vicinity.
Controls are simplicity itself. Facing the T7, the power button is on the right side and illuminates four white signal lights dim in sequence as the battery discharges. On top are four tactile icons, from left to right, Bluetooth connectivity (flashing blue when engaging), play/pause, and volume up/down. The rear of the chassis has ports for a power cord, an auxiliary device, and a micro-SD (for firmware upgrading only). That's it, folks.
Delaying gratification
I let the T7's dynamic drivers break in for about 100 hours before serious listening began although it sounded pretty good out right of the box. After a couple of weeks, things got better, resulting in tighter bass and a more open top end. The T7 can connect with several Bluetooth-enabled devices and my iPad Air and MacBook Air served as the principal music sources. The former has a number of mp3 music apps (Rhapsody, Spotify, Pandora) and the latter, my CD-and-better download files.
It did take a while for the T7 to show up on my source device list, but once done, it was readily recognized on all future listening sessions. Even more impressive was the stability of the Bluetooth connection and its faultless presentation of each track. While nearly all formats of high-resolution files can be recognized by the T7, my Audirvana Plus DAC software will down convert these files to 44.1kHz/16-bit resolution. This was also true of playing AIFF files via iTunes.
With everything all set, I started streaming music to the T7. The late, lamented Amy Winehouse's "Rehab" may not be the last word in audiophile terms, but its bass line and in-your-face vocals present a decent challenge for speakers. In this case, the T7 created a bigger than expected soundstage and effectively conveyed the Ms A's sultry way with songs.
Moving rapidly through my hi-res library, I went next to a Reference Recording of Eiji Oue and the Minnesota Orchestra's rendering of Stravinsky's Firebird Suite.  I was literally floored by the sense of big space from this tiny box. While the T7 did not plumb the ultimate depths of this recording's subterranean bass, neither was it embarrassed by its strategically rolled off low end.
Voices and piano were conveyed very well in cuts like Jeremy Monteiro's cover of Karen Carpenter's A Song for You. Carly Simon's Summer's Coming Around Again caught her breathy delivery quite nicely, adding a well-articulated guitar and piano accompaniment, complete with some nifty background percussive effects.  Another instrument receiving its just dues from the T7 was Janos Starker's cello in Bach's Solo Suites for that selfsame instrument. Not only was Starker's cello warm and full, but also you could readily hear his breaths between bowings.
The news gets even better for listeners with extensive mp3 libraries on their hard drives or i-devices. Robbie Robertson's Somewhere Down the Crazy River sounded quite respectable while Ernest Ansermet and his Swiss Romande Orchestra forces delivered a high intensity and brilliantly recorded performance of de Falla's La Vida Breve.
All good things must come to an end (sigh)
I offer up a couple of pertinent observations from many hours of pleasurable listening to music of all genres and most resolutions. First, the T7 has a volume "sweet spot." Once this sweet spot is exceeded, digital signal processing kicks in to prevent the bass drivers from distorting. The net result is apparent loss in bass fullness. While I was able to crank up bass-heavy recordings loud enough to get this effect, the required volume was well beyond what I dial in for normal listening. Will "metalheads" be disappointed? Well, maybe, but those who listen consistently at earbleed levels are unlikely to choose a speaker system this petite. A second observation deals with speaker placement. The T7's small size makes for very flexible placement. Considering its small drivers, the T7's dispersion is quite remarkable. I got the best sonic results in my room with the speaker system located close to my ear level height. For casual listeners, speaker placement will not be so critical, particularly if their goal is background rather than foreground music.

The Good
Compact size
Capable of room-filling sound
Long battery-life
Outstanding build quality
Ample bass
The Bad
Adjusting volume level requires some caution
A tad pricey for wireless speakers
The Scorecard:
Design/Ergonomics:
[Rating:4.5/5]
Performance:
[Rating:4/5]
Value:
[Rating:3.5/5]
Overall:
[Rating:4/5]
The Definitive Word
For travelers who want their music with room-filling rather than ear-filling sound (think headphones), this little speaker with its long battery life may be right up their alley. College students in small rooms and with large digital music libraries might balk at the $349 asking price, but, after all, that's a pittance compared to the size of their education loans. Further, they most likely already have Bluetooth-capable music sources. From my previous experience with Bluetooth-streaming devices, I found the T7 to be the very first such speaker system to perform flawlessly in my listening room, making my critical ears grin from side to side. Highly recommended.
Specifications
Features:  Bluetooth
Digital Signal Processing
High Quality Class D amplifiers
Rechargeable lithium ion battery
Distortion (THD):  <0.2% for 1 kHz/1mW
Maximum input power:  3 mW
Sensitivity: 115dB/V @ 1 kHz
Inputs:  3.5 mm Stereo mini-jack (AUX), Micro USB (SERVICE: firmware updates only)
Drive Units:  2 x 50 mm full range, 2 x Auxiliary Bass Radiators
Impedance:  32 ohms
Frequency response: 58Hz to 19kHz (+ 3dB)
Frequency range: -6dB @ 50Hz to 21kHz
Power Supply Voltage:   Input: 100-240Vac, 50/60H, 1.0A (Power supply); Output: 15Vdc, 2.0A
Power Consumption: Standby: 0.141W; Sleep: 0.317W
Dimensions: 114mm (H) x 210mm  (W) x 54mm (D)
Weight: 940 g
More Information:
Bowers & Wilkins T7 Wireless Speaker System (SRP $349)
[amazon-product]B00OLE9606[/amazon-product]